Thanks to These Gummies, Your Worst PMS Symptoms Won't Stand a Chance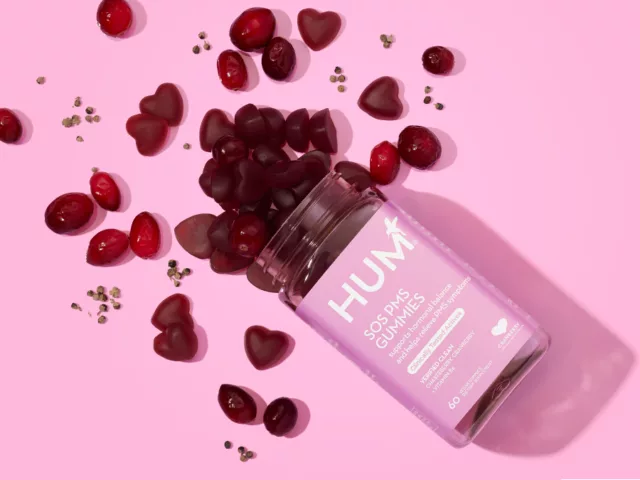 Is it possible to love your period? Thanks to HUM's SOS PMS gummies, you can anticipate less pain and more gain with your monthly menstrual cycle. Gaby Vaca-Flores, RDN, CLE, shares how this PMS supplement can help relieve common PMS symptoms, promote hormonal balance, and support urinary tract health.
According to the United States Office on Women's Health, as many as 90 percent of menstruating women report experiencing PMS. For some of us, PMS brings out our grumpy side. For others, it can be uncomfortable enough to warrant taking a sick day. Whether your PMS symptoms include mood swings or bloating, we can all agree that we'd be much better off without them. Fortunately, HUM's SOS PMS gummies are a tasty and effective solution to take back your period.
What Is PMS, Anyway?
PMS, or premenstrual syndrome, is a cluster of symptoms that worsen right before and during your period. Symptom intensity can vary from mild to moderate. In some cases, PMS symptoms can get severe enough to affect your quality of life.
The worst part? PMS symptoms can be physical and emotional. Per the National Library of Medicine, some of the most common PMS symptoms are as follows.
Physical Symptoms of PMS
Weight fluctuations
Breast tenderness
Abdominal discomfort
Lower back aches
Headaches
Nausea
Constipation
Appetite changes
Emotional Symptoms of PMS
Irritability
Tiredness
Mood swings
Crying
What Causes PMS?
Experts believe that PMS is related to the unfavorable hormone changes that occur as part of the menstrual cycle (i.e., hormonal imbalance). While the exact cause is not fully understood, PMS may be impacted by several notable hormone fluctuations.
For one, PMS symptoms may be influenced by the dip in estrogen and progesterone levels that happens about a week before your period starts. This dip can lead to low serotonin levels. Since serotonin is a major player in mood regulation, decreases can amplify mood-related PMS symptoms like cravings and irritability.
Additionally, norepinephrine—a neurotransmitter and hormone that releases as estrogen drops—can cause a decline in other neurotransmitters that can have a poor influence on energy levels, sleeping behavior, and mood.
In some women, PMS is associated with elevated prolactin levels or sensitivity to normal amounts of prolactin. For context, prolactin is a hormone that plays many roles including fluid regulation, immune system function, and milk production.
Further, stress has been cited as a potential trigger for PMS. In particular, it is suspected to signal uterine contractions (aka menstrual cramps).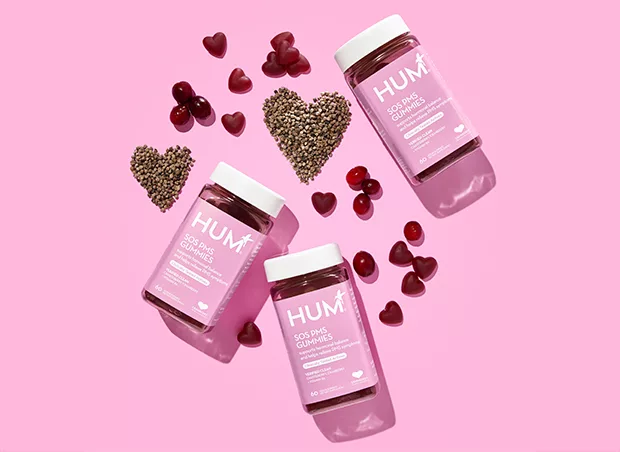 How PMS Supplements Can Help
Giving your hormones some TLC is one of the best ways to address PMS. There are many ways to support healthy hormonal balance. While genetics may play a role, modifiable factors—think nutrition and lifestyle habits—can come into play to offer relief. Moreover, one of the simplest ways to get a head start on supporting your hormones is by incorporating a PMS supplement in your routine.
HUM's SOS PMS gummies comprise a unique combination of ingredients that help relieve PMS symptoms by supporting hormone balance. Plus, it delivers the added benefits of promoting a healthy urinary tract and better mood, making it the ultimate women's gummy.
What's Inside HUM's SOS PMS Gummies
SOS PMS gummies deliver three key ingredients that work to balance hormones, boost overall mood, and promote well-being during the menstrual cycle.
1. Chasteberry (Vitex)
If you're wondering how SOS PMS gummies support healthy hormone balance, the answer lies in chasteberry. Also known by its Latin name Vitex agnus-castus, chasteberry is a plant that can influence hormones. It contains a bioactive component called agnuside. Chasteberry extracts can be standardized to contain consistent amounts of agnusides. Standardization is important, especially when it comes to herbal supplements, as it ensures that each gummy will deliver the same amount of potency and benefits every time. In clinical trials of extracts with standardized amounts of agnusides, they have been shown to improve many of the physical and emotional symptoms of PMS, including:
Bloating
Mood swings
Discomfort
Breast tenderness
As such, it was important to formulate SOS PMS gummies with 50 milligrams of chasteberry extract, standardized to 1.5% agnusides
Fun fact: SOS PMS is the first gummy with a clinically tested dose of chasteberry extract for PMS symptom relief with a delicious taste. Developing these tasty, cranberry-flavored gummies is kind of a big deal, as chasteberry typically has a bitter, pepper-like (read: not-so-pleasant) taste.
2. Cranberry Juice Powder
Cranberry is one of the best options to support a healthy urinary tract. In fact, cranberries deliver an antioxidant called proanthocyanidins (PACs). Clinical studies have shown that cranberry exerts a protective effect within the walls of the urinary tract.
One serving of SOS PMS gummies provides 100 milligrams of cranberry juice powder.
3. Vitamin B6
We can't talk about PMS relief without talking about considerations around mood. Water-soluble vitamin B6 plays an important role in creating mood-related neurotransmitters such as GABA, serotonin, and dopamine. Remember: The levels of many of these neurotransmitters can decrease as estrogen and progesterone drop ahead of your period. As such, adding vitamin B6 to your routine can be part of a well-rounded approach to supporting your overall mood.
One serving of SOS PMS Gummies provides 0.25 milligrams of vitamin B6.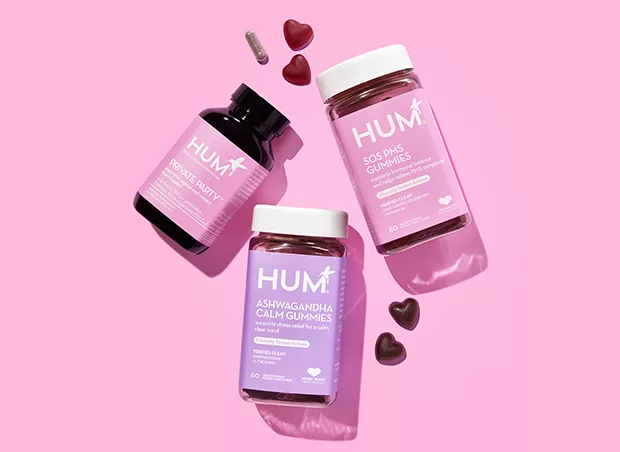 How to Take SOS PMS
Think of SOS PMS Gummies as a tasty, cranberry-flavored treat that can help you feel better before and during your period. Since hormonal changes are at play at every stage of your cycle, we recommend taking these gummies every day all month long.
For best results, enjoy two SOS PMS gummy hearts daily. And don't forget: Consistency is key to yield the best results with any supplement. We recommend taking it for at least two months' time to notice initial benefits.
SOS PMS is designed to work well with all HUM supplements, including Private Party and Moody Bird. Whether or not you'll need only SOS PMS—or a combination of the three, or a mix-and-match routine with others—will depend entirely on your goals. (Note: If cramps are a major issue for you, you'll want to check out Moody Bird, as it includes traditionally used dong quai to aid relief from cramps.) Our team of HUM RD Nutritionists can help you pick the best supplement for you.
The Takeaway
As we can see, hormonal fluctuations and PMS are interconnected. Naturally, supporting a healthy hormone balance is key to get your PMS symptoms under control. HUM's SOS PMS gummies offer a simple (and delicious) solution to bring about your best self, even when you're on your period.
More like this