8 Low-Waste Recipes That Prove There's No Such Thing As Kitchen Scraps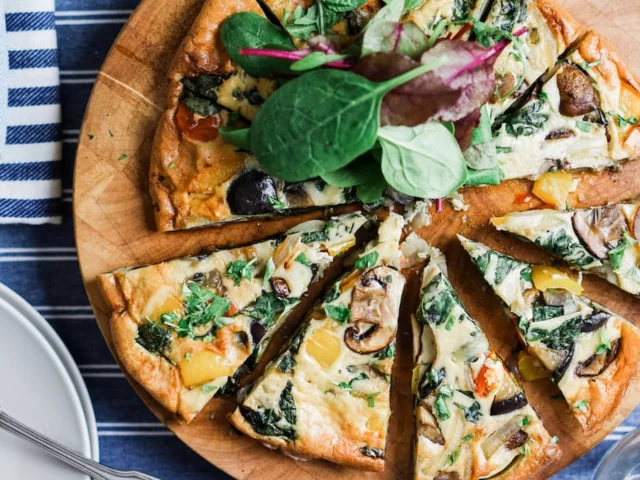 Trying to reduce food waste in your home? Follow this five-day meal plan, which will use up everything in your fridge for delicious, eco-conscious meals.
No one wants to throw out food, but we've all been there—it happens. Leftovers get lost in the fridge, die from freezer burn months later, or that half-can of diced tomatoes you swore you'd use up molds over. And who hasn't uncovered a bunch of herbs, bought for one recipe, withering in the crisper?
It's not because you don't care, but there are definitely steps you can take to do better at reducing food waste. One of our favorite ways is to cook with sustainability in mind. To help you get started, we rounded up eight recipes low-waste recipes
How Much Food Is Wasted in the U.S.?
According to the USDA, food waste in the United States is estimated between 30 and 40 percent of the food supply. This corresponds to approximately 133 billion pounds and $161 billion worth of food.
Why Is Food Waste a Problem?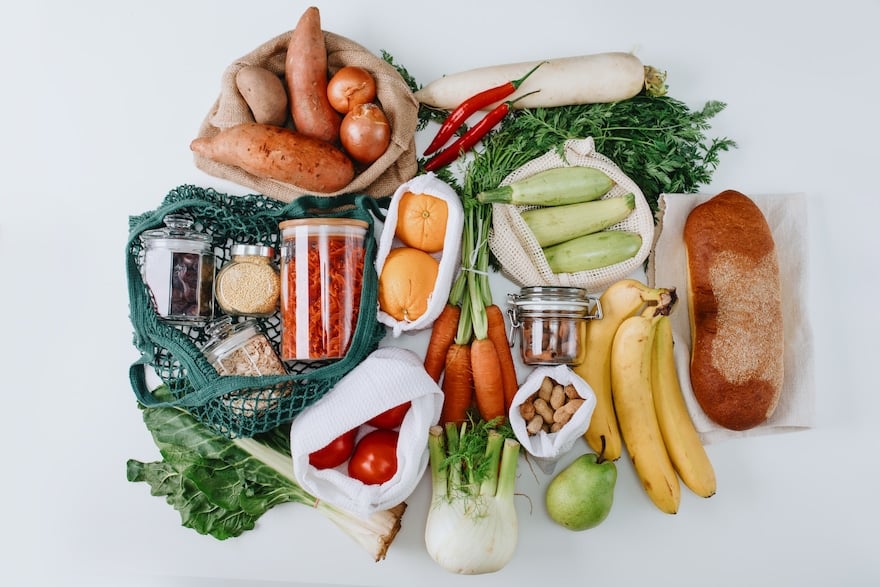 Every year, 31 percent of the overall food supply is wasted, according to the EPA. Not only does food waste impact food conversation efforts, it's also a massive contributor to climate change. When food is discarded, energy used to produce, process, transport, prepare, and store the discarded food is wasted as well.
Plus, food waste and loss carries a large greenhouse gas footprint. In a report published in 2016, the EPA found that food waste contributes to 18 percent of total U.S. methane emissions that come from landfills. How? Production, transportation, and handling of food all generate carbon dioxide emissions. And when food waste ends up in landfills, it creates methane (a potent greenhouse gas), according to the USDA.
How to Reduce Food Waste
These are just a few ways you can start reducing food waste in your own kitchen.
Try to buy ingredients that minimize packaging (shop in the bulk aisle for things like oats, dried beans, or nuts) or whose packaging can be recycled (cans and bottles, for example).
Buy foods that are in season and have low carbon miles on them—i.e., from farmers' markets or local markets.
Large and infrequent grocery runs can lead you to buy more than what you need when it comes to perishable items such as vegetables. Try to make your trips more frequent, but more mindful.
Stock your pantry and freezer with frozen veggies, dried rice, beans, and pasta, which are all typically low-waste items.
Keep your flavor profiles similar during a grocery trip, whether that means buying Mexican ingredients one week and Italian the next. Doing this makes it much easier to share ingredients and reuse them across multiple meals.
Repurpose your kitchen scraps
Save vegetable scraps in a zip-close freezer bag and pull them out as needed for soup or stock. You can cook them right from frozen. You can also hang on to the rinds of hard cheese such as Manchego or Parmesan. Toss them into soups for extra umami flavor. Have a garden? Keep eggshells and coffee grinds for your gardening efforts.
Steam or saute the greens from beets, turnips, and radishes—or chop and add them to soups or salads. Leftover leafy green herbs? Turn parsley, cilantro, even carrot tops into pesto, which can then be frozen.
Food scraps such as peels, cores, and skins, can be composed in a small bucket you can keep right under your sink. (Skip citrus peels and onion skins, which can kill worms and other microorganisms in your pile.) Even if you don't have the ability to make a compost pile in your yard, many cities and municipalities provide composting facilities.
A Beginner 5-Day Low-Waste Meal Plan
Let's face it, recipes aren't usually written with the idea of reducing food waste. But what if you cooked with the full intent of using as much as possible—and anything you couldn't immediately use, you had a plan for? We put together five days of meals to help you get started with low-waste cooking. The recipes here have been written with the goal of using as much as possible from the ingredients.
Shopping and cooking with food waste reduction in mind might be new for you; it requires a different mindset but one that can become second nature with mindfulness and practice. The goal here isn't perfection—because that's impossible—but to begin to see the ways in which a lot of what we eat can be repurposed. You may be surprised by how creative you can get with these efforts.
The ingredients in these recipes are designed to play off each other. You can make them in any order that you like, but we recommend our easy-to-follow meal plan below.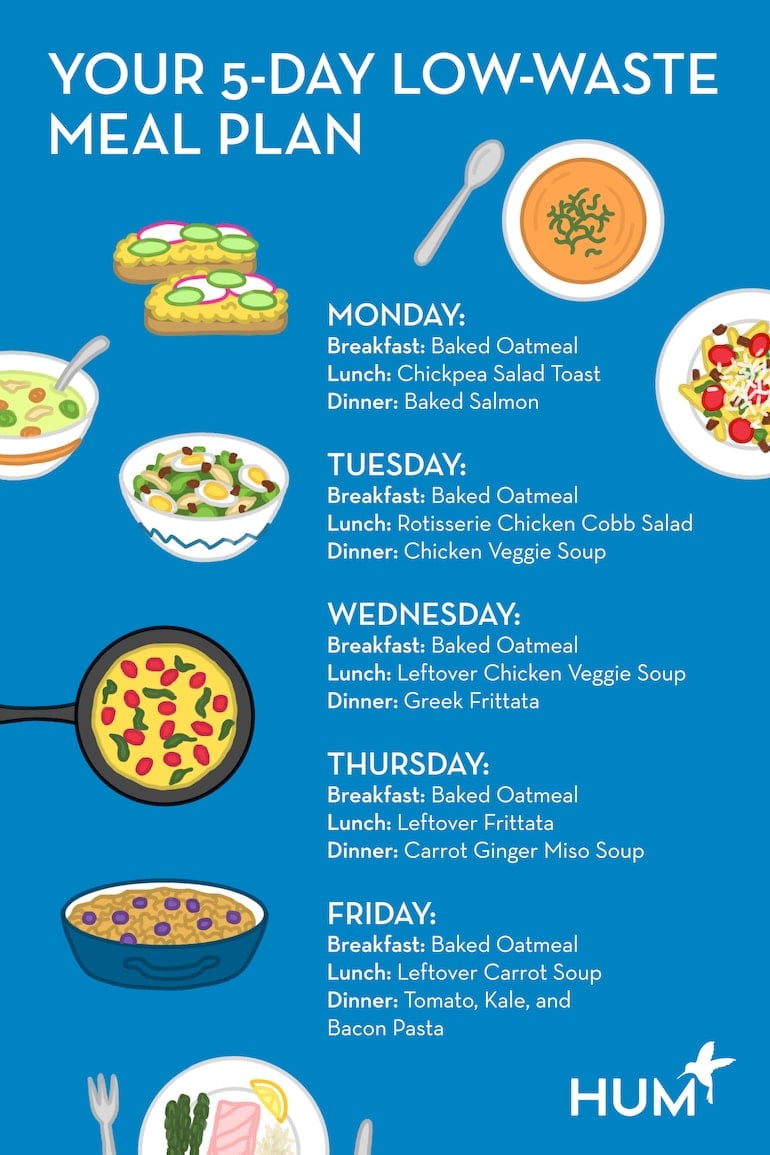 The recipes are designed to feed three to four with little to no waste at the end of the five days, or two hungry adults with some leftovers. You can double or halve the recipes as needed.
Ready to get started and join us on this journey? We created a convenient shopping list featuring the pantry staples and ingredients you'll need to make all of the recipes below.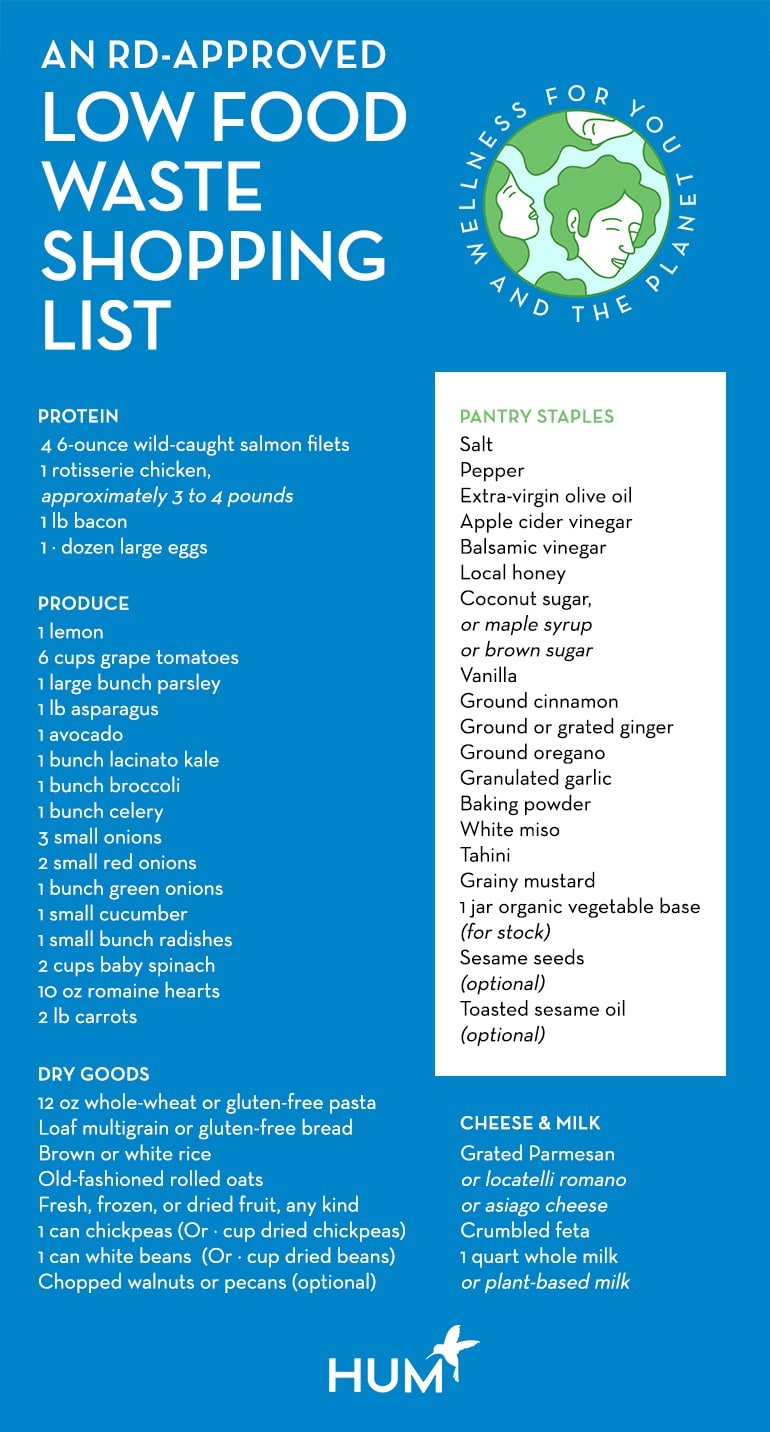 ---
Low-Waste Recipes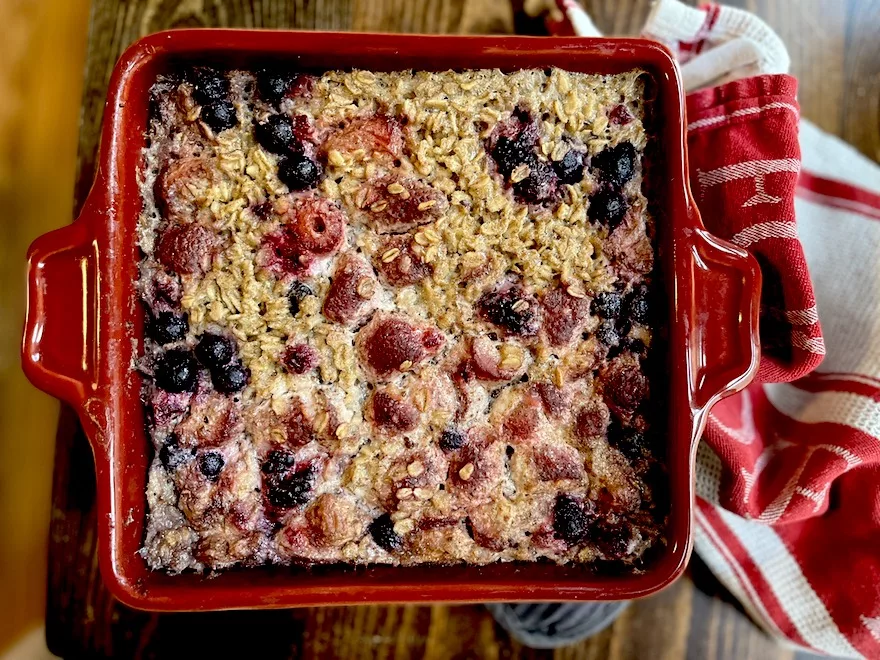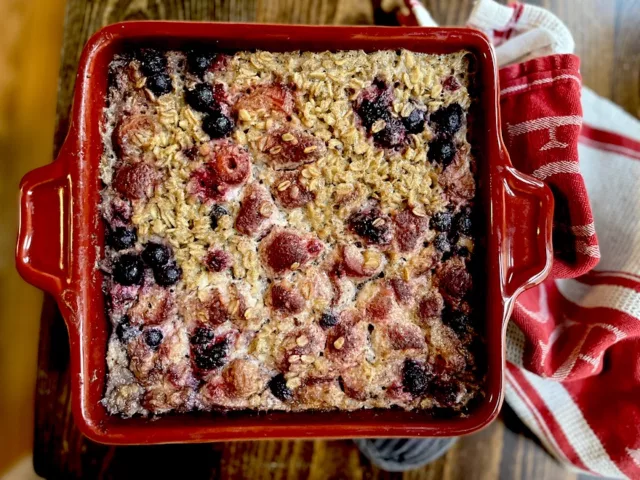 Baked Overnight Spiced Oatmeal
This recipe will help you start every day this week off on the right foot. It's also easy to prep ahead so you can bake and enjoy right out of the oven on Monday. Assemble everything, cover, and refrigerate. Bake it the next morning, stopping to add nuts if desired before the last five minutes or so.
Pro tip: Use just 2/12 cups milk if you'd prefer a more firm oatmeal. To make this vegan, substitute a flax egg—let 1 tablespoon ground flaxseed combined with 3 tablespoons of water sit for 15 minutes.
Low-waste note: Freeze any leftovers in portion-size increments in an airtight container. Reheat in the oven, covered loosely in foil, and drizzle with maple syrup when hot.
PREP
10 minutes
COOK
45 minutes
SERVES
8
INGREDIENTS
1 tbsp oil, butter, or coconut oil, plus more for the baking dish
1 large egg
2 ½ to 3 cups whole milk (or milk alternative)
2 tbsp coconut sugar, maple syrup, or brown sugar
1 tsp vanilla
1 tsp ground cinnamon
½ tsp ground ginger
1 tsp baking powder
¼ tsp fine sea salt
2 cups old-fashioned rolled oats
2 cups fresh, frozen, or dried fruit, any kind
2-3 tbsp chopped walnuts or pecans (optional for topping)
INSTRUCTIONS
Grease an 8 x 8-inch baking dish and set aside.
In a large bowl, whisk together the egg, milk, vanilla, spices, baking powder, salt, and sweetener of your choice. Stir in the rolled oats and fruit. Cover with plastic wrap and refrigerate for up to 8 hours.
Preheat oven to 350 F. Bake the oatmeal for 35 minutes, stopping to add nuts if desired. Bake for another 5 to 10 minutes or until the top is golden and the oatmeal is set. Serve hot.
Leftovers can be stored in the refrigerator, covered, for up to 3 days. Reheat in the microwave or in the oven.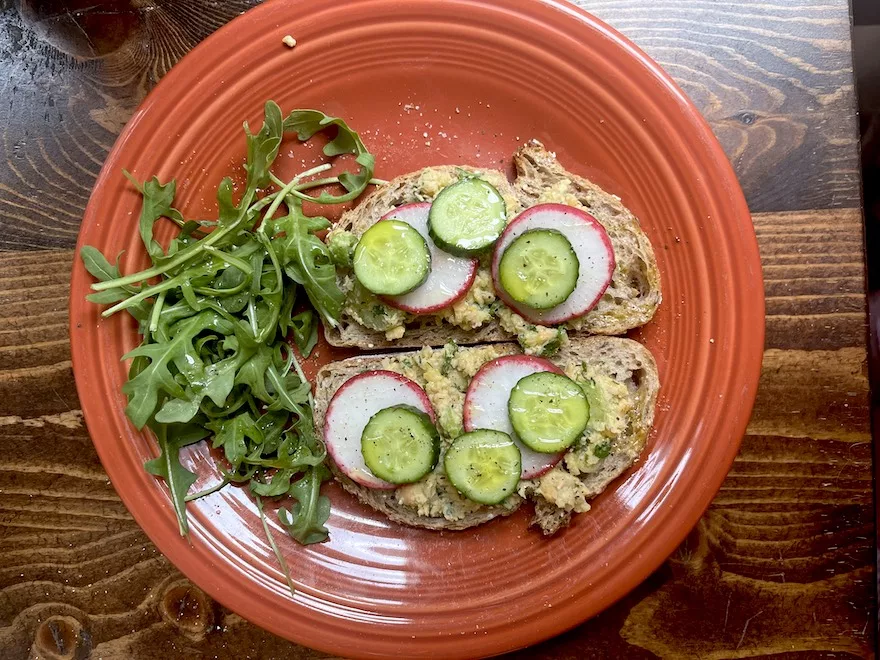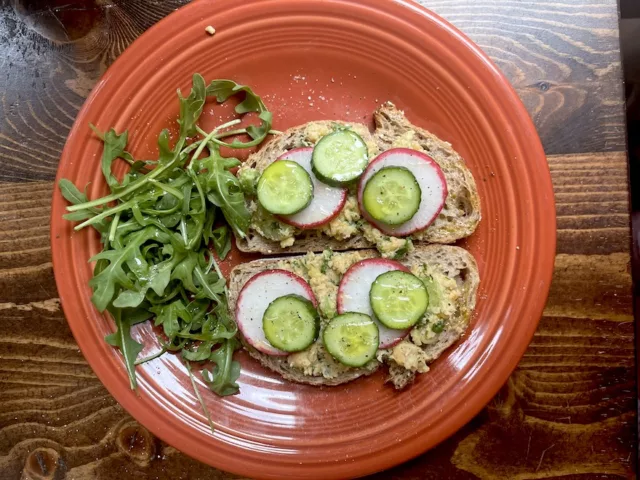 Open-Faced Chickpea Salad Sandwich
This dish is a great alternative to tuna or chicken salad. For additional protein, you can always add a couple of chopped-up hard-boiled eggs (you'll need these for tomorrow's Chicken Cobb Salad). Use it for lunch or dinner—and pair with a bowl of soup or salad if desired.
Low-waste note: You'll use the other half of the lemon in this dish for your salmon. The parsley is used for this recipe, the salmon, and Chicken Veggie Soup, proving that you can, indeed, use up one whole bunch of herbs in a week's time.
PREP
10 minutes
COOK
10 minutes
SERVES
1
INGREDIENTS
1 ½ cups chickpeas, drained and rinsed
1/3 cup parsley, roughly chopped
1 cup celery, diced
1 green onion, chopped
Juice and zest of ½ lemon
2 tbsp tahini
1 tbsp grainy mustard
1/2 tsp granulated garlic
Kosher salt, to taste
Freshly ground black pepper, to taste
1 small cucumber, sliced
1 small bunch radishes, sliced
Extra virgin olive oil, for serving
8 to 12 slices multigrain or gluten-free bread
INSTRUCTIONS
In a food processor, briefly pulse together the chickpeas and parsley. Transfer to a medium bowl and stir in the celery, green onions, lemon juice and zest, tahini, mustard, granulated garlic, salt, and pepper.
Serve on toasted bread.
Garnish with a few slices of cucumbers and radishes. Drizzle with extra virgin olive oil and season with sea salt and freshly ground cracked pepper before serving.
Refrigerate leftovers in a covered container for three to four days.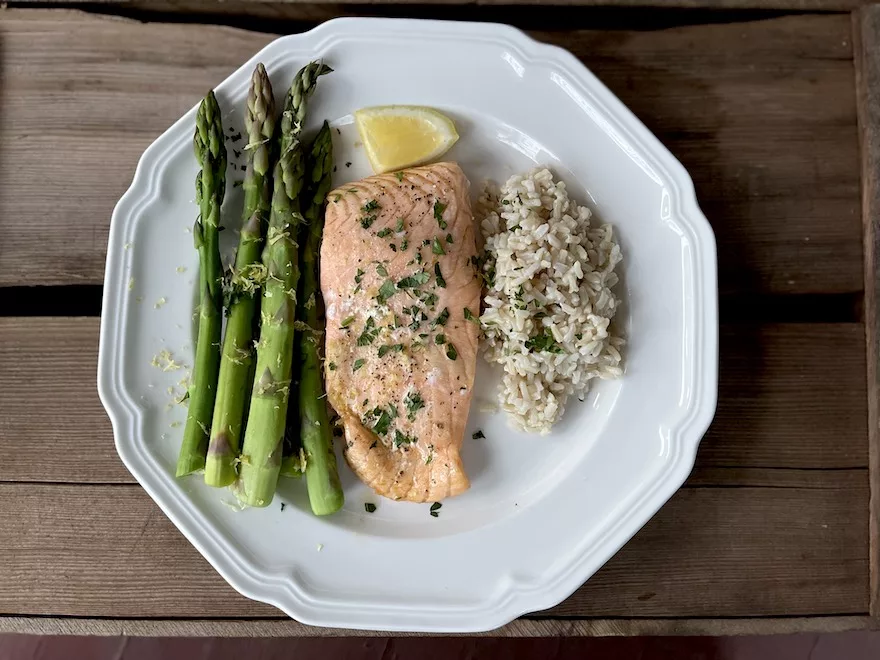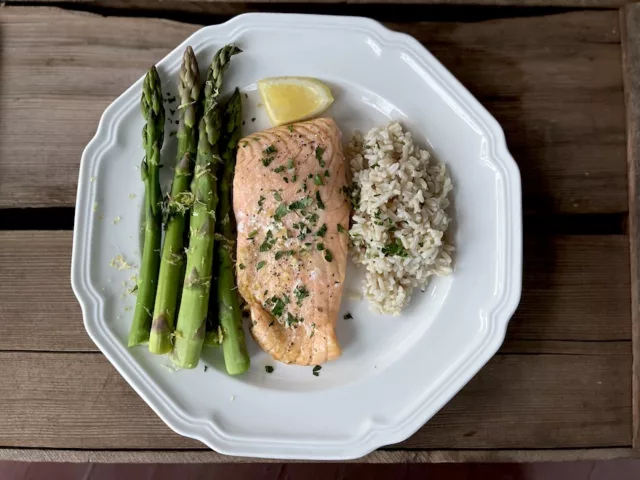 Salmon with Lemon, Parsley, And Asparagus
Salmon is a quick, healthy protein that's also super easy to cook. This recipe bakes in the oven for about 10 minutes (exact cook time will depend on the thickness of your salmon). Look for salmon that's sustainably raised—try buying wild whenever possible. (Not sure? Check out the Monterey Bay Aquarium's well-regarded sustainable seafood and fish guide.)
PREP
5 minutes
COOK
5 minutes
SERVES
4
INGREDIENTS
4 6-ounce wild salmon filets
1 tbsp extra-virgin olive oil
Kosher salt, to taste
Freshly ground black pepper, to taste
½ lemon
1 lb asparagus, woody stems removed
¼ cup parsley, finely chopped
Cooked white or brown rice
INSTRUCTIONS
Preheat the oven to 425 F.
Place the salmon on a rimmed baking sheet lined with foil. Drizzle the olive oil over the filets and sprinkle with salt and pepper. Transfer the salmon to the oven and bake for about eight to 10 minutes until it reaches 125 F on an instant-read thermometer for medium-cooked salmon.
Meanwhile, set up a steamer insert inside a 4-quart pot, or add a few inches of water to a pot and bring to a boil. Cover and steam the asparagus for four to five minutes (or more, if it's thicker), until bright green and tender.
Serve the salmon with asparagus and rice. Zest the other half of the lemon right over the salmon, asparagus, and rice. Sprinkle parsley over the rice and salmon and serve. Quarter the lemon and serve the wedges with the salmon.
Refrigerate any leftovers in a covered container for two to three days and reheat the salmon gently in a low oven, or use cold in a green salad.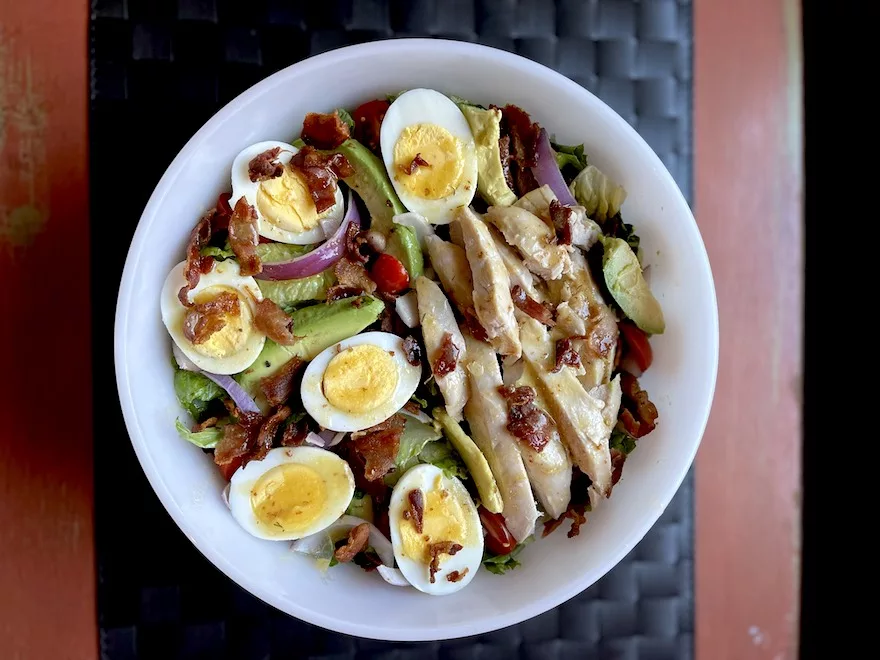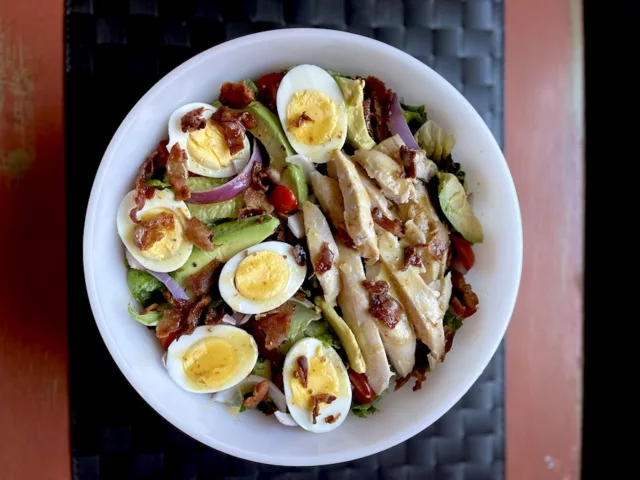 Rotisserie Chicken Cobb Salad
There's no shame in buying a good quality pre-roasted rotisserie chicken from the grocery store. This might be the biggest meal prep trick ever. You don't even need to reheat the chicken for this salad. 
Pro tip: Hard boil 6 eggs ahead of time; I like to steam them. Place them in a pot with a few inches of boiling water. Cover the pot and steam the eggs for 10-12 minutes, depending on how hard-cooked you like your yolk. Remove from the pot and submerge immediately into a bowl of ice water. Store in the fridge. Use leftover eggs as snacks during the week, or crumble and add to the chickpea salad.
Low-waste note: Reserve 2 cups of chicken along with the carcass for soup later in the week.
PREP
10 minutes
COOK
10 minutes
SERVES
1
INGREDIENTS
For the dressing:
¼ cup extra virgin olive oil
2 tbsp apple cider vinegar
2 tbsp honey
¼ tsp salt, or more to taste
Freshly ground black pepper
For the salad:
1 rotisserie chicken, approximately 3 to 4 lbs
10 oz romaine hearts, chopped
6 slices bacon
3 or 4 hard-boiled eggs, halved
1 avocado, peeled and sliced
2 cups sliced grape tomatoes
1 half red onion, sliced into half moons
INSTRUCTIONS
Whisk together the dressing ingredients in a small bowl. Set aside.
Remove the chicken from the bone and dice about 4 cups' worth.
Set the romaine in a large bowl and add the chicken.
Cook the bacon until crisp, about 10 minutes, and drain on paper towels. Crumble or cut using kitchen scissors right into the salad bowl.
Add the sliced eggs, avocado, grape tomatoes, and red onion. Add the salad dressing and toss gently to combine.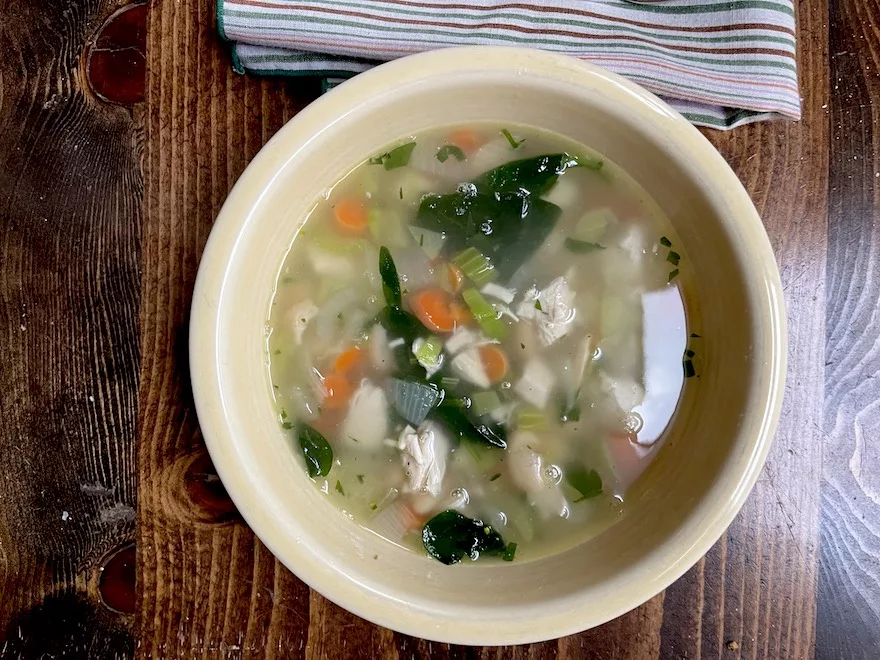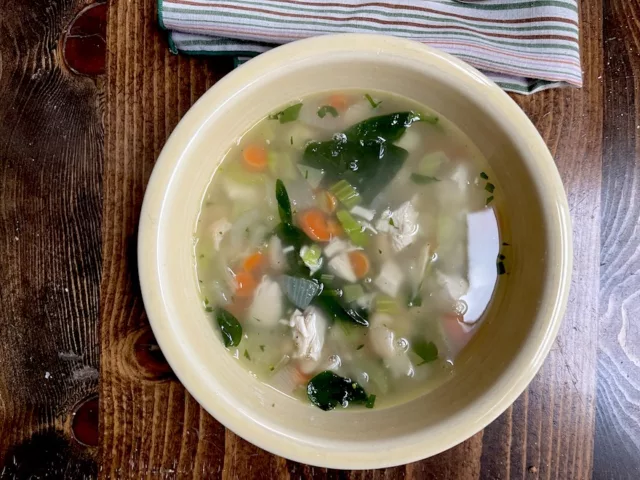 Chicken Veggie Soup with White Beans
Making soup is one of the best things you can do with a rotisserie chicken. You'll make your own stock before you start the soup. Set a large pot on an adjacent burner and simmer the carcass in 8 cups of water along with some salt, pepper, and bay leaves. For extra flavor, add some organic vegetable base.
Low waste note: Save the remaining canned white beans for the carrot soup recipe. You'll use chopped broccoli stems for this recipe, then use the tops for frittata later.
PREP
0 minutes
COOK
0 minutes
SERVES
1
INGREDIENTS
2 tbsp olive oil, unsalted butter, or coconut oil
1 small onion, diced
½ tsp salt
¼ tsp black pepper
1 ½ cups celery, diced
1 ½ cups carrots, halved (if large) and sliced into half moons
½ cup chopped broccoli
6-8 cups stock
2 cups rotisserie chicken, diced
1 cup white beans
¼ cup parsley, finely chopped
Reserved chopped kale ribs and broccoli stems
INSTRUCTIONS
Melt the butter or heat the oil in a stockpot or Dutch oven over medium-high heat. Add the onion, salt, and pepper and cook 5 to 6 minutes until softened, stirring occasionally.
Add the celery and carrots and cook for 3 or 4 minutes. Add the chicken stock you made and bring to a boil. Reduce heat to medium-low and simmer for 7 to 8 minutes.
Add the chicken and white beans, and cook for a couple of minutes to heat everything through. Add the parsley, and serve immediately.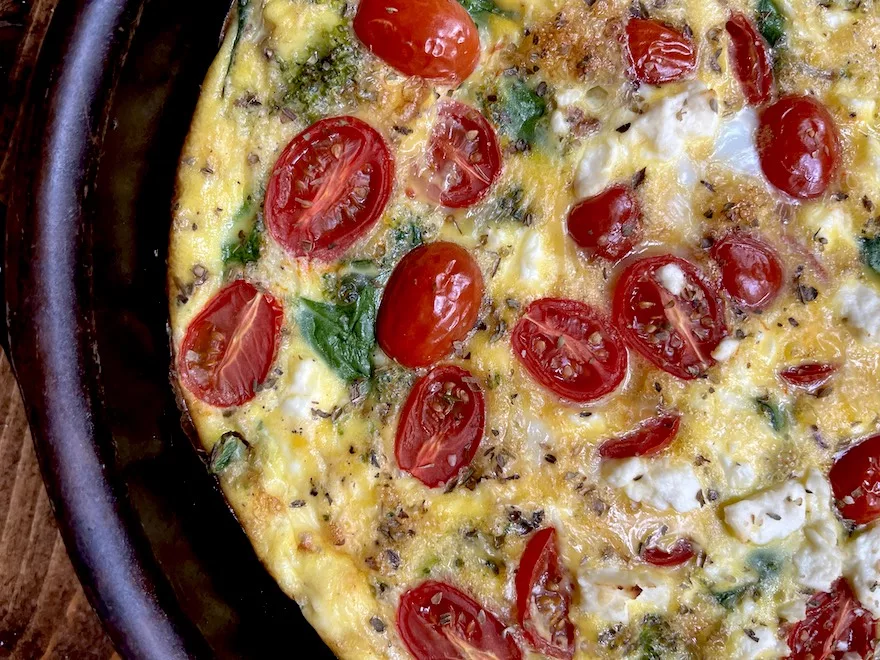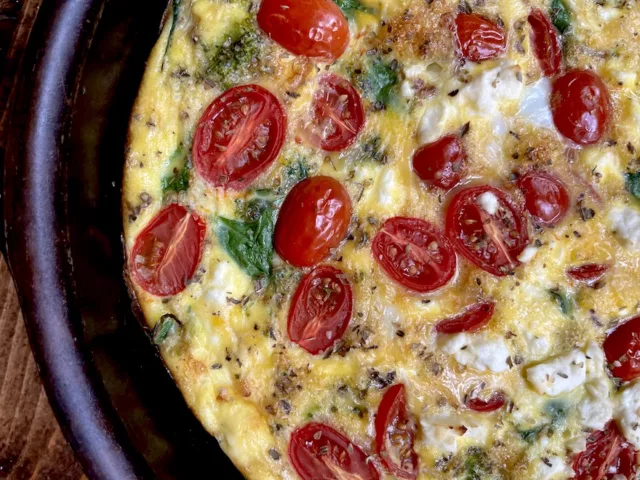 Greek Veggie Frittata
Frittata, like soup or pasta, is one of the best empty-the-fridge dishes you can make. You can use any veggie you want, but we've called for veggies that will give this a Mediterranean flavor and ones you'll use throughout the week as you make the other dishes. This one includes spinach and feta, with some oregano, too, for a Greek spin.
Low-waste note: You're using just the broccoli tops here, but the stems were used in the Chicken Veggie Soup with White Beans.
PREP
5 minutes
COOK
5 minutes
SERVES
6
INGREDIENTS
10 large eggs
1/3 cup whole milk
½ tsp salt, plus more to taste
¼ tsp pepper, plus more to taste
1 tbsp olive oil, butter or coconut oil
1 small onion, finely diced
2 cups chopped broccoli
2 cups baby spinach
1 cup grape tomatoes, halved
1/3 cup crumbled feta cheese
⅛ tsp ground oregano
INSTRUCTIONS
Preheat oven to 400 F.
In a medium bowl, whisk together the eggs with the milk, salt, and pepper. Set aside.
In an 8- or 10-inch skillet, heat the olive oil over medium heat. Cook the onions for 5 to 6 minutes until softened, or longer if you want more color on them.
Add the broccoli stems and cook for an additional 2 to 3 minutes until just tender.
Add the baby spinach and briefly turn up the heat to medium-high, and stir continuously until just wilted. This will happen quickly.
Turn off the heat and carefully pour the egg mixture into the pan, making sure it's evenly distributed. Place the tomatoes cut side up into the pan and scatter the crumbled feta cheese. Sprinkle the oregano on top along with a bit of salt and pepper.
Bake for 15 to 20 minutes until the frittata puffs up slightly and the middle is set. Remove from the oven to cool.
Frittata will keep covered in the refrigerator for 3 to 4 days. Reheat in the microwave or the oven until hot.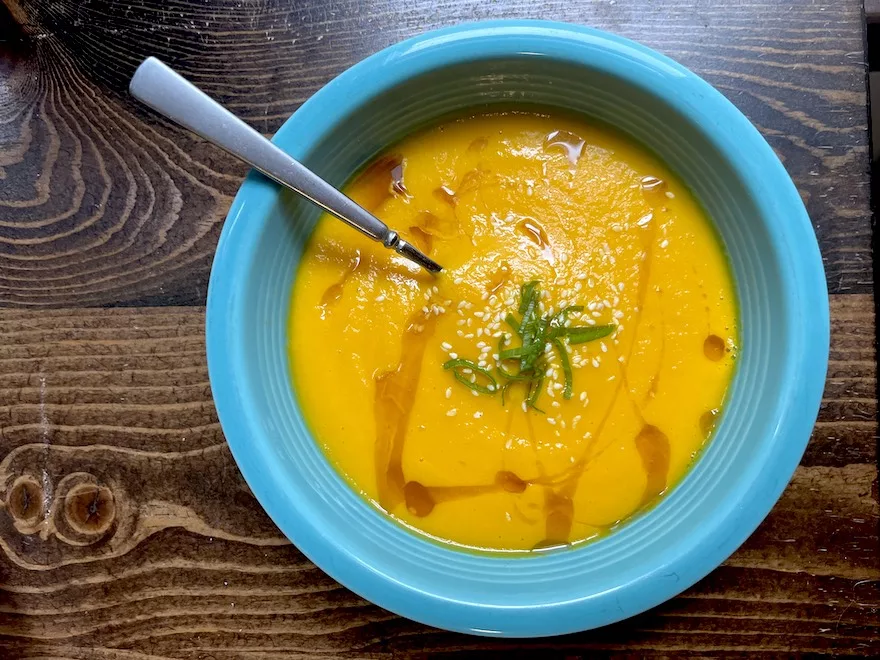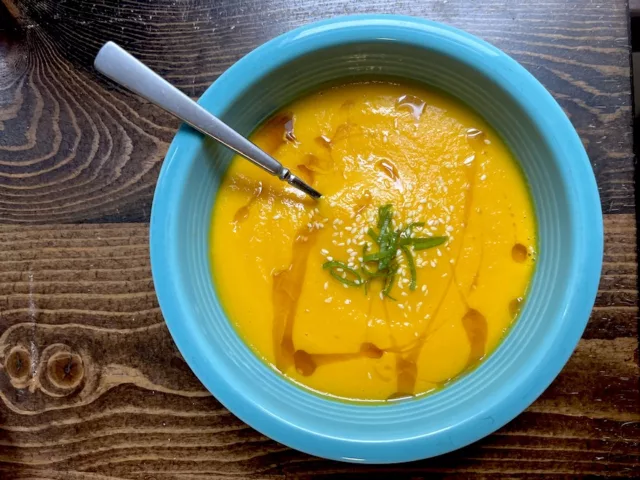 Vegan Carrot Ginger Miso Soup
This soup takes its inspiration from the salad dressing you often get with your favorite takeout sushi, but it's got more umami, thanks to miso and a drizzle of toasted sesame oil before serving. The white beans in this recipe are undetectable but add creaminess without dairy and protein and fiber without animal fat. If you're serving this to someone who's gluten-free, check to make sure the miso is gluten-free.
Low-waste note: The rest of the beans will be used in another soup, so don't worry about them hanging about in your fridge until you forget about them!
PREP
10 minutes
COOK
10 minutes
SERVES
1
INGREDIENTS
2 tbsp butter, olive oil, or coconut oil
1 small onion, diced
1 ½ lbs carrots, peeled and sliced into coins
1 tbsp grated ginger
½ tsp ground ginger
4 cups vegetable stock, chicken stock, or water
½ cup white beans
1 to 2 tbsp white miso
1 green onion, green parts only, sliced thinly, for garnish
Sesame seeds (optional for garnish)
Toasted sesame oil (optional for garnish)
INSTRUCTIONS
In a medium stockpot or Dutch oven, melt the butter or oil over medium heat. Add the onion and cook for 5 to 6 minutes until softened and translucent.
Add the carrots and ginger to the pot and cook for 5 to 7 minutes until tender. Add the stock and bring to a simmer, and then reduce the heat. Cook for 10 minutes or until the carrots can be pierced with a fork. Stir in the white beans. Add the miso and stir until completely dissolved.
Transfer the soup to the base of a high-speed blender and puree until completely smooth. Return the soup to the pot over low heat, stir, and adjust to taste.
Serve immediately garnished with a few slices of green onion, a sprinkling of sesame seeds, and a drizzle of toasted sesame oil.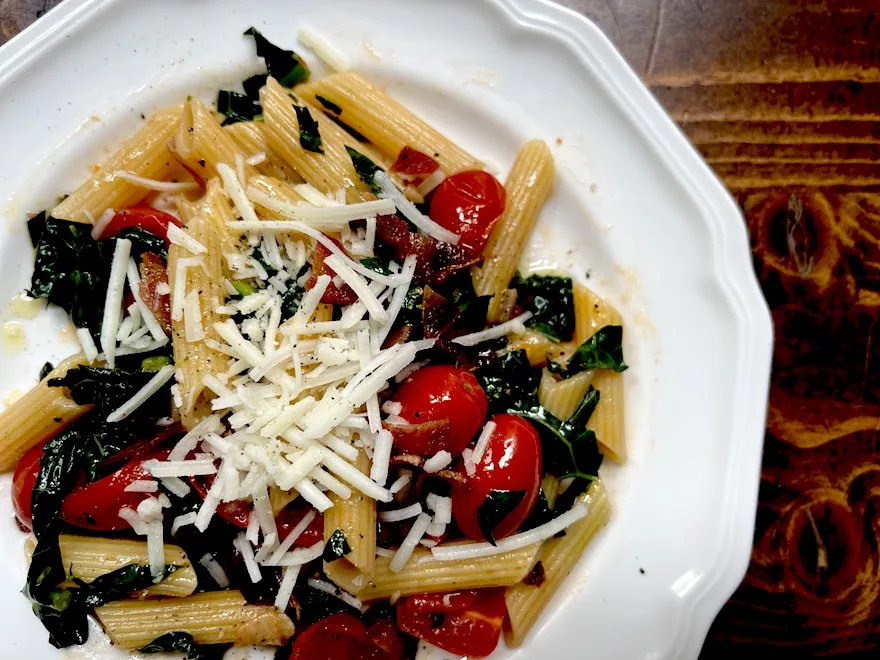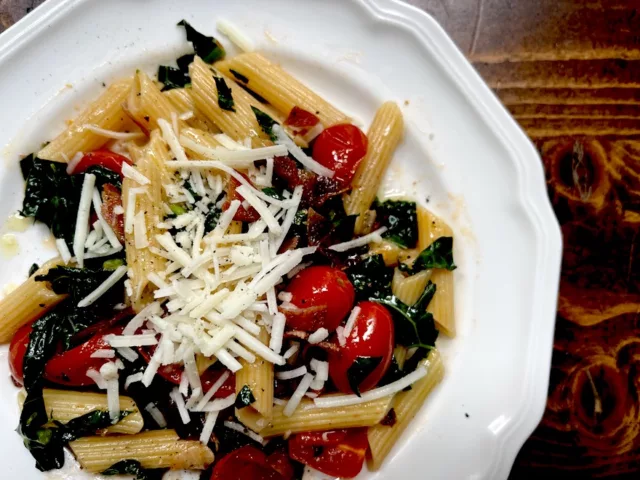 Penne with Bacon, Tomatoes, and Kale
Pasta is perhaps the ultimate blank slate. This recipe can be made with any short, stubby pasta you like, such as whole-wheat or gluten-free penne. You'll cook the onion in the rendered bacon fat to use it up, but if you'd rather not, feel free to empty the pan and add a little olive oil before cooking the onion. You'll also reserve some cooking water from the pasta; the starches will help create a sauce and add back some moisture to the cooked veggies.
Low-waste note: Save the kale ribs to use in the chicken soup. You can also pour off the bacon fat into a glass jar and store in the fridge to be used sparingly for cooking later on.
PREP
5 minutes
COOK
5 minutes
SERVES
4
INGREDIENTS
12 oz whole-wheat or gluten-free pasta
8 slices bacon
1 small red onion, diced
1 tbsp balsamic vinegar
3 cups grape tomatoes, sliced
1 bunch lacinato kale, ribs removed and chopped
1 to 2 tbsp olive oil or butter
½ cup grated Parmesan, locatelli romano, or asiago cheese for garnish
INSTRUCTIONS
In a large stockpot with salted water, cook the pasta according to package directions. Reserve ½ cup of the pasta water and set the pasta aside.
In a large skillet, cook the bacon over medium heat until crispy. Remove to a plate lined with paper towels to drain. Pour off most of the bacon fat, but leave a bit in the pan. Add the red onion, turn the heat to medium-high and cook for 5 to 6 minutes.
Add the balsamic vinegar and stir quickly to scrape up any bits that are stuck to the pan. Add in the grape tomatoes and cook for 3 to 4 minutes until they've softened but not completely fallen apart. Add the chopped kale and stir together quickly until wilted.
Transfer the pasta back into the pot you cooked it in, and add the veggies, olive oil or butter, and reserved pasta water. Stir until combined. Serve immediately, garnished with cheese.
More like this