The Steps HUM Nutrition Is Taking to Build a More Sustainable Future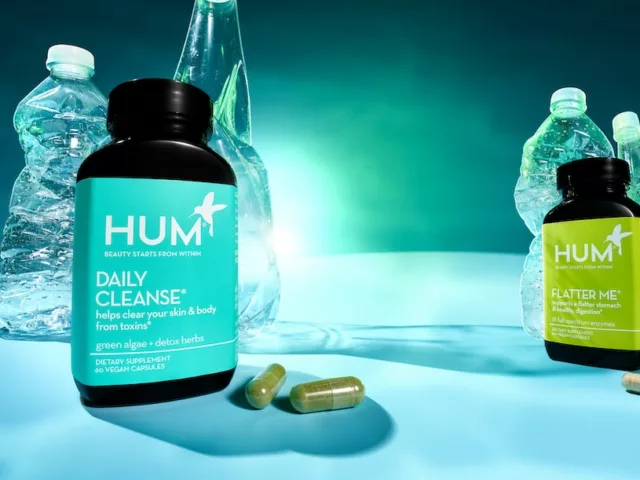 At HUM Nutrition, we believe that our wellness and the wellness of the planet are inextricably tied. We're taking action to lessen our impact on the environment by fully transitioning to 100% Prevented Ocean Plastic™. Read more to learn about this exciting initiative and our commitment to sustainability.
HUM Nutrition is built on the values of respect, diversity, collaboration, positivity, impact, and curiosity. And while each individual value is integral to our brand, impact is at the forefront of our minds with Earth Day (April 22) approaching. We constantly strive to help everyone everywhere look and feel their best, and this simply isn't possible without taking action to be more sustainable. Here's how HUM is making a positive impact on our planet.
The Problem with Packaging
"HUM is a key player in wellness and beauty, and within beauty, we have identified packaging as one of the key contributors to plastic pollution around planet," says Walter Faulstroh, CEO and co-founder of HUM Nutrition.
In 2018, in the U.S. alone, almost 7.9 billion units of rigid plastic were created just for beauty and personal care products, according to Euromonitor International. If we continue down the path we're going, it's projected that by 2050, the oceans will contain more plastic than fish.
"As we scale our business, we want to be part of the solution as opposed to being part of the problem," explains Faulstroh. To do this, HUM worked with expert engineers who specialize in sustainability to completely revamp our packaging.
Part of the problem with packaging in the beauty and consumer goods industries arises from the number and size of materials used, Faulstroh explains. Mixed materials, such as the bottle, cap, label, and pump you may find on your favorite face serum, are not easily taken apart and sorted in the recycling process. What's more, some of the parts may be too small to recycle. 
"We took all of the components apart and then looked at every possible packaging material," says Faulstroh. "We evaluated them by several factors. Can it be recycled? Is it using existing materials? What is its carbon footprint? After evaluating all these criteria, we concluded that Prevented Ocean Plastic™ was a great sustainable alternative."
In 2021, we began the transition to using Prevented Ocean Plastic™ bottles. Prevented Ocean Plastic™ uses existing plastics that were littered and gives them a new life as HUM bottles. (Learn more about these efforts, below.)
"We also re-engineered our label to ensure it comes off during the recycling process," says Faulstroh. "The bottle and the cap are made of the same material, so those can be recycled together." Finally, certain colors are harder to recycle. HUM chose a dark amber-colored bottle over black, which is more difficult to recycle.
Today, 70 percent of our bottles are made of Prevented Ocean Plastic™, but we know it's not enough. That's why we're committing ourselves to ensuring that 100 percent of our bottles are made from Prevented Ocean Plastic™ by the end of 2022. Furthermore, we are committed to eliminating all single-use plastic by 2025.
Why Preventing Plastic Pollution Matters
Pollution affects our health in a myriad of ways: from impacting our skin and contributing to respiratory issues to increasing stress levels. Plastic pollution can be particularly problematic because plastic is not naturally biodegradable. Instead, it breaks down into smaller and smaller pieces. Microplastics, or plastic pieces less than 5 mm in length, are some of the most dangerous. They can be found in the air, soil, and water supply, eventually ending up in our food and bodies.
One study in the July 2022 edition of Science of The Total Environment discovered microplastics in all regions of the human lung. Micro and nano plastic exposure is linked with inflammation, which is at the root of many diseases. Research is ongoing to understand the full scope of potential harm that microplastics can have.
Because microplastics are undetectable by the human eye, preventing them in the first place is our best course forward. We cannot truly take care of ourselves without taking care of our planet, too.
What We're Doing to Help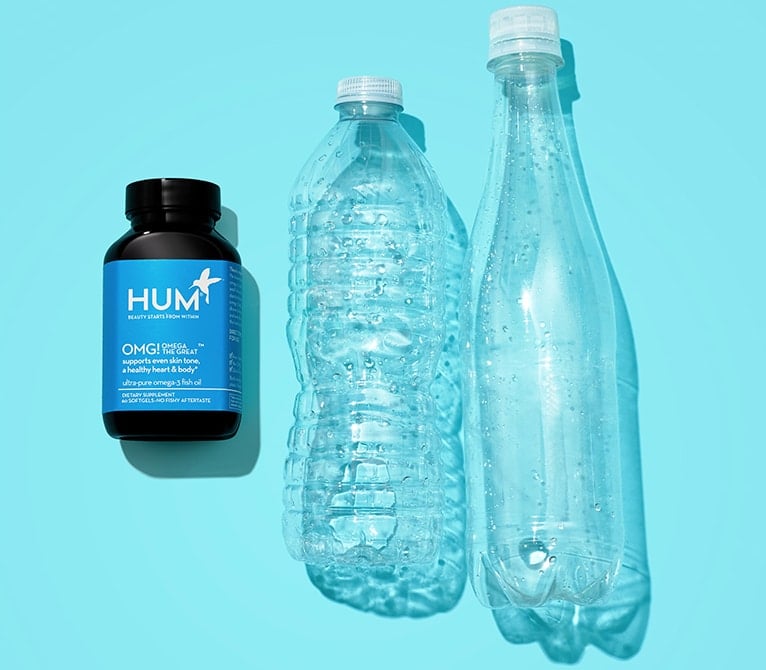 Prevented Ocean Plastic™
Once plastic enters the ocean, the sun and salt degrade the material, so it's not able to be recycled. That's why it's so important to catch plastic before it enters the ocean. HUM's transition to Prevented Ocean Plastic™ gives plastics that would've ended up in the ocean a new life as a HUM bottle. One HUM bottle will prevent the equivalent of two water bottles from entering our ocean. Prevented Ocean Plastic™ can also be recycled over and over again. Through an extensive evaluation, HUM chose this material because it is fully traceable, third-party certified, and has a lower carbon footprint than virgin plastic and glass. Plus, it also supports communities around the world where recycling infrastructures are lacking.
Today, HUM has already prevented 12 million plastic water bottles from entering our ocean.
Eliminating Single-Use Plastics for Good
HUM has joined the New Plastics Economy Global Commitment alongside more than 1,000 other organizations to ensure plastic never becomes waste or pollution. By the end of this year, 100 percent of our bottles will be made from Prevented Ocean Plastic™. And by 2025, our goal is to prevent 50 million plastic water bottles from entering the ocean.
Responsible, Eco-Conscious Packaging
On top of our transition to Prevented Ocean Plastic™ bottles and recyclable-friendly labels, we're also prioritizing sustainability across the rest of our packaging materials. Our subscription boxes are made from SFI-certified and FSC-certified materials and are printed using 100 percent wind energy. HUM subscribers can simply flatten our boxes for easy recycling.
To protect HUM shipments in transit, we use green wrap as an SFI-certified alternative to bubble wrap. Green wrap is naturally biodegradable and compostable and is recyclable as is. Finally, we're using mailing envelopes made from post-consumer recycled newspapers as an alternative to poly-plastic mailers. Similar to green wrap, our envelopes are recyclable as is.
Community Mobilization
We believe in doing our part when it comes to the plastic that's already in the ocean as well. That's why we partnered with Surfrider, a foundation dedicated to the protection and enjoyment of the world's oceans and beaches for everyone.
Together, we're hosting a zero-waste beach clean up in Santa Monica. On Sunday, April 24 from 10 a.m. to noon, you can come join our event to help keep our beaches and oceans healthy and clean. Be on the lookout for more beach cleanups in an area near you.
Campaigning for Reform
We've also partnered with Planet A, an alliance of beauty companies working towards a more sustainable future for the beauty industry—whether through eco-conscious packaging, responsible ingredient sourcing, or active campaigning for political involvement and initiatives.
Join HUM in Making A Difference
Through leading by example, HUM hopes to mobilize other companies that work in the consumer packaged goods industry to take steps toward building more sustainable supply chains. "It's extremely challenging yet satisfying when you start your sustainability journey," says Faulstroh. "Knowing that your work will have a positive impact will make all the efforts worthwhile, and we want to encourage other businesses to follow suit. We owe it not just to the consumer but to the environment to do better than what we're doing right now."We all have a part to play in the fight for our planet, and we take our role very seriously at HUM Nutrition. We're dedicated to wellness for the planet and you, since we can't have one without the other. Through our transition to Prevented Ocean Plastic™ and our commitment to sustainability, we believe we can build a more beautiful future. We hope you'll join us.

Maddy Sims
April 18, 2022
More like this