How to Eat Like a Dietitian at Starbucks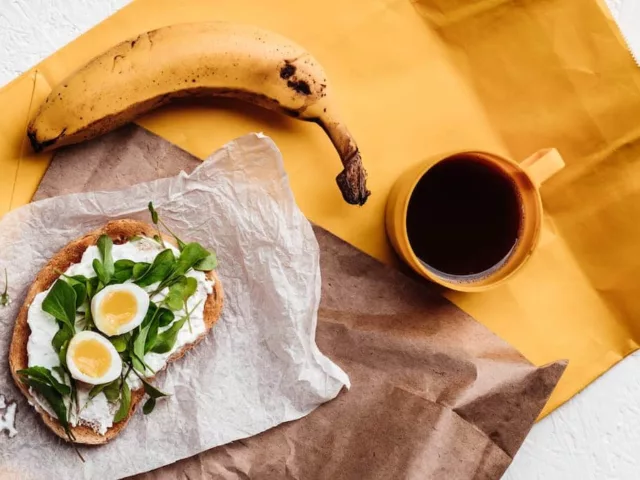 Study up on the healthy Starbucks drinks and healthy Starbucks food menu orders that earn a stamp of approval from dietitians. We're already buzzing over how delicious and energy-boosting these healthy Starbucks orders sound.
From the supermarket to the airport to the drive-through, Starbucks coffee shops are so common, a logo-emblazoned cup in hand has become about as ubiquitous as a smartphone. Since there are more than 15,000 Starbucks locations in the U.S. alone, it's clear their menu is convenient. But is it healthy?
As you probably guessed, this is one of those "yes, but…" scenarios. We tapped six dietitians to share their secrets for ordering healthy Starbucks drinks and food so you can steal their strategies.
Is Starbucks Healthy?
"Starbucks offers a wide variety of options, and one can often build a balanced snack (which contains all three macronutrients: protein, carbs, and fat), which helps to promote satiety and energy," explains Rachel Fine, RD, a registered dietitian and owner of the nutrition counseling firm To The Pointe Nutrition in New York City. While there are healthy Starbucks options, the menu also hides some very high-sugar options like the Pumpkin Cream Cheese Muffin (350 calories and 34 grams of sugar) and ​​Mocha Cookie Crumble Frappuccino® Blended Beverage (480 calories and 55 grams of sugar).
Compared to their fast-food competition, though, 'Bucks ranks near the top, confirms Michelle Hyman, RD, a registered dietitian at Simple Solutions Weight Loss in New York City. "Many grab-and-go establishments don't offer this many nutritious, whole-food based, no- or low-added sugar options," she says.
The key lies in choosing wisely, and these healthy Starbucks order ideas below can help.
"Take time to understand what is in your food and/or drink order. The most common ingredient in Starbucks' products that can derail your health goals is added sugar," says Mary Stewart, RD, LD, a registered dietitian and the founder of Cultivate Nutrition in Dallas. "A simple solution to this is to go to their website, select the product you are considering and click on 'full nutrition and ingredient list.'"
By reviewing the nutrition facts and ingredient list, you can keep tabs on how much sugar is added and see how to customize your order to reduce or completely eliminate added sugar.
"Remember, there is nothing wrong with ordering what you are in the mood for and what you want! But my all-time favorite order from Starbucks is really boring and requires a little DIY work," says Jenna A. Werner, RD, creator of Happy Strong Healthy in Middletown, New Jersey, who often orders to-go and pairs her snacks and sips with other components from home. (Keep reading for the specifics.)
5 Dietitian-Approved Healthy Starbucks Food Menu Items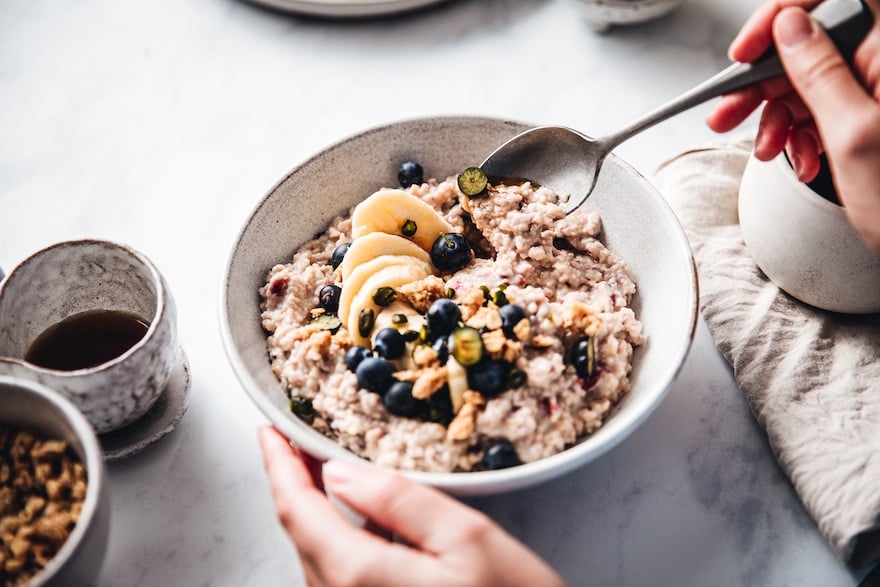 Kale and Mushroom Sous Vide Egg Bites
Packed with 15 grams of protein per two-bite serving, Elizabeth Shaw, MS, RDN, CPT, a San Diego-based registered dietitian and owner of ShawSimpleSwaps.com deems these "a filling way to start your day!"
Since they're fairly low in fiber and carbs, Werner likes to pair them with a homemade slice of toast with nut butter. ("To make them a meal, I just need a little more," she explains.)
Stewart likes to think of these as a snack, then adds a banana to her order.
"This combo is my go-to because I get a dose of fiber and antioxidants from the vegetables and the whole egg—not just the egg whites—offer nutrients like choline, vitamin A, B Vitamins, antioxidants and ample protein. Eggs are one of the most nutrient-dense foods, but we have to eat the whole eggs with the yolks to reap all the benefits," Stewart explains
Spinach Feta and Egg White Wrap
While whole eggs definitely deserve their moment in the sun, Natalie Rizzo, MS, RD, founder of Greenletes® in New York City is sometimes in the mood for this whole-grain egg white omelet wrap since it's stoked with veggies and a satisfying 20 grams of protein.
"I like that it has vegetarian protein to fill me up, as well as spinach for some veggies and feta cheese for flavor. It's not huge, but it's super filling and tasty," Rizzo says.
Just be sure to watch your sodium consumption for the rest of the day—this wrap sandwich clocks in at 840 milligrams (37 percent of your daily value).
Oatmeal
On its own or paired with those aforementioned egg bites, Fine is a fan of this whole-grain option as a healthy Starbucks breakfast item or snack.
"Oatmeal is a great source of soluble fiber, which supports sustained energy levels throughout my morning. I add their nuts and a sliced banana for balance and flavor," Fine says.
Try the Rolled and Steel Cut Oatmeal to kick off your day with a satisfying eight grams of protein and seven grams of fiber. (Psst..that's nearly one-third of your fiber quota for the day.)
Egg and Cheddar Protein Box
This convenient bento box offers a well-balanced blend of macronutrients to help you power up whether you enjoy it as breakfast or a between-meal nosh. It's also a great option to grab at the airport when you need something to sustain you on a flight.
"The hard-boiled eggs, peanut butter, and cheese provide filling protein and fat, and the fresh fruit offers fiber, all of which together should help keep you full," Hyman says.
BYOM (Build Your Own Meal)
Looking for another healthy Starbucks food order? Follow Hyman's lead and mix and match three of the grab-and-go options—a package of almonds, a string cheese, and a banana—for "a filling mix of healthy fats, protein, and fiber that can be eaten quickly and while you're on the move ," she says.
5 Dietitian-Approved Healthy Starbucks Drinks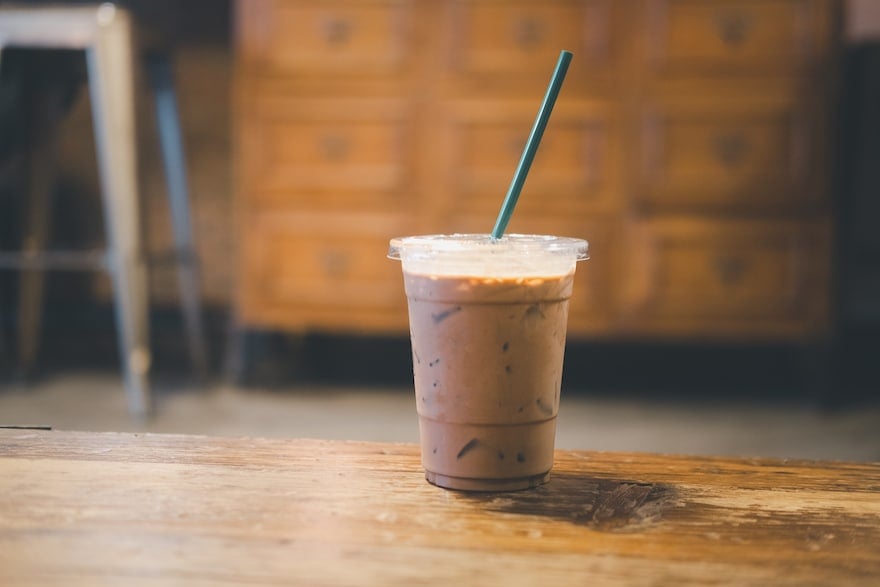 Coffee With a Splash of Dairy
A self-described "keep-it-simple" kind of orderer, Shaw asks for a Grande Iced Coffee with a splash of oat milk. (In case you missed it, java has been shown to lower risk for cardiovascular disease, stroke, depression, and more.
"This gives me the little jolt of caffeine I crave with the creaminess from the oat milk—without adding a lot of sugar to my beverage. Iced coffee tends to have less caffeine than cold brew, so for those trying to minimize caffeine, it's a nice middle ground," she says.
Hyman cosigns on the java move, too, and suggests the dark roast in particular because it has so much flavor. She skips added sweeteners and just adds a small amount of half-and-half.
"This does contain more fat than skim or almond milk, but it's delicious and worth it to me," Hyman says. Plus the three grams of fat per 40-calorie two-tablespoon serving helps fill her up—and aids in absorption of any of the fat-soluble vitamins from any vegetable-inclusive healthy Starbucks food (like those egg bites or any of the salads).
Tea
When Hyman and Stewart aren't in the mood for coffee, they ask for antioxidant-rich green tea.
"Unsweetened Iced Green Tea is my favorite healthy [Starbucks] drink because it has just the right amount of caffeine to elevate my energy, but not too much to give me the jitters. Green tea is also packed with antioxidants like catechins which research suggests can help boost metabolism and decrease body fat," Stewart says.
Rather than sipping on hot green tea alone, Hyman makes her own mash-up by tossing a mint tea bag into the green tea. "Combining the two teas enhances the flavor," she says.
Latte With Whole Milk
Surprised? Stick with us, Fine suggests—there's no need to fear fat.
"My go-to Starbucks drink is a latte with whole milk. Whole milk is often feared by my clients, but the added fat helps to keep me satisfied longer. It's also a great source of protein, which pairs nicely with my oatmeal; a more carb-heavy breakfast," she says.
Cappuccino With Almond Milk
Rizzo, a plant-based devotee, raves about this vegan Starbucks drink option.
"I usually keep it simple and get a cappuccino with almond milk. I like the creaminess of the almond milk with the caffeine boost from the espresso," Rizzo says.
Just plan to take it easy on the added syrups or sweeteners to keep the sugar content and calories in check.
BYO Espresso Drink
Werner pops a bottle of coconut water in her car cup holder, gym bag, or purse, then orders a venti cup filled with ice, three blonde espresso shots, frothed oat milk, and one shot of sugar-free vanilla syrup.
"Then I pour coconut water over the iced espresso. It is hydrating, caffeinating, and delicious," Werner says.
The Bottom Line About Healthy Starbucks Orders
Depending on your lifestyle and dietary needs, chances are high that Starbucks has a solid pick that will help fit your goals and help fill you up. When in doubt, look for a food menu item that's higher in protein and pair it with unsweetened tea or coffee with a splash of milk, Shaw suggests.
While handy, frequent trips to Starbucks or any take-out spot can add up quickly financially, so if you're looking to save, you can DIY your usual order.
"I prefer to save my trips to Starbucks for special occasions and make my own protein-rich breakfast sandwich at home," Shaw says. "To save big, seek out Starbucks iced coffee at your local supermarket; you can get four to five drinks out of one container for the price of two iced coffees purchased at an actual Starbucks location."
Karla Walsh
April 11, 2022
More like this