20 Healthy Meal Ideas Registered Dietitians Swear By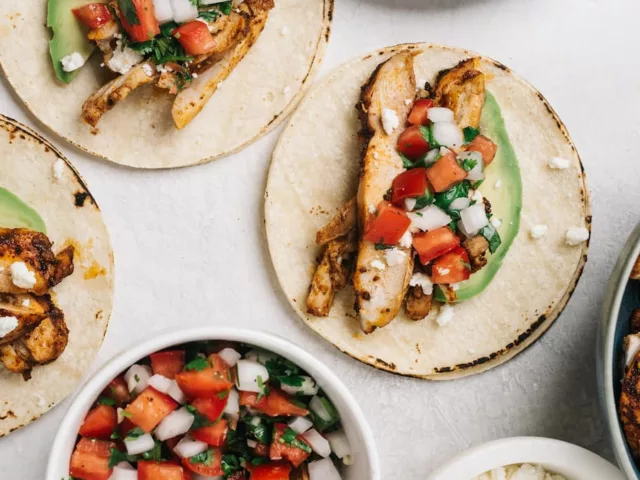 Looking for healthy weeknight meal inspo? Here are 20 recipes that RDs swear by.
We all have to answer the question "what's for dinner" every night of the week, and sometimes we run out of answers. Or, we're just bored with the answers our fridge and freezer are giving us.
To help spark inspiration, we asked a handful of registered dietitians and nutritionists to share their go-to meals for easy, stress-free cooking. No complicated recipes here, just conversations about what they typically make and how they make it. Let's face it: We've all got those tried and true meals we keep coming back to, whether it's for the ease, the taste, or even the nostalgia. These meal ideas are healthy, quick, and they involve simple meal prep techniques (batch roasting!) or pantry and fridge staples (eggs! canned beans! frozen veggies!). Get inspired to make one of these RD-approved, healthy meal ideas tonight.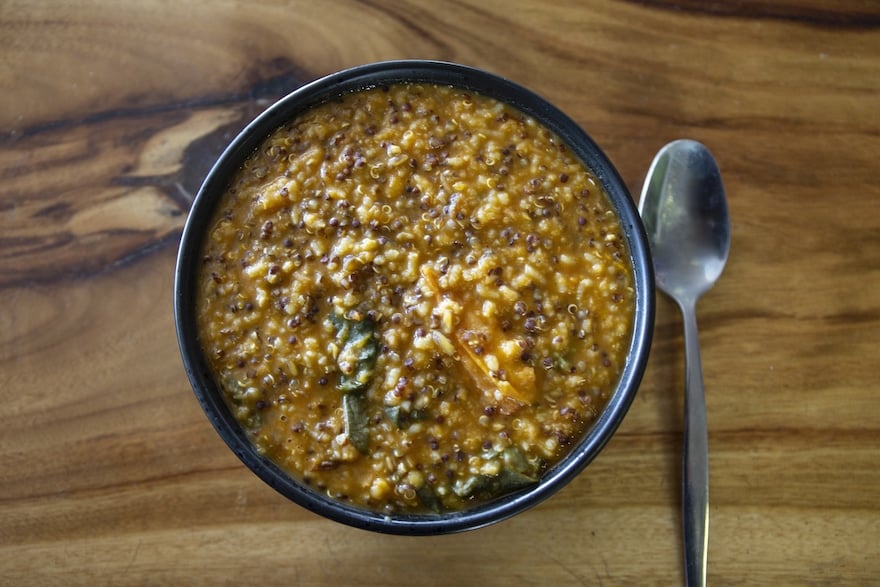 "This cozy soup is extra wholesome thanks to fiber-rich brown rice, which not only holds up better as it simmers in the pot but lends a wonderful thickness to each spoonful," says Sheela Prekash, RD, recipe developer and food writer. Prekash uses chicken or turkey sausage because it's leaner than other types of protein. "I always serve big bowlfuls with a simple green salad. I highly recommend making a double batch so that lunch is also taken care of for the week," she says. Cook once, eat multiple times—that's hard to beat, right?
Another fantastic dish Prekash makes can probably be put together by ingredients you have in your pantry: olive oil braised white beans.
"Braised white beans are not only wholesome, cheap, and pantry-friendly, they're totally hands-off," she says.
Cook them covered in the oven on low with olive oil and some seasonings to get them tender and flavorful. Eat them as they are, if you like, or treat them as part of your meal prep for the week. "Toss them with pasta, spoon them over creamy polenta, brown rice, or farro. You can also combine them with sauteed greens, or just pile them on toast for a simple and satisfying meal," she says.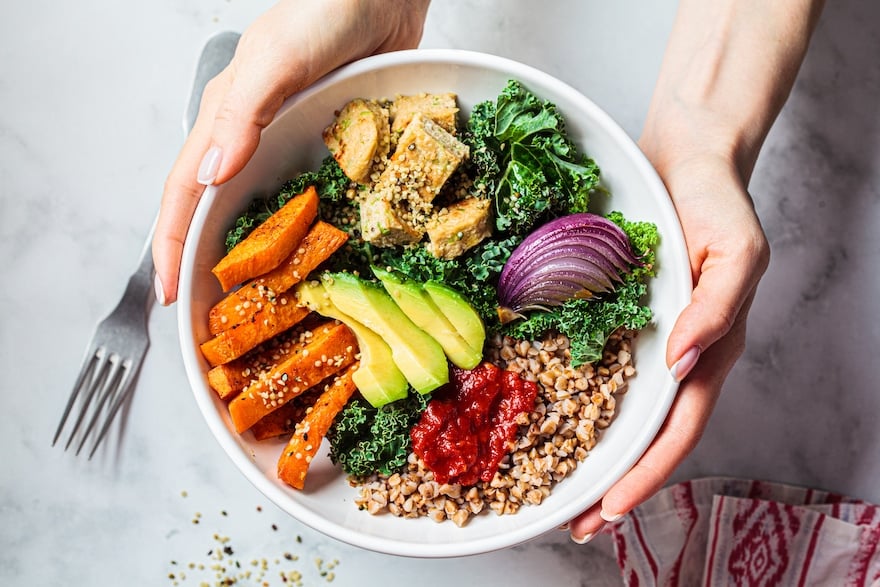 "I'll usually roast a big batch of veggies, cook a grain in my rice cooker for ease, and make a quick batch of my crispy air fryer tofu or baked tofu," says Alex Caspero, RD, one of HUM's nutritionists, and chef behind Delish Knowledge. "Any type of sauce works! I love bottled dressing and sauces for simplicity, or I'll make a batch of my creamy jalapeno sauce to drizzle on top."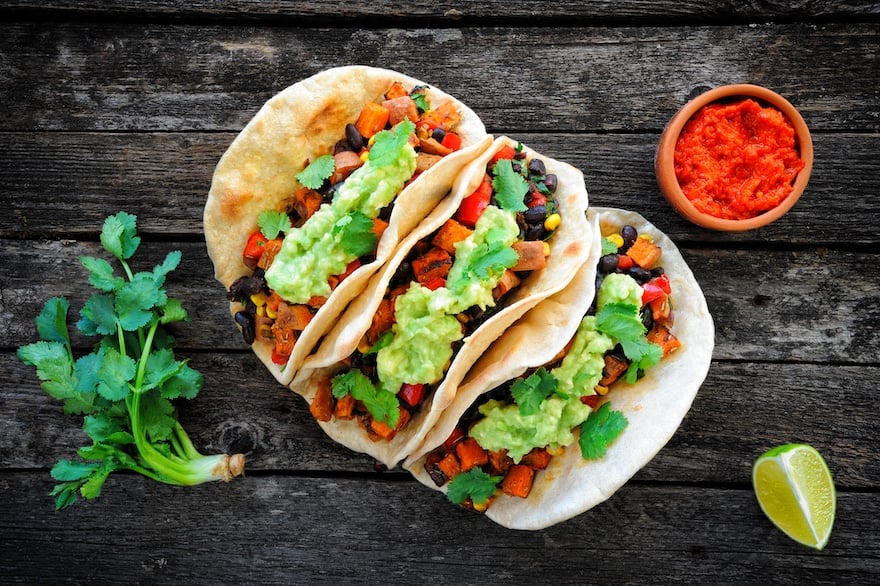 "We eat a LOT of tacos in my house—they are one of the few meals that my two toddlers go nuts for and everyone enjoys customizing them with various toppings," Caspero says. One of the recipes Caspero has on constant rotation is her 10-minute black bean tacos. They're made for lazy weeknights: All you need are a can of black beans, salsa, and taco seasoning.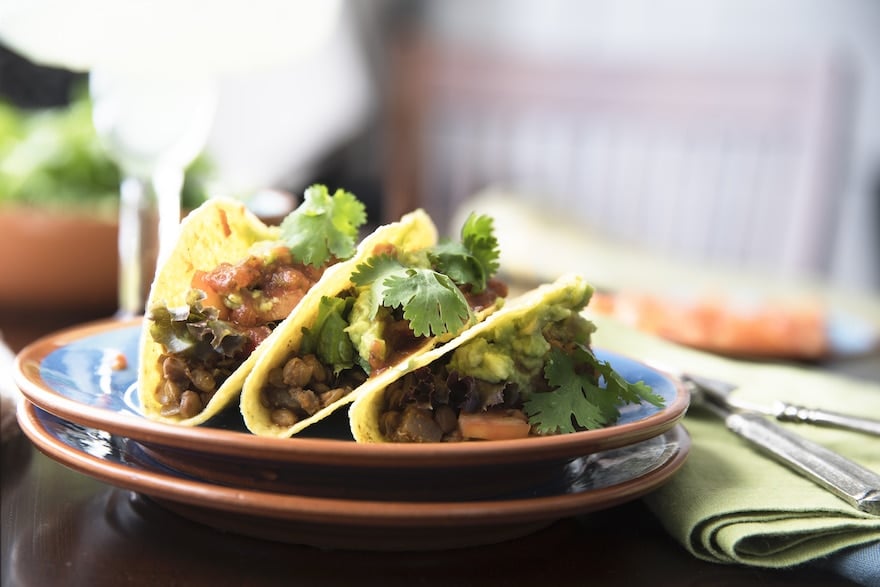 Another one of Caspero's favorites? Vegan lentil tacos. If you're short on time, Caspero says this recipe is a life-saver. "I've adapted them for the Instant Pot on nights that I don't have a lot of time to throw dinner together; grab lentils, seasoning, salsa, and broth and dinner is ready in just 15 minutes," she says. Caspero also loves this recipe because lentils (and black beans) are packed with plant-based protein and fiber. "Considering that one in 10 Americans don't meet the recommended amount of fiber each day, adding in beans is an easy way to hit fiber targets," she says.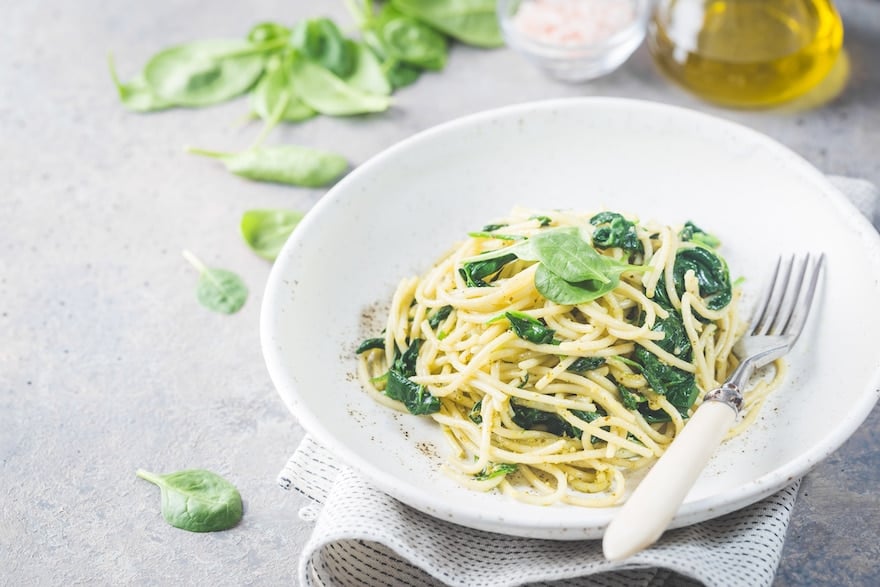 Another favorite? Caspero's easy 20-minute vegan pasta. "Saute shallots and garlic with red pepper flakes until softened, then add in spinach and pasta," Caspero says. "The trick is tossing undercooked pasta with the sauce and reserved pasta water to create a silky, glossy, pasta that tastes like you got it at a restaurant."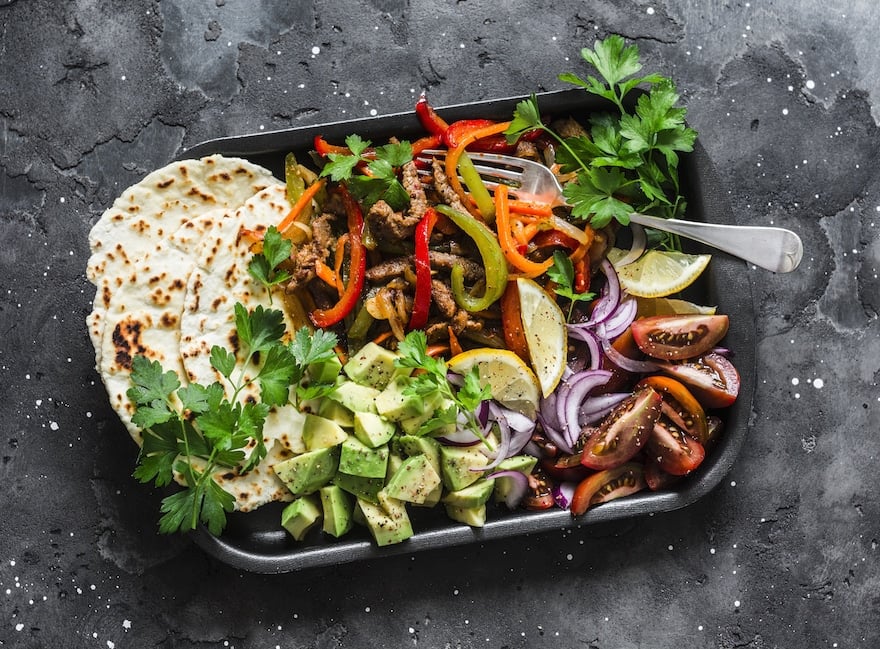 "One of my go-to meals to get dinner on the table in 20 minutes or less is Sheet Pan Chicken Sausage Fajitas. Chicken sausage is a super convenient protein to rely on, especially on busy nights," says Chelsey Amer, RD, one of HUM's nutritionists, and founder of Chelsey Amer Nutrition. It comes together fast: just toss together onions and peppers with some oil and spices, along with the chicken sausage. "It all bakes on one sheet pan tray, making clean up a breeze too," Amer says. "You can make dinner extra-fun by adding a variety of toppings like salsa, avocado or guacamole, cilantro, or pickled onions," she says.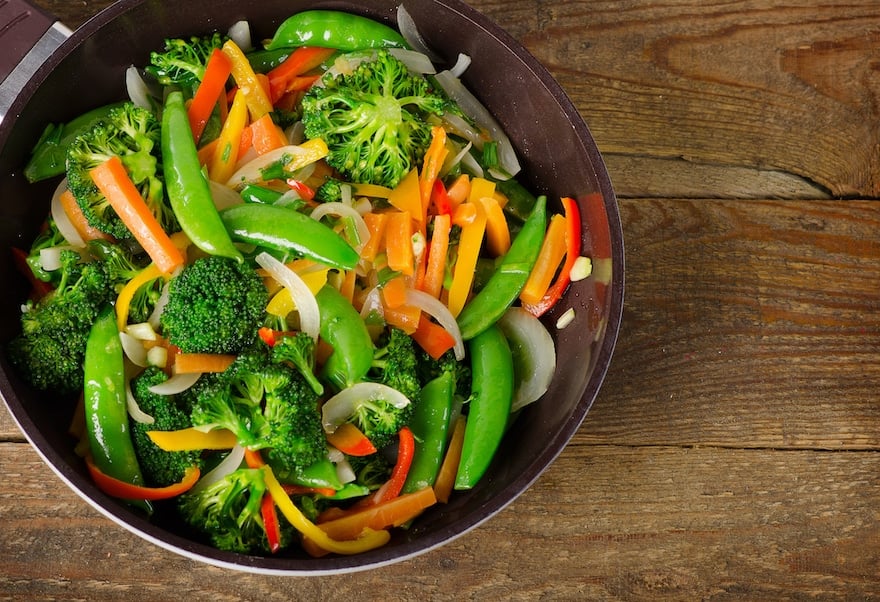 Frozen Veggie Stir Fry
Amer also loves making a stir fry on busy nights. "I rely on frozen stir fry vegetable blends so I don't have to do any chopping," she says. "Saute the vegetables, then add soy sauce or a store-bought stir fry sauce, and add any protein you have available; I find tofu or shrimp to be the easiest." Amer likes to serve the stir-fried veggies and protein with a whole grain, like microwavable rice or quinoa.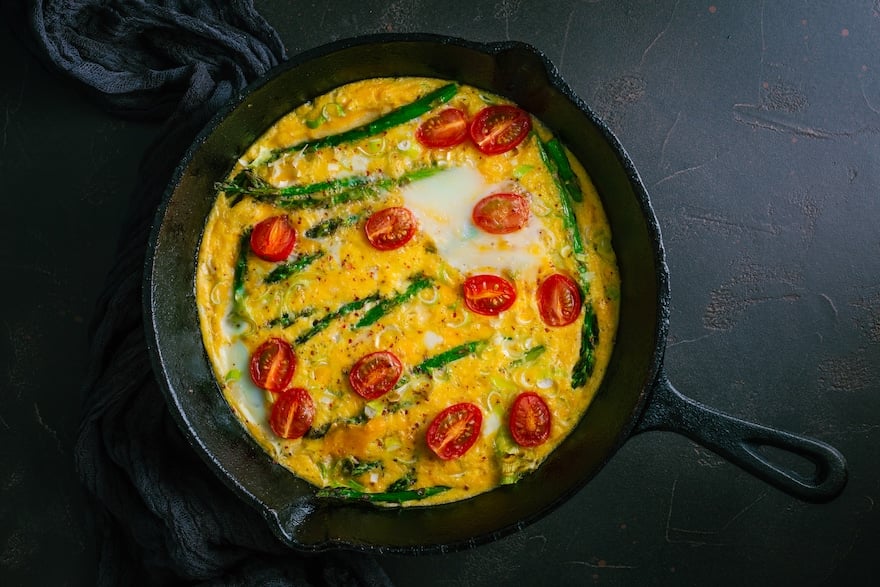 Weeknight Frittata
For a dish that feels fancy, but can still be done in 30 minutes, Amer likes frittatas. "It's so easy to whip up a quick frittata: Mix together eggs, milk, veggies, and cheese, then cook until set," she says. "Serve with toast, or if you have a few extra minutes, roasted potatoes."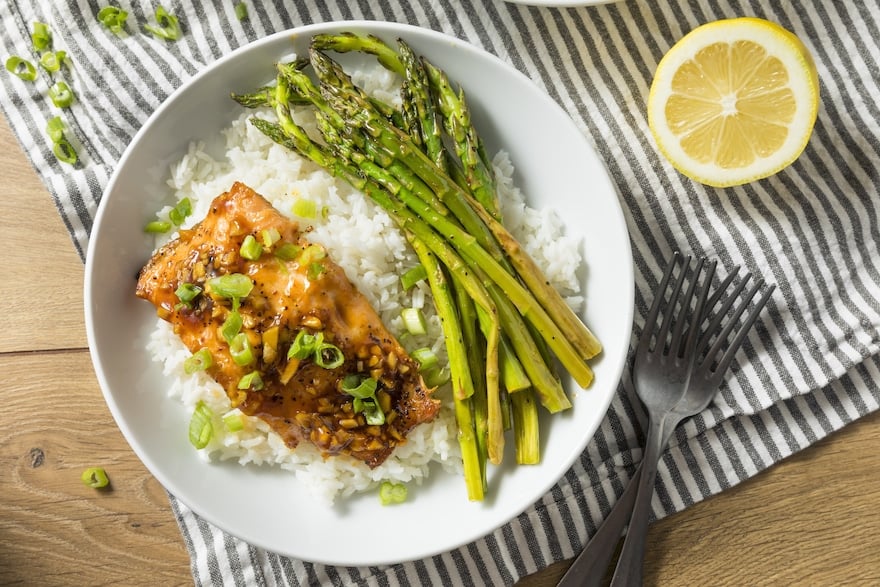 Sheet Pan Salmon Teriyaki
Gaby Vaca-Flores, RDN, education specialist at HUM is a big fan of the sheet pan. Her favorite recipe involves Asian flavors and salmon to make salmon teriyaki. "Bake the salmon fillets marinated in low-sodium teriyaki sauce alongside broccoli or trimmed asparagus for 15 minutes," she says. "This dish is best served with a side of steamed rice." On very busy days, Vaca-Flores uses microwavable sticky rice. (Pro tip: Frozen rice saves time, too!)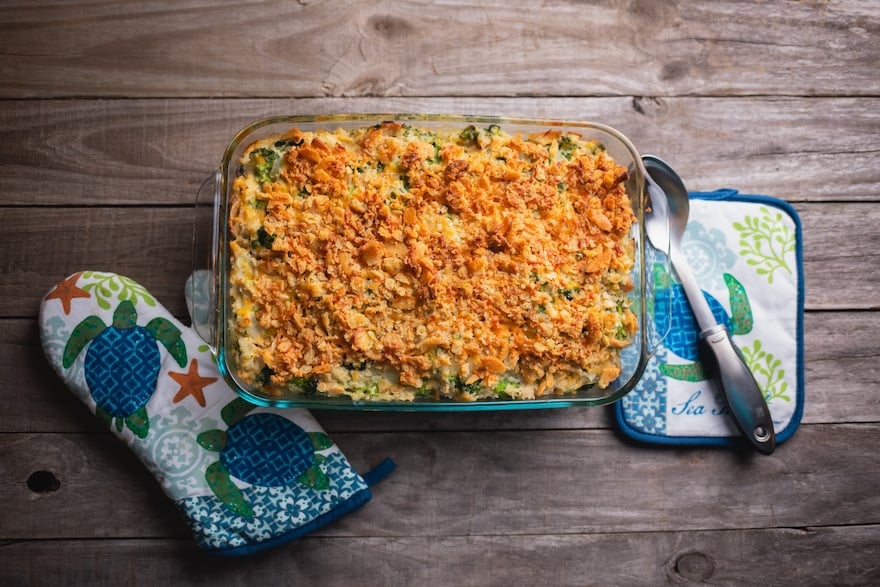 Chicken Casserole
Another dish Vaca-Flores likes to make during the week is an old-school classic: chicken casserole. "It's essentially a mixture of chicken (or the protein that I have on hand), root veggies (like potatoes and carrots or a bag of frozen veggies) with a can of low-sodium condensed cream of mushroom soup, all seasoned to taste," she says. "I like this recipe because the prep is minimal and the oven does the bulk of the work." Added bonus: The leftovers make a tasty and healthy lunch the next day.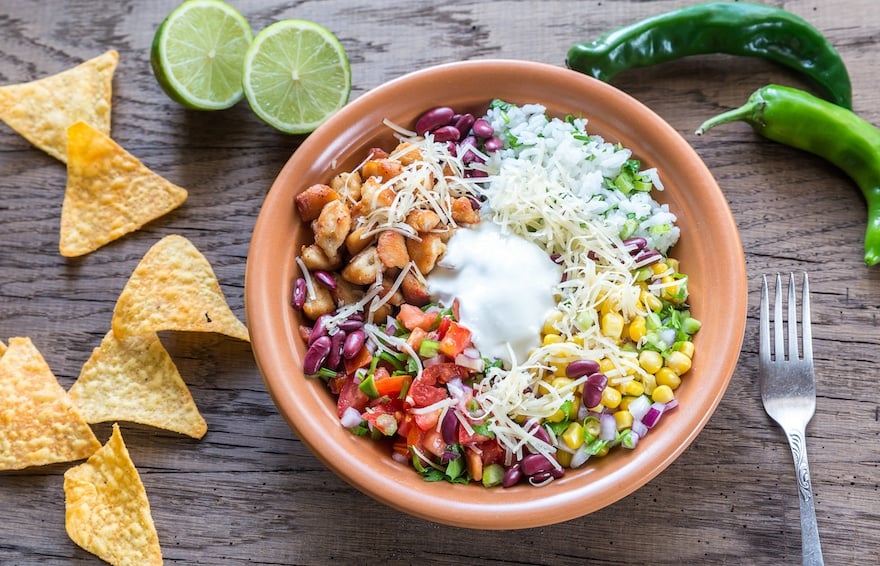 Taco Bowl
Everyone loves tacos, but deconstructing them by serving them as a taco bowl is an inventive way to switch up your weekly meal rotation. "In the spirit of keeping things quick and simple, my taco bowl consists of cooked ground turkey (seasoned with taco mix), shredded lettuce, corn, crushed tortilla chips, and a dollop of store-bought or homemade salsa," Vaca-Flores says.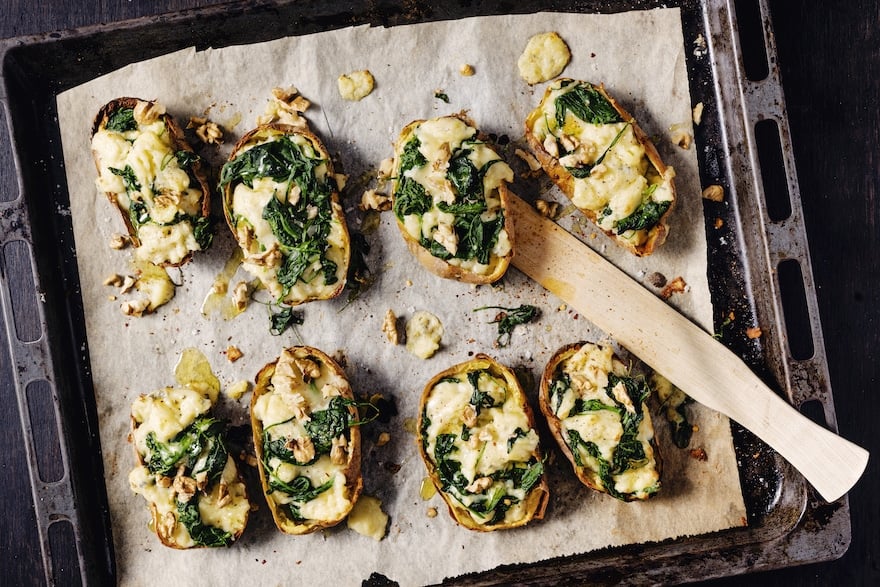 Stuffed Chili Potatoes
Stuffed potatoes topped with chili featuring black beans and kidney beans are always on the table for Samaria Grandbery, MS, RD, one of HUM's nutritionists, and founder of Feeding the Root, who admits she's not much of a cook. "I always try to add some veggies, like onions and peppers for some extra color, fiber, and nutrients." Sometimes she may also add ground turkey into her chili.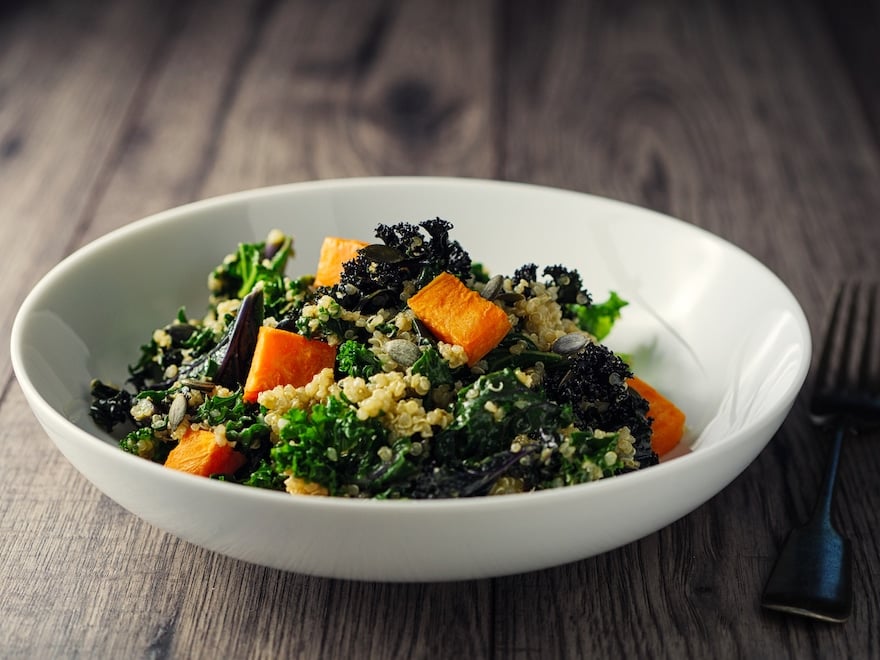 Sweet Potato and Kale Scramble
Speaking of potatoes, Grandberry also likes to roast sweet potatoes with cumin, nutmeg, and pepper, and then toss them with cooked ground turkey. "I cook the turkey on the stovetop with onions and garlic and then toss that with the potatoes and kale to make a sweet potato and kale scramble." Sometimes she likes to add quinoa or rice on the side.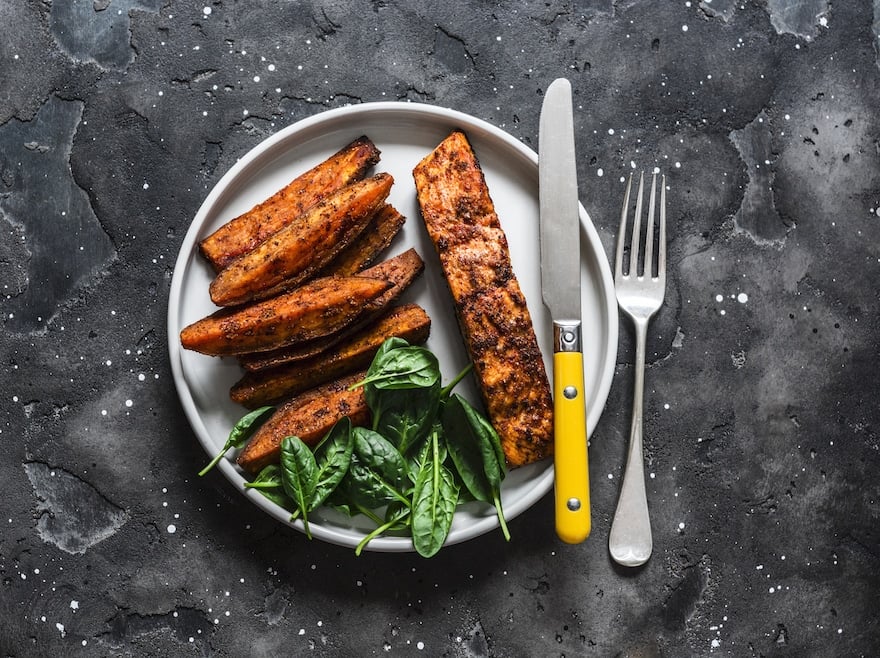 Salmon and Sweet Potatoes
Grandberry also relies on frozen fish for busy weeknight dinners. "If I'm out late or working through dinner, I can cook some salmon and sweet potatoes pretty quickly," she says. She says it comes together even faster if the potatoes or rice are cooked ahead of time and just need to be reheated.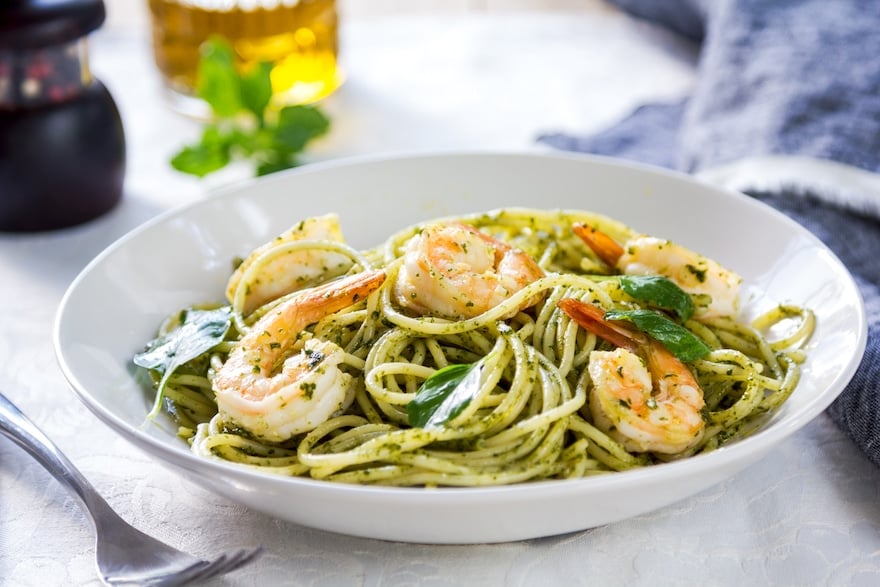 Pesto Shrimp Pasta
Another one of Granberry's super-speedy weeknight shortcuts relies on frozen shrimp and jarred pesto. "I'll do frozen shrimp with pasta and mix that with pesto," she says. Add a green salad if you like.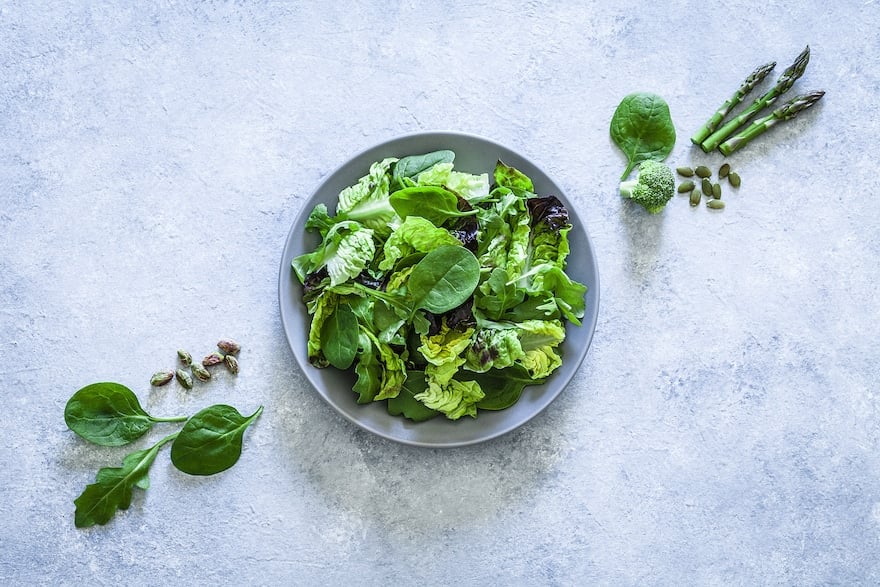 Powergreens Salad
Fresh, uncomplicated salads are also a favorite of Grandberry. "I'll toss together kale, arugula, spinach, and green leaf lettuce, and then top it with some roasted chickpeas I toss in the skillet with cumin and chili powder," she says. "Then, based on the direction I want to take the salad, I might add pumpkin or sunflower seeds for more nutrition."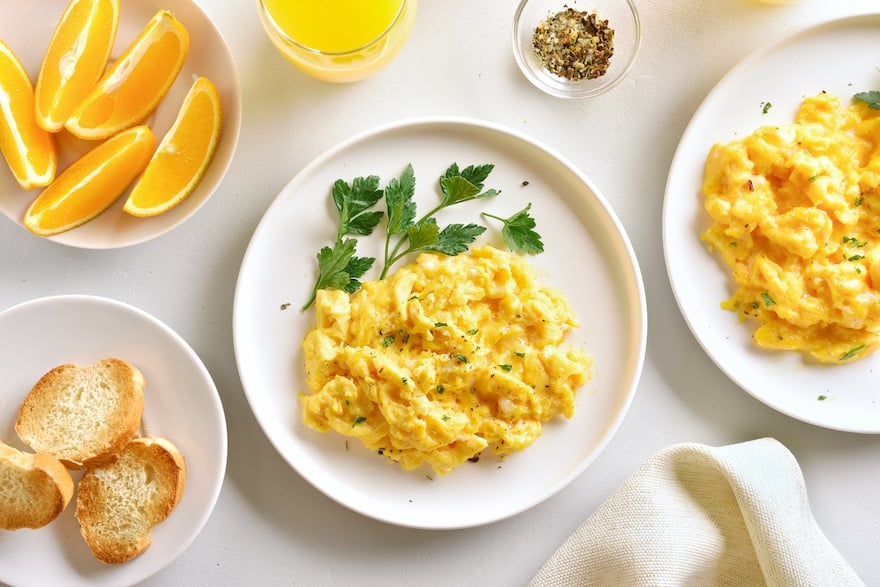 Breakfast for Dinner
"I tend to rely on breakfast for dinner a lot," says Jess Bippen, RD, one of HUM's nutritionists, and creator of Nourished by Nutrition. "Scrambled eggs, sauteed veggies (or pre-roasted veggies from meal prep, avocado toast on gluten-free or sourdough bread and berries is balanced with protein, fat, and fiber-rich carbohydrates and provides a variety of nutrients." Bippen says this is one of her favorite meals because she knows even the picky eaters in her family will eat it.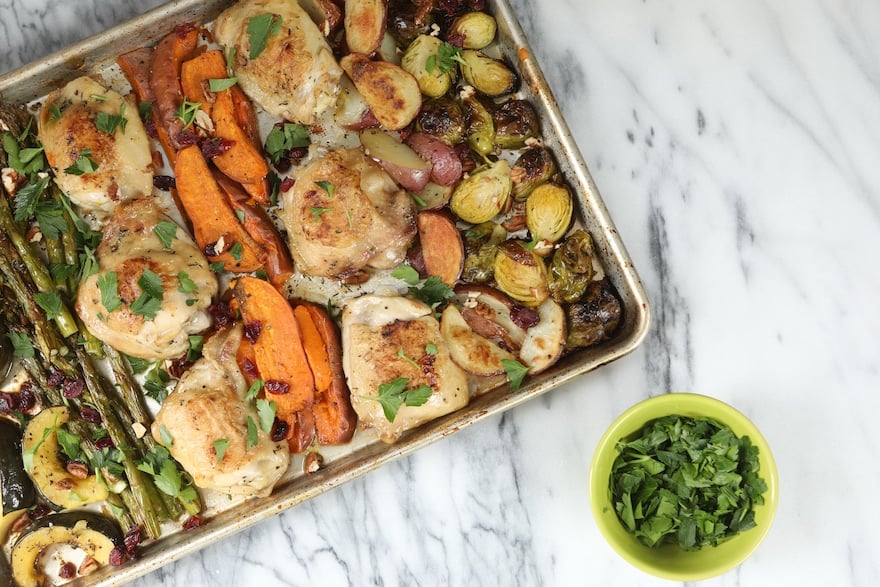 Sheet Pan Dinners
Bippen is also a fan of sheet pan dinners. "My go-to is roasting two sheet pans of veggies: Broccoli, cauliflower, Brussels sprouts on one tray and sweet potatoes and carrots on the other," she says. "I spray them with avocado oil, season with salt and pepper, and roast them at 425F for about 25-30 minutes." PSA: The sweet potatoes and carrots take a little longer than the other veggies. She typically serves the veggies with organic rotisserie chicken, pan-seared salmon, baked tofu, a drizzle of tahini, and smashed avocado.
(Bippen does another version of this with honey mustard tempeh and veggies that's worth checking out on her blog.)
It seems simple, but avocado toast gets healthy fats, fiber, and some protein into your system. For a light dinner, Bippen's go-to is a Green Goddess Avocado Toast, with cashew cream, hemp seeds, and microgreens. It's totally vegan, and you can serve it on top of sprouted grain, sourdough, or, if needed, gluten-free toast.
"Mealtime doesn't have to be complicated," Bippen says. "You can use short-cuts or rely on your favorite quick and easy meals to nourish your body and feel good."
Those are words to live by—or eat by!
More like this