Why Goat Yoga Is All the Rage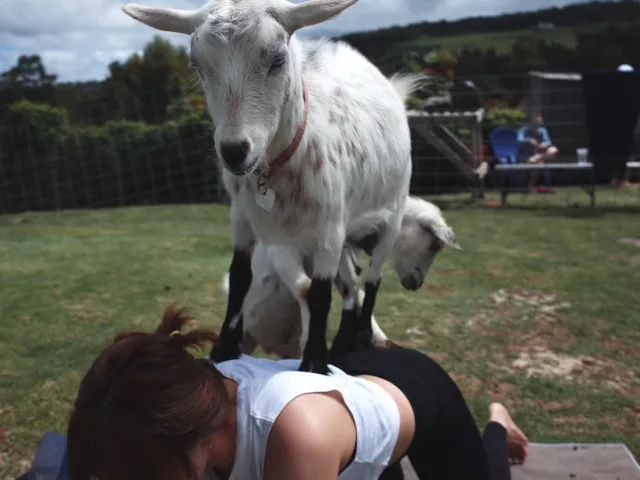 There's nothing better than a relaxing yet-energizing yoga flow with the breeze on your skin to get your blood pumping. That is, until you try goat yoga (What is goat yoga? It's just yoga+cute, playful baby goats). 
Goat yoga has quickly become a viral sensation in the yoga scene with sold-out classes in studios and at farms across the country. The poses are the same as a standard vinyasa class, more or less, and you can still get a good workout doing everything from chaturanga to bridge pose, but there's an added element of laughter, levity, and unpredictability with the addition of tiny farm friends. It sounds like a good time, but what are the benefits of goat yoga? Keep reading to find out. 
What Is Goat Yoga?
Here's what goat yoga is all about: It's a group yoga class with the addition of live baby goats who are guided by their trainers to interact with students in specific poses. The classes at Laughing Frog Yoga in Los Angeles, for instance, are run in partnership with Party Goats LA. In the classes, two adorable baby yoga goats named Spanky and Pippin accompany two goat trainers. A yoga instructor teaches the class just as she normally would, except the baby yoga goats have free rein to come and climb on top of you in your practice.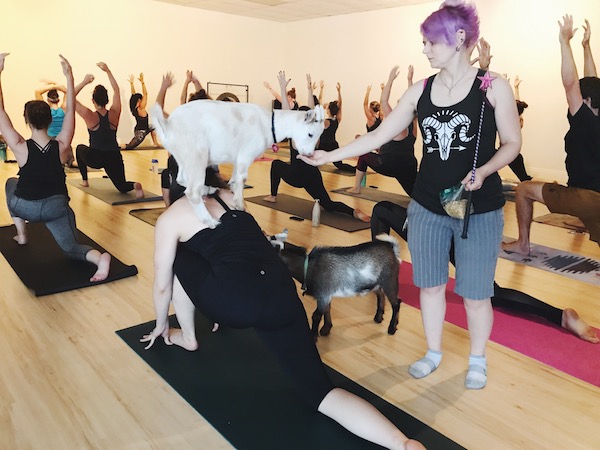 "Spanky and Pippin are trained to jump on people during key yoga poses such as plank, down dog, upward dog, child's pose, boat pose, bridge, and wheel. They'll also go under your legs during warrior and other standing poses," says goat trainer Scout Raskin.
Indeed, the goat trainers guide the baby goats with feed, and also stop them from occasionally munching on a ponytail. (Trainers also take responsibility for cleaning up any accidents. But be warned: There's no guarantee a goat won't do its business while on top of your back.)
Goat Yoga Origina
So why goat yoga? We first witnessed it as early as February 2016. Insta-yogi Rachel Brathen shared videos of her baby goat climbing over her back during her home practice. Shortly after, a farm in Oregon started offering goat yoga classes. Then, the trend spread to a farm in New Hampshire. News outlets were quick to catch on and it's since become a worldwide sensation with international offerings. (Check out some of the goat yoga locations to find a class location near you.)
Goat Yoga Benefits
You may still be wondering, what is the point of goat yoga? And what are the benefits of goat yoga? It's not going to mirror the workout you'll get in your hot Bikram flow, but there's still something for everyone.
Physical
Admittedly, this isn't the most physically intensive workout I've partaken in. Although the 25-pound goats can add a little extra resistance to your planks, they have a lot of people to circulate through in the sold-out classes so they don't exactly linger for a long hold. Still, you are at least getting the standard physical benefits of a gentle yoga class, like calming your nervous system and stretching out your muscles.
With that said, it's hard to not giggle at goat yoga.
Mental
"Let's face it: The whole idea of goat yoga is a little absurd, but don't discount it as a novelty. The goats force you to be light-hearted and not take every little thing so seriously," says goat yoga instructor Jodi Michaels from Laughing Frog.
"It's not a traditional yoga experience, but it's one that'll definitely put you in a good mood," agrees Scout from Party Goats LA.
Laughter Therapy
And there is certainly something to these endorsements. A recent study on laughter yoga shows significantly higher mood and happiness as immediate side effects, plus decreased blood pressure with regular practice. Another study on laughter therapy shows a positive effect on the immune system. Laughter reverses the stress response with lowered levels of cortisol. Also, it can alter dopamine and serotonin activity making it an excellent form of stress relief–a perfect reason to try goat yoga.
More like this