A Traditional Shakshuka Recipe with a Spicy Kick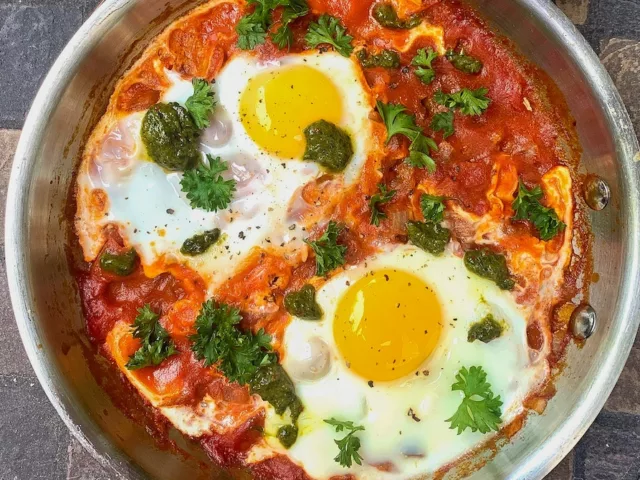 Get a taste of the Middle East with this traditional shakshuka recipe inspired by Israeli market fare and Yemenite flavor.
After college, I set off for a 10-day trip to Israel that turned into a six-year stint of living in Kerem HaTeimanim (the Yeminite Quarter) of Tel Aviv. I'm not sure what was better: living just a few blocks away from the Mediterranean Sea or being even closer to Shuk HaCarmel, the city's most celebrated market. I was incredibly lucky to have so many options for fresh, delicious, and healthy food at my fingertips. My favorite delicacy of them all? Shakshuka!
What is shakshuka?
Simply put, shakshuka is a tomato dish with eggs. Different cultures—including those from North Africa, Yemen, and the Ottoman Empire—stake a claim to shakshuka's origins. For that reason, it's hard to pin down a so-called authentic shakshuka recipe, but this one's pretty standard. In any case, shakshuka is one of the most popular breakfast dishes in Israel and is beloved in many other corners of the world.
About This Recipe
Spices
Cumin and paprika are essential shakshuka spices. I also include cayenne for extra heat, and typically add a dash of turmeric for
anti-inflammatory benefits
. Finally, a pinch of sugar works wonders to help curb the acidity from the tomatoes.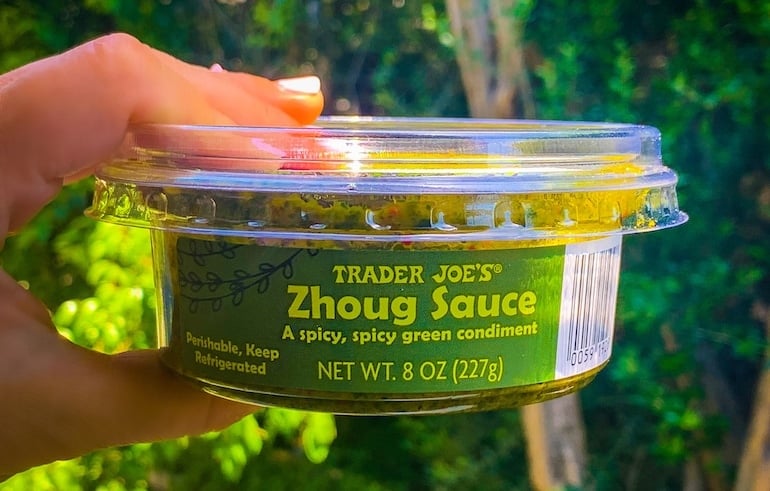 Zhoug
This one's a doozy to say in a non-native tongue (
suh
+ guttural
ch
+
oog
, but in one syllable) and just as challenging to transliterate precisely to English. At any rate, I'm following the lead of
Trader Joe's
, which makes a tasty version of what they call a "spicy, spicy green condiment." This delicious green hot sauce hails from Yemen, and consists of a cilantro, jalapeño, and chili base. As the TJ's packaging implicitly warns, eat it at your own risk. However, it's a must if you
love spicy foods
and are aiming for the best shakshuka recipe for your palate.
Tahini
Tahini is a paste made from ground, toasted sesame seeds. It's an essential staple in any Israeli kitchen, and is also popular in many other Middle Eastern cuisines. In addition to being flavorful, tahini boasts many
nutritional benefits
. This
anti-inflammatory dip
is rich in healthy fats and plant-based protein, and is also a decent source of fiber and omega fatty acids. Further, a tablespoon or two will help you reach toward your RDA of phosphorous, iron, and calcium. Lastly, tahini can come in handy to help curb spiciness. I water my tahini paste down then add lemon juice, cumin, salt, and pepper.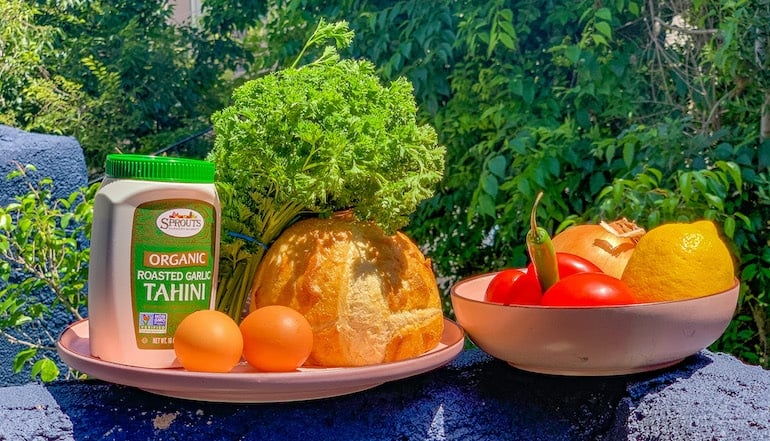 What to Serve with Shakshuka
The most common way to eat shakshuka is by scooping it up with bread. Choose a pita to stay with the Middle Eastern theme; otherwise, any bread will do. Personally, I enjoy my traditional shakshuka recipe best with ciabatta or other flaky breads. When I aim to be more health-conscious, I'll swap bread for high-fiber crackers (such as GG Bran Crispbread). You can also round out a full meal with a light salad. A classic Israeli salad consists of chopped cucumbers, tomatoes, and onions, then drizzled with lemon and a touch of olive oil.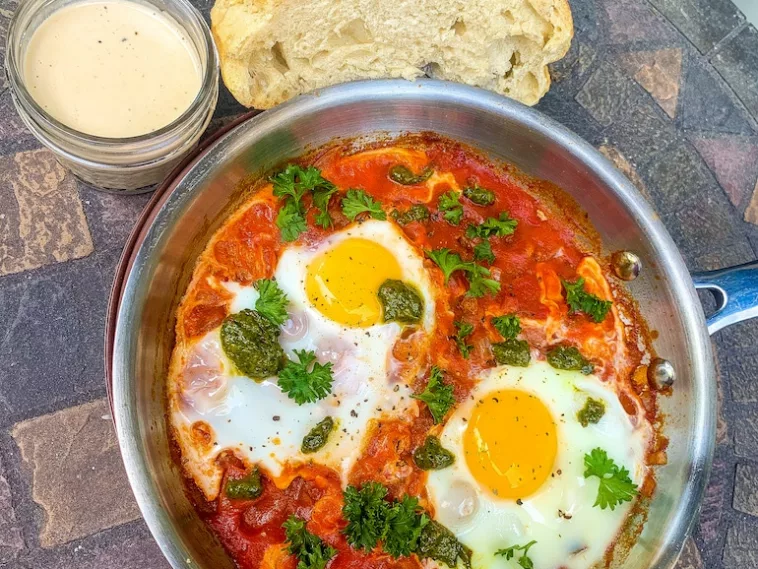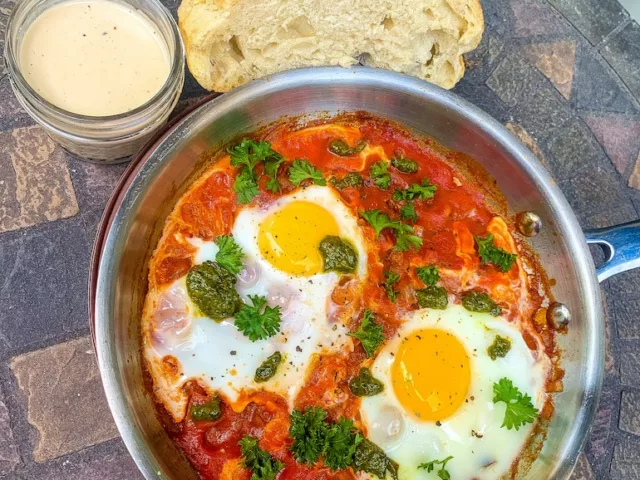 Traditional Shakshuka Recipe
PREP
5 min
COOK
15 min
SERVES
1
INGREDIENTS
2 tbsp avocado oil or other cooking oil
1/2 yellow onion
2 tomatoes
Jalapeño pepper
1.5 tbsp tomato paste
2 oz filtered water
1/8 tsp cumin
1/8 tsp paprika and/or cayenne
1/16 tsp turmeric
Pinch of sugar
Salt and pepper, to taste
2 eggs
Parsley, to garnish
Zhoug (optional)
Tahini (optional)
INSTRUCTIONS
Preheat pan on medium-high, then coat the pan with cooking oil. Warm for 2 minutes.
Add chopped onions and jalapeños; mix regularly. Cook for 3-4 minutes or until the onions are nearly translucent.
Reduce heat to medium. Add chopped tomatoes and tomato paste. Gradually add water and mix until the shakshuka gets a thick liquified consistency. Add a pinch of sugar and spices, plus salt and pepper to taste.
Crack eggs into pan and cover partially with lid. Let sit for 5-7 minutes, or until the whites are mostly cooked and the yolk is still runny.
While the eggs are cooking, prepare tahini (if using).
Take pan off the fire. Garnish with parsley and dallop on zhoug. Serve with tahini and a pita or your bread of choice.
Other Ways to Enjoy Shakshuka
Perhaps the only dish more beloved in Israel than shakshuka is a fresh plate of hummus. Luckily, humshuka is a thing so you can enjoy both of these traditional Middle Eastern foods. Simply cook up a smaller portion of the shakshuka recipe above, scoop it on top of hummus, and bevakasha (there you go).
There are also many different kinds of shakshuka to enjoy, including but not limited to:
traditional shakshuka with leafy greens and bell peppers
meat shakshuka with chorizo or lamb
green shakshuka with kale, spinach, collard greens, Swiss chard, and/or avocado plus feta
Final Thoughts
Shakshuka is essentially a hybrid dish integral to and influenced by different cultures. With that in mind, feel free to mix it up with your favorite ingredients, condiments, breads, and side dishes. All said, the best shakshuka recipe will be the one that you make your very own.
However, the best way to enjoy your shakshuka in the Israeli style I came to know and love is by cooking up a big pan and sharing it with the people you love.
More like this