A Sheet Mask Made Of Coconut?!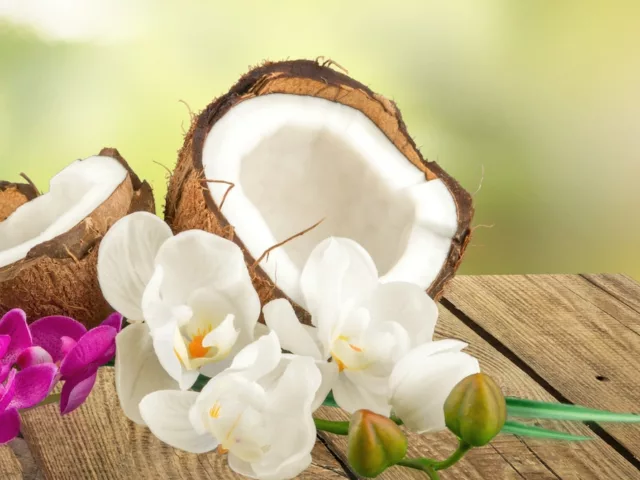 It's so great that we had to share with all of our subscribers.
We love a good beauty product, and right now there's none hotter than sheet masks. (Heck, even Dennis Quaid is using them.) As a little gift to HUM subscribers, we're including one of our favorite sheet masks by Florapy in subscription boxes right now.
To help you get the most out of your free gift, we chatted with Florapy founder, Kristen O'Connell, to learn all her tips, tricks, and inspiration for sheet masks.
Florapy Sheet-Mask Hacks From An Expert
Lately, Sheet masks are all the rage in skin care. What makes them so great?
I first discovered sheet masks during my travels to Korea. The morning after my first masking experience, I noticed my skin was glowing; it was much brighter and more dewy than usual. I knew at that moment I had a new obsession. The greatest thing about sheet masks is that they're easy! Sheet masks provide extremely intense hydration to the skin. They're far superior to creams, which often evaporate into the air before benefitting the skin.
What's unique about the Florapy masks in particular?
Our sheet is made of 100% coconut! This ingredient is key because coconut can hold up to 20 times its weight in water. Most sheet masks are made of cotton, which can only hold about one time its weight in water. Because the Florapy material can hold so much moisture, it's super effective as a hydration treatment. We also infuse all of our products with essential oils, so there's a mind/body wellness treatment built into each mask.
What's your favorite thing to do while wearing a sheet mask?
I love to relax in bed and read, or take a soothing bath. But often I just end up cleaning up my room and planning my schedule for the next day!
How often do you recommend using a sheet mask?
One to three times per week.
Should we expect to see results immediately or over time?
Most users see results immediately. If you have severely dry or dehydrated skin, you may need to use two or three sheet masks consecutively to see and feel their moisturizing benefits.
Is there anything special we should do after using a sheet mask?
Absolutely not. That's the beauty of the sheet mask: When you're done, you're done. Once you remove the mask, you just allow all the serum to soak in. There's no need to remove excess serum or follow up with an additional moisturizer. In fact, I often wear a sheet mask to bed, discard the sheet on my nightstand, and fall asleep immediately.
Love it! Do you have any other sheet-mask hacks?
Use every bit of serum you can squeeze out of the pouch! I use the product that's left over on the protective disposable layers for my neck and chest. Sometimes I save the excess serum in the pouch overnight and apply it the next morning before my moisturizer.
Also, if you have a headache or neck tension, you can fold up the mask after wearing it for 10 to 15 minutes on your face, then apply it to your forehead or neck as a cold compress!
More like this