HUM Is Transitioning to 100% Ocean-Bound Plastic
Our co-founder and CEO highlights HUM's commitment to sustainability and transition to 100% ocean-bound plastic. Learn all about our latest initiative, Wellness for You and the Planet, and how we'll prevent 50 million+ plastic bottles from entering the ocean by 2025.
At HUM, our mission is to help you look and feel your best. We care deeply about nature—a resource we all depend on—which is why we're committed to protecting it. We started HUM in 2012 with lightweight 100% recyclable bottles, without excess outer packaging. Today, we're proud to announce a major step, which has been two years in the making, to further reduce our environmental impact. Here's a closer look at our exciting new initiative.
Introducing Bottles Made from 100% Ocean-Bound Plastic
Together with
Prevented Ocean Plastic™
, we're actively preventing plastic from entering the ocean by collecting and recycling those plastics and giving them a new life in HUM bottles. This effectively takes existing plastic out of the environment and eliminates the need for new plastic to be made. Our transition to 100% ocean-bound plastic is phased in product by product. We're set to reach the 70% mark by year's end, thereby preventing the equivalent of 6 million water bottles from entering the ocean in 2021 alone. Bottles made from this upcycled material are clearly labelled so you can observe the progress yourself. With the remaining rollout to follow shortly thereafter, it brings us one step closer to our 2025 sustainability vision, which is to:
prevent the equivalent of 50 million+ water bottles from entering the ocean
phase out the use of virgin plastics
eliminate single-use plastic in our supply chain altogether
What Is Ocean-Bound Plastic?
Ocean-bound plastic is plastic waste at a high risk of ending up in the ocean. It's found within 30 miles of shorelines in coastal areas without formal recycling infrastructures, which therefore accumulate high volumes of plastic waste. With the help of local communities, plastic is collected, sorted and put through a rigorous recycling process, where raw materials are created and upcycled into 100% ocean-bound plastic HUM bottles. Simply put, our new bottles are made from existing plastic and will be recyclable over and over again. Plus, market-leading third-party certification at every step ensures the highest labor and environment standards are upheld, and each bottle's origin can be traced back to its point of collection. Last but not least, ocean-bound plastic benefits from a low carbon footprint, while also generating job opportunities and positive social impact for communities around the world.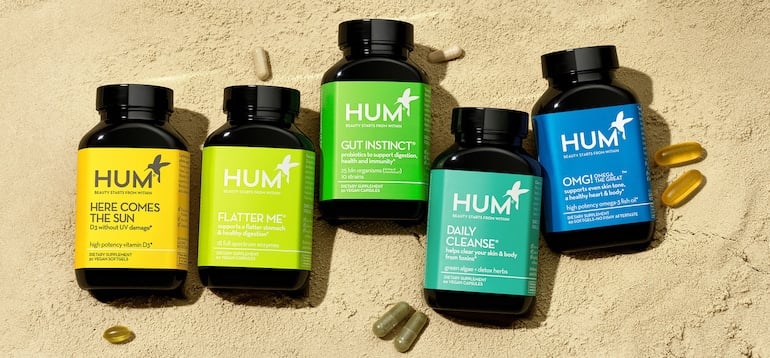 Why This Initiative Matters
When confronted with the issues of plastic waste and ocean pollution, the statistics are staggering:
It's also important to note that once plastic enters the ocean, it becomes a clean-up effort rather than a recycling effort; the sun and salt degrade it from the level of purity required for effective recycling. That's why it's so important to catch plastic before it enters the ocean. The need for large-scale global solutions is undoubtedly critical. We truly believe that by working together, we can make an impact towards a more sustainable future. With that, in addition to partnering with leaders in sustainability to completely reimagine our supply chain, we've also joined the
New Plastics Economy
Global Commitment alongside 1,000+ organizations to ensure plastic never becomes waste or pollution.
HUM's Additional Commitments to Sustainability
On top of our transition to ocean-bound plastic bottles, we're also
prioritizing sustainability
across the rest of our packaging materials. First, we've re-engineered all of our labels and adhesives in compliance with recycling best practices. Next, our subscription boxes are made from
SFI-certified
and
FSC-certified
materials, and are printed using 100 percent wind energy. HUM members can simply flatten our boxes for easy recycling. Then, to protect HUM shipments in transit, we're using green wrap as an SFI-certified alternative to bubble wrap. Green wrap is naturally biodegradable and compostable, and is recyclable as is. Finally, we're using mailing envelopes made from post-consumer recycled newspapers as an alternative to poly-plastic mailers. Similar to green wrap, our envelopes are recyclable as is.
Final Thoughts
HUM was founded on the idea that small changes can make a big impact over time. As the first wellness brand to transition to 100% ocean bound plastic, we hope to inspire other companies to follow suit for an even greater impact. Our commitment to a healthier planet is an ongoing process. As always, we'll continue to update you as we reach new milestones. For the latest news, stay tuned via
our social channels
. On a parting note, we'd like to take this opportunity to thank you for being part of our community. We're delighted to share that your support is translating into a brighter, more sustainable tomorrow.
Our partners:
Better Future Factory evaluated all packaging materials in the HUM supply chain and helped craft a vision to optimize sustainability and eliminate all single-use plastics. As a design and engineering studio specializing in sustainable plastic products, they help brands and companies reduce, reuse and recycle plastics as part of their mission to create a circular economy for plastics.
Prevented Ocean Plastic is HUM's bottle supplier. Their mission is to prevent ocean plastics by providing manufacturers, retailers and consumers with high-quality, certified recycled plastic collected from coastal areas at risk of ocean plastic pollution. It's supplied by Bantam Materials and independently certified by OceanCycle to ensure product traceability within strict labour and environmental standards.
More like this