Here's How Lymphatic Drainage Massage Works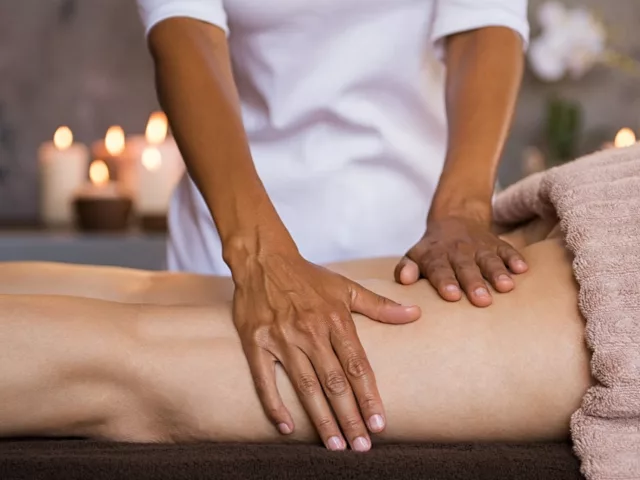 If you follow celebrities or wellness influencers on Instagram, you've likely come across the trend of lymphatic drainage massage. If not, let me get you up to speed. To really break things down, I've enlisted the help of chiropractic and alternative medicine specialist
Jonathan Leary, DC
, of
Remedy Place
in LA. Here's what your appointment will entail; how to ensure best results; and what to expect before, during, and after your treatment.
What Is a Lymphatic Drainage Massage?
Lymphatic drainage massages help maintain the balance of fluids between the blood and tissues in our bodies. According to Dr. Leary, they're the most comfortable and relaxing way to maintain the lymphatic system, aka the body's sewage system. "Proper maintenance of the lymphatic system helps the immune system defend against bacteria buildup in the body. It also facilitates the absorption of
fat nutrients
in the
digestive system
," he shares. Thus, movement of fluids within the body via this specialized massage is key. "Trouble can arise within stagnant areas of the body," says Dr. Leary. "Flushing out bodily waste by
creating movement in your lymph channels
has endless benefits." Added bonus: It feels amazing.
Lymphatic Drainage Massage Benefits
In addition to expelling fluids from the body, lymphatic drainage massages help with:
detoxing
body contouring
targeting muscle pains
Dr. Leary also notes that the massage can be used in tandem with
cryotherapy
,
fat loss
treatments like CoolSculpting, and/or other detoxes to expedite results. Luckily, you can expect to see a noticeable difference after just one lymphatic drainage massage.
Your skin will be less puffy
, and you'll likely appear leaner and less bloated. Hope to achieve more lasting results? Dr. Leary recommends a minimum of six appointments, yet suggests a total of 12. The sessions can be done either once or twice daily over the course of consecutive days.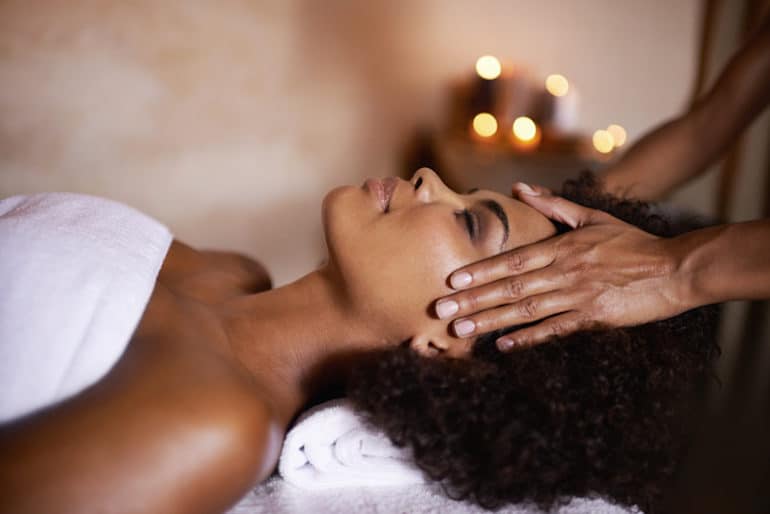 Pre-Massage to-dos
Hydrate, hydrate, hydrate!
Having water in your system will promote best results during your appointment. Dr. Leary also advises not eating before your treatment, as the massage will work best on an empty stomach to properly drain your system.
What To Expect During Treatment
First, you can book a lymphatic drainage massage at most spas. Depending on where you go, some massage therapists use their hands to conduct the massage, while others use machines. You'll undress and lay under a blanket on a massage table, just as you would with a standard massage. Lymphatic massage appointments typically last anywhere from 60 to 90 minutes. Your therapist will focus on areas of the body with lymph nodes—mainly your torso—plus other body parts that tend to retain excess fluid such as your legs, hips, and face.
What to Know Post-Appointment
Simply put, you're going to pee a lot, and you'll feel the urge almost immediately after your massage. (As lymphatic drainage massages move fluids in the body, they're expelled via urination.) The good news is that the more you pee, the better the results. However, it's important to remember to stay hydrated post-appointment. The best part of the massage? The immediate, visible results. I recommend snapping before-and-after shots of your body parts that tend to
retain the most bloat
, so you can see just how well lymphatic drainage works. Finally, for best post-appointment care, Dr. Leary advises sipping a refreshing juice or smoothie filled with antioxidants.
More like this