How To Make Hand Sanitizer At Home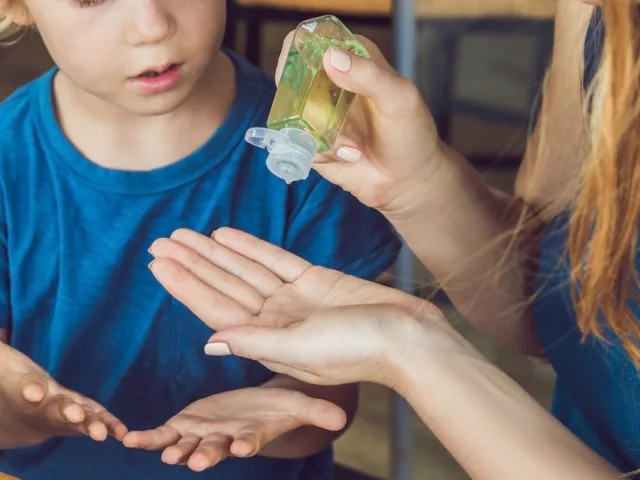 Today, we're teaching you how to make a simple but effective hand sanitizer at home using only three ingredients. This thrifty trick is good for your health, your wallet, and the environment.
Does hand sanitizer really work?
In case you're skeptical, even studies report impressive benefits.
In one study in Tanzania
, researchers checked the efficacy of hand sanitizer in communities with limited access to freshwater. Their findings? In fact, they found that "hand sanitizer was significantly better than handwashing" in reducing certain strains of bacteria. In another report, researchers Nina A. Gold from Hackensack University Medical Center and Usha Avva of the  Joseph M. Sanzari Children's Hospital write that alcohol-based hand sanitizers "are
tremendously effective
in preventing the spread of the seasonal flu" along with other viral and bacterial illnesses. They also cite a 2017 study from the 
Journal of Infectious Diseases 
that supports the use of alcohol-based hand sanitizers "in viral outbreak situations." Just be sure to look for formulas with at least
60% alcohol content as recommended by the CDC
to ensure your hand sanitizer is up to standards.
When Should you Use hand sanitizer?
To be clear, regular handwashing certainly has its rightful place in your immunity routine. That said, hand sanitizers can make for an excellent supplement to your hygienic routine throughout the day. Washing your hands is still the best option for the following scenarios:
when soap and water are readily available
before and after meals
after using the restroom
when your hands are visibly dirty
By contrast, consider adding a sanitizing solution whenever water is not available, or as additional support in the following instances:
in the car
when traveling on public transportation
in airports and on planes
at the office between meal and bathroom breaks
after handling cash and coins
at the gym
About This DIY hand Sanitizer Recipe
This recipe combines three simple ingredients to help keep hands germ-free. First, aloe vera gel makes up the bulk of this recipe. You're likely familiar with aloe vera as a solution to soothing sunburns. That's because
research shows it can help skin retain moisture
, reduce inflammation in the skin, and even help heal skin wounds. For this recipe, look for an aloe vera that uses minimal ingredients and is free from any artificial coloring to keep things natural. Then, we include the active ingredient of simple rubbing alcohol. Yet again, we recommend checking the label to ensure it has minimal ingredients and does not include any artificial scents. Instead, we recommend adding your own natural scent with tea tree essential oil. Tea tree oil is known for its
antimicrobial and anti-inflammatory
properties. While clinical evidence is still lacking in proving its efficacy against illness, it doesn't hurt to add as a refreshing natural fragrance.
How To Make Hand Sanitizer at home
To make a hand sanitizer at home, follow this simple recipe:
Ingredients
1 1/2 tbsp aloe vera gel
2 1/2 tbsp rubbing alcohol
10 drops tea tree essential oil (optional)
Supplies
2 oz reusable squeeze bottle
Directions
Combine the aloe vera, rubbing alcohol, and essential oil in a small bowl until well combined.
Pour into a reusable squeeze bottle. Carry with you to use as often as you like.
Sanitizer on Your Skin
One final thing that may deter people from using sanitizer is the concern that the constant application will cause dry or irritated skin. In fact, yet another benefit of hand sanitizer is that it can also be gentler on
sensitive skin
than washing your hands with soap and water just as many times throughout the day. While most soaps focus on stripping skin and also require the friction of washing and drying, hand sanitizers often include moisturizing ingredients and dry quickly on their own without the use of harsh towels. That said, the most effective solutions are still alcohol-based, which can be drying. While the moisturizing ingredient of aloe vera should help keep your skin in balance, if you do experience dryness or irritation, simply follow up each application with hand lotion.
More like this