How to Choose a Therapist in 5 Steps
Ready to take a leap into therapy, but don't know how to choose a therapist? Keep reading to learn five key considerations to keep in mind.
Now more than ever, therapy is on the rise. (Or, rather, open communication about it is.) As the stigma continues to dwindle, more and more people are seeking the mental health support they deserve. If you've been considering doing the same but aren't quite sure where to start, we've got you covered.
5 Considerations for Choosing a Therapist
1. Think about what you're looking for
Do you want someone to push you, or do you prefer someone who will simply listen and support you? Does a combination of both sound ideal? Risha Nathan, LCSW, HHC, an NYC-based clinical social worker and therapist, says the first step is to think about what type of intervention might work best for you. "This is dependent on the issues you're willing to work through, where you're at emotionally, and where you'd ultimately like to get to," she says.
2. Research different modalities
How do you hope to achieve the support you're looking for? That's where research modalities come into play.
"Therapists are trained in numerous philosophical and practical modalities," says Shari Foos, MA, MFT, MS, an LA-based marriage and family therapist and creator of group wellness retreat DIY Human. "Do some research on the type of therapy a person offers and determine what you think might be your best match based on your personality and your needs."
If you're not sure what to ask, Shari says to start with the basics, and suggests inquiring about the following:
how the modality works
how often you'll meet
how you'll work together
what you can expect from the sessions
3. Determine what you're willing to pay
Next in your quest to choose a therapist, consider what type of fees you're willing to pay. "You're paying for a service—and someone's time and expertise—and it may take a while," says Shari, who's also the founder of The Narrative Method.
Given the financial realities of therapy, Shari recommends getting clarity about fees (late cancellations, sick fees) and whether they bill per session or monthly. "Don't leave any gray areas open," she says.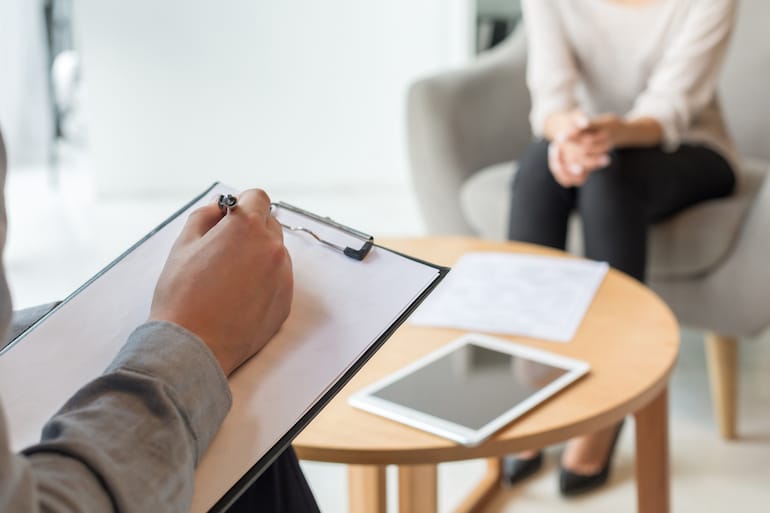 4. Trust yourself
The bond you create with your therapist should be just like any other in which you're invested. "If you don't feel comfortable with the person, or there is a nag in your gut that something is wrong, off, or otherwise, you're not in sync—don't assume there's something wrong with you, and don't feel obligated to move ahead" Shari advises.
Instead, Shari says to shop around for a therapist with whom you feel 100-percent comfortable. "Qualifications are impressive, but the quality of the person and their ability to connect with and understand you and your needs always trumps diplomas and degrees," she adds.
Risha tacks onto this idea, reminding us to pay attention to the openness and comfort you feel with your therapist. "Remember that openness and insight equal an opportunity for growth," she says. "Before deciding if someone is or isn't the right fit, check in with yourself. Determine what changes you're actually open to making and what you'd need to push that forward."
5. Be prepared to do the work
As with anything, you're only getting to get as much out of therapy as you put into it. "It's a partnership, so be ready to do the work required—out of, in, and in between sessions," Shari says. This includes doing your assigned homework and keeping your own records to support your sessions.
"Whether you prefer journaling or simply reflecting after sessions, be mindful of what the experience yields. The deeper you get into the therapeutic work, the more realizations and questions will come up," she continues. "Follow through with those thoughts or observations and bring them to your therapy session to maximize your benefits."
Why Therapy Is Important
Therapy can be entirely life-changing if you find the right therapist and put in the necessary work. "Psychotherapy gives you the chance to broaden your perspective and better understand the events and feelings in your life and the world, as well as others around you," Shari says. "Many of us are taught that what society or family members believe is right, is." But, at the end of the day, we're all individuals.
Additionally, Shari emphasizes the importance of our individual health and healing. "It's not disrespectful to open the lid on any opposing thoughts or expose new thoughts, or [work to] understand our feelings," she says. "The truth of the matter is, opening that lid leads you to find and determine who you really are, separate from others. And, connecting to yourself during the most difficult times is a key ingredient to our survival and thriving in the future."
One Final Tip
Lastly, one more thing: Cherish your therapy and keep it largely to yourself. While it's fine to share breakthroughs, Shari says that therapy should ultimately be personal and private. "Avoid talking to friends about your treatment," she suggests. "There's a sacredness and an objectivity with expertise in that room. The more you take the relationship out of the treatment room, the further it will get from objectivity and may taint results."