8 Ways to Be a Better Friend, According to Experts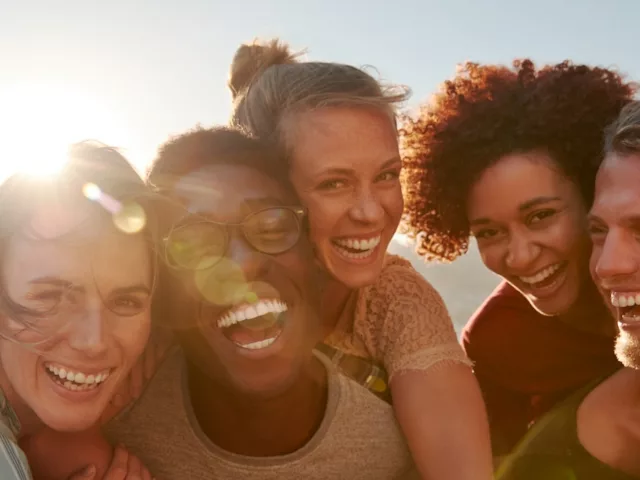 The pandemic has changed all of our relationships, but especially friendships. If you're wondering how to be a better friend, read this expert-approved guide.
Socializing hasn't felt normal for the past 21 months, which has made it easy to feel isolated—even from our closest friends. If you're wondering how to be a better friend, you're not alone. Yes, you may have seen your coworkers when you popped into the office and attended several Zoom happy hours, but that's probably not the same as the face-to-face connection you've been craving these last two years. There's also a chance those casual friendships with people you'd catch up with in-person over a drink have lapsed, and closer friends might now be a plane ride away.
Even if you've drifted apart, your friendship doesn't have to be over. But it will take a commitment on both ends to mend things. "Friendships are all about reciprocity, and if a relationship is totally one-sided, it's not really a true friendship," says Suzanne Degges-White, PhD, LCPC, Professor and Chair of the Department of Counseling and Higher Education at Northern Illinois University. Other keys to being a better best friend are self-work and self-awareness, too, psychologists say.
Studies have shown that close friendships are beneficial to your health because they enhance your mental functioning and well-being. That's why we put together an expert-backed guide on how to be a better friend to your best pals, long-distance buddies, and acquaintances alike.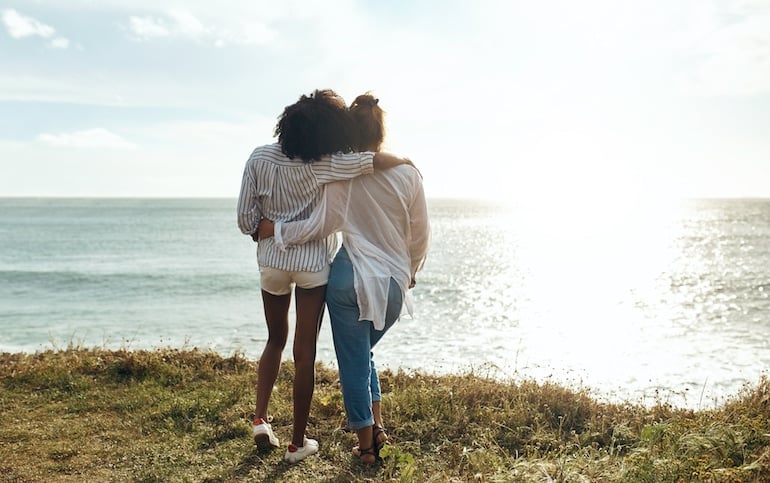 1. Work on yourself first.
Before you can show up for any friend, you have to show up for yourself first. "You're not going to be able to be a healthy friend if you're not working on your own growth journey," says Shainna Ali, PhD, LMHC, NCC. You should get to know your own communication style, needs, and boundaries, Dr. Ali advises. Consider journaling or speaking with a professional to fully understand all of these aspects of yourself.
2. Define your needs.
Wondering how else to be a better friend? Assess what you're really looking for in a friendship. Dr. Ali recommends answering some questions you can start with on your quest to be a better friend, such as:
What do you believe are the qualities of a good friend?
What does a deep connection look like for you?
What's inherently aligned with who [you are]?
3. Accept that some friendships will go deeper than others.
Some friends you'll entrust with your deepest secrets, and others you'll grab a cocktail with once a year to catch up. That's okay. "Over time, relationships either grow deeper, stall out, or just stay at a more surface level," says Dr. Degges-White.
The ingredients of a deeper friendship include mutual enjoyment of time spent together, caring, emotional investment in the relationship, and a higher level of self-disclosure, explains Dr. Degges-White. This isn't something you can force, which is why some friendships naturally won't go there. For example, it may be difficult to share personal details with colleagues at work, where there may be barriers in place that keep you from connecting emotionally.
One way to explore whether a more casual friendship can go deeper is spending more quality time with the person, even if it's over the phone, and experimenting with your comfort level around upping that self-disclosure, suggests Dr. Degges-White.
4. Be clear when communicating, especially with long-distance friendships.
The pandemic has made many friendships that previously weren't long-distance. But that doesn't mean your friendship has to suffer. "All healthy relationships can be fostered without in-person connection," says Dr. Ali.
The key is establishing clear communication. One person might want to talk on the phone or FaceTime regularly, while another person might want to send quick texts back and forth instead and wait until you can both catch up in person. If you don't respect each other's boundaries, it's easy for miscommunications and missteps to happen in the friendship.
5. If a friend has disappeared, check in on them.
If someone's ghosting you, don't automatically assume the worst. Ask what's going on instead. "Reach out and offer support and let them know you care," says Dr. Degges-White. "Don't place any additional expectations on the friend or try to 'guilt' them into being more engaged." If you and your friend have been drifting apart for some time, your friendship may require more of a commitment from both of you—or this may be your sign to let the friendship go.
It's normal for some friendships to naturally fall by the wayside. "Not every friendship is going to be a lifetime commitment," says Dr. Degges-White." Some friendships, even super intense ones, may not thrive as people grow and circumstances shift." Deep friendships require a lot of effort, so it's normal to not have as many of them and to have a greater number of casual acquaintances as an adult.
6. Send quick updates, especially when friendships feel draining.
Maybe you don't have the time for a phone call or coffee date right now, or that one friend just sucks all your energy out whenever you catch up with them. When you're feeling drained or depleted, especially by certain friendships, give people a heads up. Let them know you still care, but you can't be there right now with a quick text or email, recommends Dr. Degges-White.
"True friends care about us and would much rather do what they can to support us than expect us to do things that drain us," Dr. Degges-White. That's a good way to at least keep the friendship alive and not give the other friend the idea that you're disappearing or neglecting the friendship. "Letting folks know what's happening in your life and where you're at emotionally can eliminate problems before they even develop," Dr. Degges-White adds.
7. When it comes to mending friendship rifts, both of you need to be all in.
If something's going wrong with a friendship, or if that person isn't showing up for you the way you need, give that person a moment of grace. Gently ask if something's been going on in their life.
Decipher whether or not this is a friendship worth saving (sometimes it just isn't, and you drift apart). If you choose to save the friendship, it's going to take teamwork, shared accountability, and often uncomfortable conversations, to call out what's been going on. "Sometimes we shy away from the difficult dialogue, like, 'I want to tell this person that they've let me down, but I don't want to impose,'" Dr. Ali says. "But I've seen friendships strengthen from having that dialogue."
8. If you're the one who hasn't been the greatest friend, own that.
Extend that same grace you'd give a friend to yourself. Maybe you've been struggling with your mental health, or maybe you haven't been able to physically attend important life events for one reason or another. Once you recognize you've said hurtful things, made mistakes, or have been distant, take accountability. The next step is apologizing or seeking forgiveness from a friend.
Continue to be honest with yourself, and evaluate whether that infraction (like not answering texts or phone calls, flaking out on plans, or talking about friends behind their back) is a habit for you. If you're noticing these patterns in multiple relationships in your life, consider working with a therapist to understand why. There's no instruction manual for being a good friend, which is why self-work is the key. Being the best version of yourself allows you to be the best friend you can possibly be.

Mara Santilli
December 13, 2021
More like this