Ditch the Gym? 3 Outdoor Workouts for a Better Mood (and Fatter Wallet)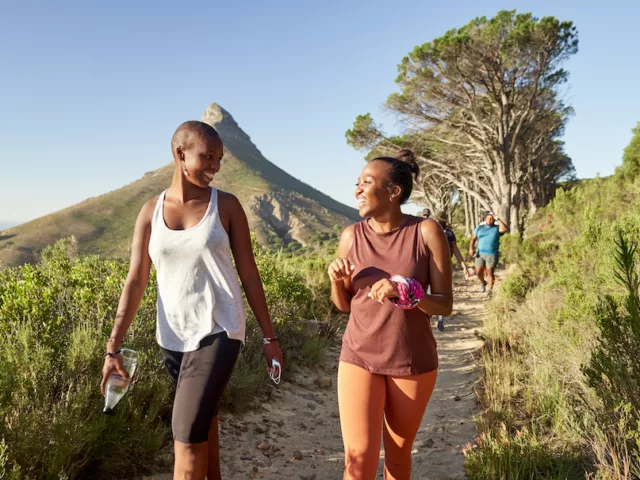 Want to improve your mood and save money on gym memberships? Here are three outdoor workouts that are free and have a proven track record of boosting mood and fitness. Connect with nature and get moving with these fun and effective outdoor workouts.
While indoor fitness classes can be fun and motivating, workouts just hit different when you're breathing in the fresh air around you. In fact, the great outdoors might actually be a more conducive environment for movement for a variety of reasons.
"Outdoor walking provides exposure to sunlight, which is crucial to mental health, regulating circadian rhythm and helps boost vitamin D levels," says Natasha Caleel, personal trainer, occupational therapist, and owner of Fit Mama Santa Barbara.
On a physical level, outdoor workouts can provide a greater challenge for your muscles, including your heart. For instance, walking up a large hill can feel more intense than walking on a big incline on a treadmill because of the uneven terrain, Caleel says. The mixed terrain also allows you to build strength and improve balance, which are both key to aging well.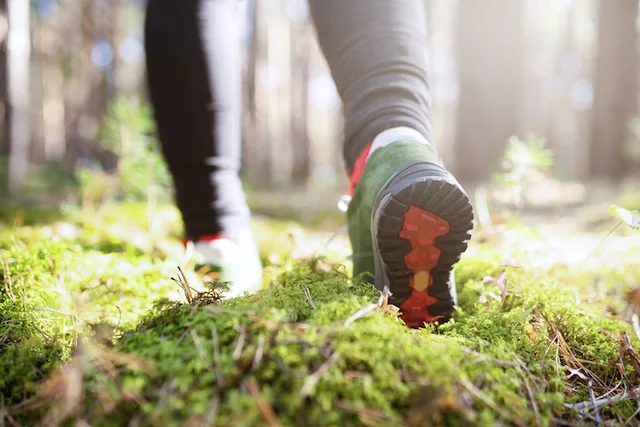 As with any routine, maintaining a workout regimen requires consistency, and over time, indoor workouts can become less exciting. But, by incorporating some outdoor workouts into your schedule, the change of scenery can help you break out of your exercise rut.
"Although indoor walking also provides many benefits, walking on a treadmill can get boring, so people are more likely to quit early. Also, if you are in a dark gym with no natural sunlight, this can affect overall mood and energy levels," Caleel says.
Then, there's the money-saving benefit of exercising outdoors. Parks, trails, side walks — your driveway — are membership-free and easily accessible. Hiking, parkour, and power walking some of the best outdoor workouts, and anyone at any fitness level can do them. Here, we break down these three types of outdoor workouts, their benefits, and how to get started with a routine.
3 Outdoor Workouts
1. Hiking
Whether you're walking on dirt paths in your neighborhood or venturing off on a mountain trail, hiking has many great mental and physical benefits. You'll not only test your fitness by increasing your heart rate and engaging your muscles, but you'll also reap the emotional perks of being in nature.
"Hiking is a more specific form of outdoor activity but the benefits are the same as general outdoor exercise: stress relieving and mood-boosting" says April Gatlin, an ACE-certified personal trainer and master coach at STRIDE Fitness. "However, there are other benefits to hiking: posterior-chain muscle (muscles in the back of the body) recruitment, joint and muscle stability will be strengthened, and it most definitely is a cardiovascular workout."
On the mental health front, spending time in nature can help you better manage stress and improve your mood. According to a study in 2019 from Environmental Health and Preventive Medicine, spending time forest bathing had significant positive effects on the mental health of those with depressive tendencies.
"Hiking with a friend is a great way to catch up while getting a fun workout in and may lead to better interpersonal relationships and connection, which is important for overall wellbeing," Caleel says.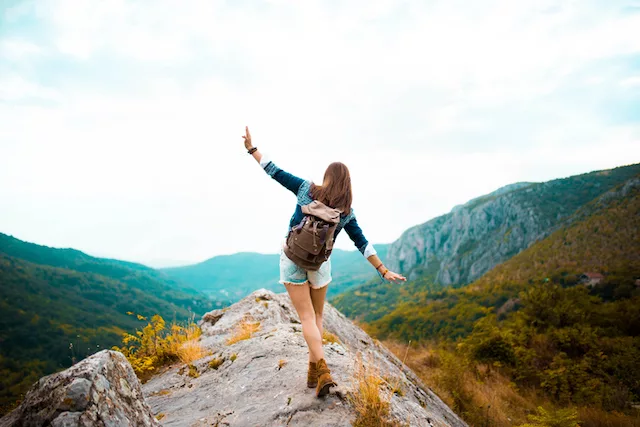 What you'll need:
Plan your hikes around good weather. Avoid hiking alone at night and alert family and friends when you plan to hit he trails.
A water bottle of some kind is important for staying hydrated on the trails. Depending on the terrain you'll be hiking on, you'll need trail shoes with good traction and ankle support. For example, if you're doing a more intense hike for longer periods of time, choosing hiking shoes with deep grooves can provide better stability and support when going up or down inclines, Caleel says. At a minimum, a supportive pair of athletic shoes are needed, Gatlin says.
Make sure you get properly fitted for your hiking boots or trail shoes to help prevent injury. Don't forget to pack your cell phone, snacks, a travel first aid kit, and a map of the trail.
How to start:
Start small with a 2-4-mile hike, Gatlin suggests. "Repeat that route or similar routes until endurance is starting to build then start to venture to longer hikes.
2. Parkour
Parkour is a type of outdoor workout, where you're using reactionary skills and power to move from point A to B in the most efficient way possible, Gatlin says. Running is a form of parkour, but it also often involves some gymnastics movements.
Just like hiking, parkour strengthens your muscles, specifically firing up your fast-twitch muscle fibers, as you run and jump through the natural obstacles in outdoor terrain.You'll reap some mental health perks, too: Doing parkour will help you de-stress while giving you an endorphin rush.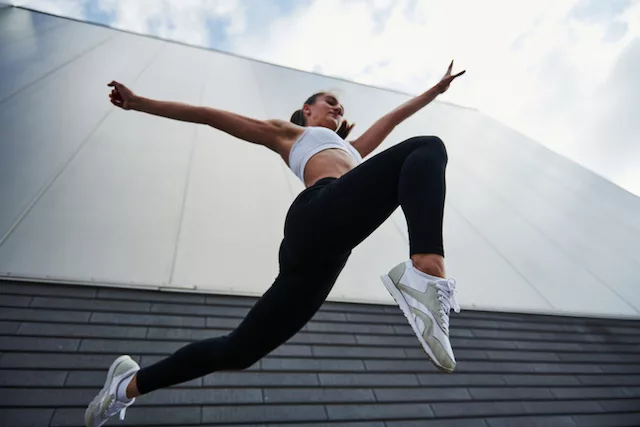 What you'll need:
There's not much you'll need to get started with an outdoor bodyweight workout like parkour. A good pair of training shoes and loose, sweat-absorbing clothing will help keep you comfortable. "When beginning to run, I suggest getting fitted for running shoes at a running specialty store. Once fitted for shoes, dry-wick clothes are the best option to move without the skin rubbing against itself," Gatlin says.
How to start:
It's best to join a parkour team and trained coach to get acquainted with the sport. For those who are interested in running, start with small distances, like a jog or short run around your block, Gatlin suggests. You can also partner up with a friend who's interested in running or parkour to help you stay motivated. Aim to do your parkour and running workouts in good weather, but if you're expecting to get caught in the rain or snow, make sure you dress appropriately to stay warm and dry. If you're running at night, wear reflective gear so you stay visible to drivers and bicyclists.
3. Power Walking
Power walking is a sped-up version of regular walking, where you're pumping your arms and moving at a faster pace to increase your heart rate. Like hiking and parkour, power walking has cardiovascular, joint health, and core-strengthening benefits, Gatlin says.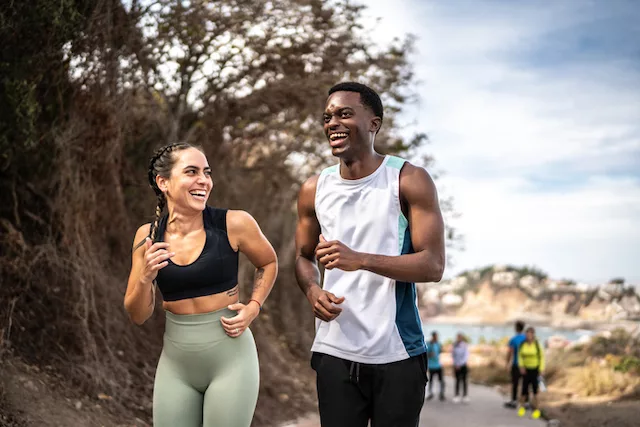 If you have nervous energy to burn off, power walking in a park or trail can have profound mental health perks. Research shows that people who went on a 90-minute walk through a natural environment had lower levels of rumination. They also reduced neural activity in an area of the brain linked to mental illness risk compared to those who walked in an urban environment.
What you'll need:
A pair of comfortable yet supportive walking shoes as well as loose, moisture-wicking clothing, Gatlin says.
How to start :
Start small — like 10 minutes — and gradually increase the distance you're power walking to build endurance. "As you build up strength and endurance, start walking for longer periods of time or challenging yourself with new terrains. If you try to do too much at once we are far less likely to be consistent and stick with the routine," Caleel says. You can also join a power walking group or ask a friend to come along your workout for a more enjoyable and engaging experience.
Overall
it's always a good idea to plan an outdoor workout whenever you can. Spending time outdoors can help reduce stress and anxiety while strengthening your muscles and endurance. Whether you're hiking, power walking, running, jogging, or doing other parkour sports, being in nature offers a change of scenery and sets the stage for more enjoyable and distraction-free workouts. The most important thing is to find a workout that you love and can stay consistent with because, ultimately, that's going to help you reach your goals and see real results.

Tiffany Ayuda
May 22, 2023
More like this