Eating This Popular Spice Can Help Improve Your Vaginal Health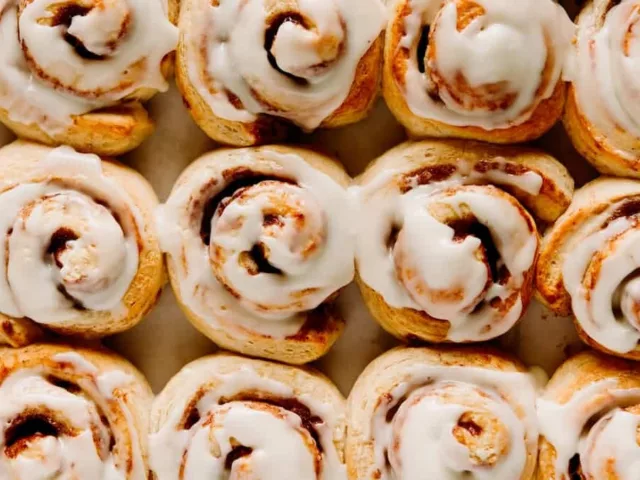 Did you know one of your pantry staple spices can help things *down there*? Experts break down why you should be eating more cinnamon for your vaginal health.
As the weather cools and the leaves turn hues of fiery orange, vibrant red, and bright yellow, many of us start adding a dash of spice to virtually everything we consume, including coffee (hello, pumpkin spice lattes!), roasted root veggies, and delicious baked goods. While fall spices are good for our taste buds—okay, and for our souls—one spice, in particular, is uniquely beneficial for vaginal health. We're talking about warm and spicy cinnamon, of course.
"Cinnamon has several health benefits, including antioxidant, anti-inflammatory, and anti-microbial activities, which make it a vaginal health superstar," says Deb Matthew, MD, a functional medicine physician, who is also known as America's Happy Hormones Doctor. This spice actually has a host of health benefits, however, cinnamon's vaginal health benefits create the perfect excuse to sip on chai tea while enjoying a delicious Dutch apple pie.
The Benefits of Cinnamon for Vaginal Health
Cinnamon Balances the Vagina's pH Levels
One of the most interesting health benefits of cinnamon is that it can help with vaginal pH balance. Cinnamon contains Lactobacillus, the same probiotic bacteria found in yogurt, and, according to Dr. Matthew, helps maintain an acidic pH in the vagina of around 3.8 to 5.0. "If the pH is higher (more alkaline), this allows for the overgrowth of bacteria and yeast," she explains. "An excess of yeast raises the vaginal pH, creating a vicious cycle," she adds. Since cinnamon can help keep bacteria at bay, it helps maintain a normal vaginal acidic pH and, therefore, promotes a healthy vagina.
According to Michael Ingber, MD, a board-certified physician in female pelvic medicine and reconstructive surgery, a premenopausal woman's average vaginal pH is around 4.0. However, it can be nearly double for those who have an overgrowth of bacteria. "Women who have bacterial vaginosis or post-menopausal women often have a more alkaline pH, upwards of 7.0 or even 8.0," he explains. The alkaline pH levels are because "a lack of estrogen causes a thinner vaginal lining and the pH to increase," Dr. Ingber explains. "That is why we not only see an increase in urinary tract infection risk but also overactive bladder and discomfort with sexual activity in post-menopausal women," he adds.
Cinnamon Can Fight Yeast Infections
Since cinnamon is anti-bacterial and anti-fungal, it can play a role in warding off yeast infections. "Cinnamon helps inhibit the growth of bacteria and candida—the most common yeast implicated in vaginal yeast infections," says Dr. Matthew. While more research is needed in order to determine if it can actually treat or prevent a yeast infection, Amir Marashi, MD, the celebrity "Vagina Whisperer" and an OB-GYN cosmetic gynecologist says it doesn't hurt to consume cinnamon while experiencing a yeast infection. "I believe it's a great remedy to attribute to a balanced pH in the vagina during infection," he explains.
Is Cinnamon an Aphrodisiac?
In addition to its pH-balancing benefits, cinnamon is considered an aphrodisiac and might increase sex drive in women when consumed. Thanks to its warming properties, cinnamon can increase blood flow and, therefore might have an impact on libido. "Higher sex drive will translate to more frequent sex which, in turn usually translates to more orgasms and better quality of orgasms," Dr. Marashi says of cinnamon as an aphrodisiac. Dr. Marashi believes that orgasms—especially quality orgasms—are "one of the crucial pillars of overall mental and physical wellness."
In addition, cinnamon is a calming spice that can help release tension from the muscles and allow you to sink into a deeper state of relaxation. Because of that, cinnamon might also improve sleep, which can have an impact on libido in women. According to research, sleep deprivation can have a negative impact on sex drive. When women get enough sleep, they are less likely to experience a low sex drive.
Other Cinnamon Benefits for Women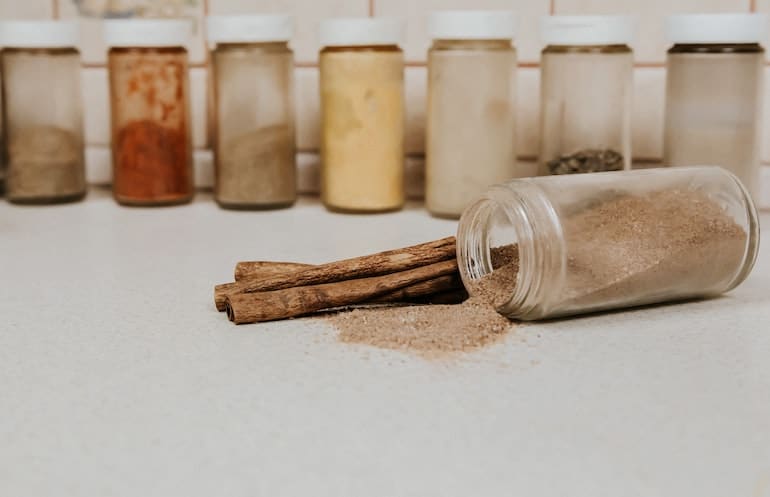 Cinnamon might be a powerful antibacterial ingredient that can ward off bacteria, but that's not the only way it benefits women. One study showed that cinnamon can target some menstrual symptoms such as PMS and dysmenorrhea, making them a little more tolerable.
Another interesting benefit of cinnamon is how it might target other menstrual concerns, such as heavy bleeding, nausea, and vomiting. Research shows that when women consume cinnamon during their periods, they might experience less bleeding compared to those who don't. These women are also more likely to experience significantly less nausea and vomiting, too.
This fall spice isn't just great for women's health. In general, it has some amazing health benefits that could impact those who add a dash of it to their foods, sip on cinnamon tea, or gulp down a pumpkin spice latte before work on a Monday morning. Here are some of the other major health benefits of cinnamon.
Collagen Production: Some studies show that cinnamon can support collagen production, which starts to decline in women after age 30. Collagen is responsible for creating a supple, youthful complexion, so it's an excellent anti-aging ingredient. However, collagen is also vital to the body as a whole, since its main purpose is to create connective tissue. Collagen can also support bone health, helping to stave off the brittleness that comes with age.
Acne Treatment: Since cinnamon is excellent at warding off bacteria, it can work wonders on acne-prone skin. The warming spice extract can target acne-causing bacteria, helping to relieve the skin of breakouts and painful pimples.
Anti-Inflammatory: In a world where stress is abundant, many are no strangers to inflammation. Inflammation causes a host of health concerns, including cancer, arthritis, diabetes, and bowel diseases. Increased inflammation is how the immune system deals with potential threats. However, chronic inflammation can weaken the immune system over time and leave you in constant fight-or-flight mode, putting a lot of stress on your body and possibly even causing symptoms of anxiety.
Weight Loss: Consuming cinnamon can help support weight loss efforts, as some studies show that cinnamon can help target fat and result in inches lost around the waist. That being said, the amount of cinnamon required for this benefit could potentially be dangerous and more research is needed to confirm whether or not consuming healthy levels of cinnamon can also have a similar effect. Cinnamon is also considered an appetite suppressant which might assist weight loss efforts in those looking to lower their daily calorie intake.
Antioxidants: As a fall ingredient, cinnamon delivers on the demands of the season with its antioxidant levels. This spice is an excellent addition to your cold and flu season arsenal, as it's loaded with antioxidants that ward off environmental aggressors to keep your body healthy.
Sleep: A good night's sleep is vital for so many reasons. And, in many ways, none of these benefits can exist without sleep since the body requires slumber in order to reset at the end of the day and restore itself. With that said, cinnamon can physically relax the muscles, triggering a calming sensation that helps promote better sleep health. Sipping on cinnamon tea might just be the best pre-snooze ritual.
The Takeaway
If you want to improve your vaginal and sexual health while reaping additional benefits along the way, adding cinnamon to your routine can help—whether sprinkled on a coffee, baked into a warm treat, or incorporated into a savory dish like Greek pastitsio, a roast, a curry, or even a vinaigrette. For even more vaginal health benefits, consider taking HUM's Private Party, which contains three strains of probiotics, which help support a healthy vaginal microbiome and maintain pH levels. Looking for help in managing PMS symptoms? Try HUM's Moody Bird, featuring a potent herbal blend to support healthy hormone balance and ease symptoms like cramps, mood swings, and irritability.
More like this