Meet The World's First Celery Juice Fiber Gummies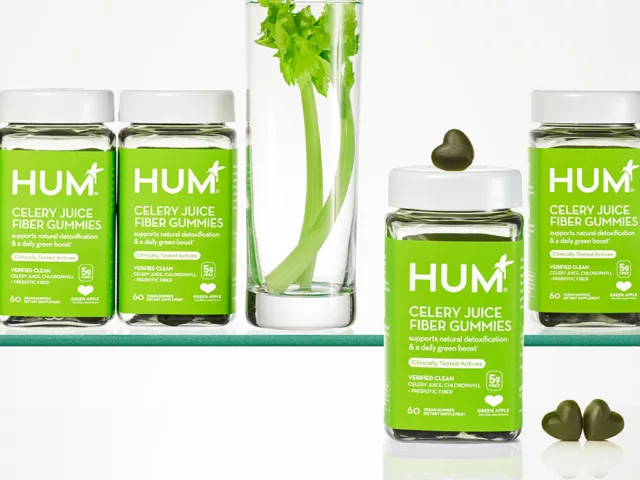 Want to pack more nutrients and fiber into your daily routine? Try HUM's Celery Juice Fiber Gummies: a delicious first-of-its-kind gummy. These provide the same amount of vitamins and nutrients found in a serving of celery juice without the mess of  juicing. And, we've added clinically studied FOS prebiotic fiber that helps nurture the gut microbiome and natural detoxification processes. Plus, it has a delicious green apple flavor. Who could resist? We certainly can't.
Celery juice has taken center stage in the health and wellness world recently, largely due to the Medical Medium's advocacy of this vitamin and fiber-rich drink. Many claim that celery juice can help: reduce inflammation, improve digestion, and clear skin, to name a few. The downside? Well, it can be a pain in the you-know-what blending up an entire stalk of celery every day, not to mention messy!
This is why we created the first-ever Celery Juice Fiber Gummies that will give you a daily green boost while naturally cleansing the digestive tract–complete with FOS prebiotic fiber. Read on to learn more about these fiber-rich gummies and what they can do for you and your overall health.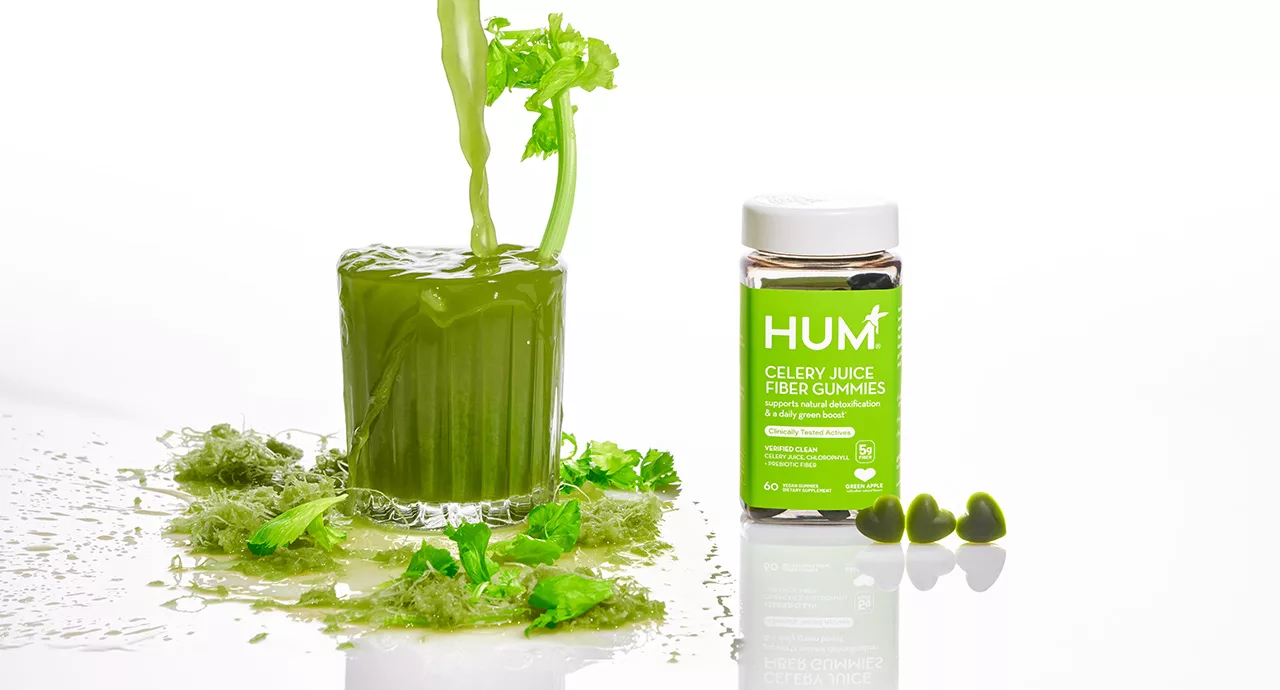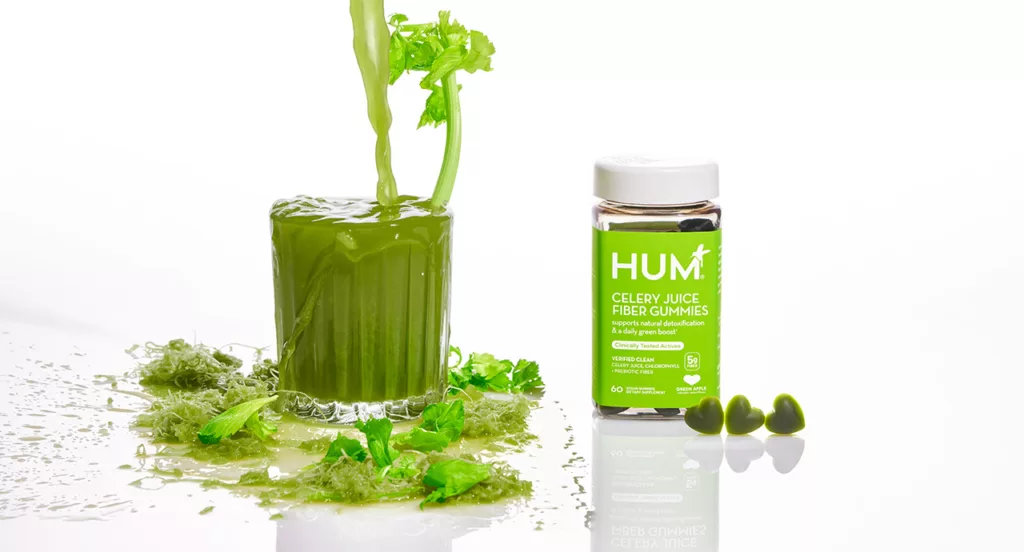 What are Celery Juice Fiber Gummies?
Celery Juice Fiber Gummies are HUM's newest gummies made with celery juice powder. "We wanted to create a delicious tasting gummy that provides the same vitamins found in celery juice, plus the fiber that is often lost during the juicing process," Gaby Vaca-Flores, RDN, CLE,. "We know that many people drink celery juice because it's nutritious, and provides gut, digestive, and detox benefits. Our goal in creating Celery Juice Fiber Gummies was to deliver the same benefits using ingredients that have been clinically studied, like FOS prebiotic fiber – all without the mess of juicing!"
The standout ingredients include:
75 mg Celery juice powder
200 mcg DFE (120 mcg folic acid) Folate
810 mcg Sodium Copper Chlorophyllin
200 mcg RAE Vitamin A (as beta carotene)
27 mg Vitamin C (as ascorbic acid)
90 mcg Vitamin K1 (as phytonadione)
4.5 g Fructooligosaccharides (FOS) prebiotic fiber
These Fiber Gummies are formulated with clinically tested FOS prebiotic fiber which helps regularity and helps promote a healthier gut microbiome. The addition of chlorophyll supports the body's detoxification process, making the gummies an ideal addition to your everyday health and wellness routine. They are truly next level green fiber!The delicious green apple flavor gives the gummies an incredible and digestible burst of flavor.
What are the main benefits of Celery Juice Fiber Gummies?
The Celery Juice Fiber Gummies provide a daily green nutrient boost without the mess. "As a dietitian, it's exciting to deliver digestive benefits with 5 grams of fiber per serving of Celery Juice Fiber Gummies. We also included chlorophyll to support detox at the cellular level and all the same vitamins found in celery juice, like folate and vitamins A, B6, C, and K1," says Vaca-Flores.
Supports Gut Health and Regularity
Struggling to get your gut right? If so, there are ways to get the tract on track. One way to do so is to incorporate a prebiotic fiber into your daily routine, like the clinically tested FOS in these gummies.
But what is FOS prebiotic fiber exactly? FOS stands for fructo-oligosaccharides and are plant sugars found in fruits and vegetables. FOS prebiotics are digested when they reach the colon, and are then digested by the good bacteria. Not only does this prebiotic support the gut, but also improves regularity. According to a study in Nutrients journal, FOS prebiotic fiber can help reduce or eliminate constipation, therefore promoting regularity.
This gummy also boasts the following credentials:
Verified Clean
Clinically Tested Actives
Triple Tested by independent labs for purity and potency
No Artificial Colors, Sweeteners, Flavors & Preservatives
No Titanium Dioxide
Gluten-Free
Non-GMO
100% prevented ocean plastic bottle + cap
The Takeaway?
Ready to improve your wellness? Ditch the juicer and add HUM's Celery Juice Fiber Gummies to your daily routine. This is a diverse gummy supplement that delivers real results. So, say goodbye to messy morning juicing and say hello to healthier you. The yummy green apple flavor makes these an irresistible daily "do" that'll support your gut, digestion and overall health. 
More like this