Why Soup Cubes Are the Best Way to Freeze Soup
Miriam Jacobson, MS, RD, CNS, shares the best way to freeze soup for both convenience and your health.
Save on delivery fees and stock your freezer with healthy, pre-cooked meals that are easy and quick to reheat. Enter: soup cubes.
I started freezing soup with silicone ice cube trays in preparation for a surgery with a long recovery time. I love making home-cooked meals, but knew I wouldn't be able to cook for a few months. So I gradually prepped a bunch of different soups and stews before my surgery and froze them.
Here's why it's a great method and how to do it yourself.
Why It's The Best Way to Freeze Soup
Better for Your Health
I like using cube trays to freeze soup instead of plastic bags primarily so the warm liquid doesn't touch the plastic while freezing and thawing. Most plastics contain toxins, such as BPA and phthalates. These toxins can suppress the immune system, create fertility issues, and lead to the development of
more serious health conditions
. Additionally, freezing your homemade soup in a safer way will also allow you to avoid unnecessary additives that are in many canned soups and store-bought frozen meals.
Convenience
The
convenience of meal prepping
is another benefit to this method of freezing soup. If you love to prep meals (or want to try!) but get bored of eating the same thing every day, soup cubes are a great way to mix things up. Better yet, it really couldn't be easier and reheating is faster than food delivery! Lastly, using individual cubes instead of large freezer bags allows you to customize your serving size. Whether you're concerned with
portion control
or are unsure of how much is left to feed your household, soup cubes are pretty foolproof. Even further, they can help you cut down on food waste.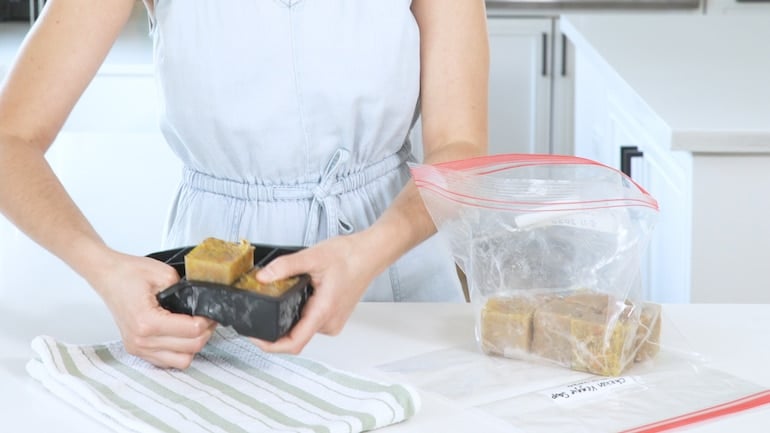 How to Freeze Soup Safely
To get started, you'll need:
Your homemade soup
2 gallon-sized food storage bags
2-inch silicone ice cube trays
For reference, a large pot of soup will fit into about four ice cube trays. 1. Once you've made your soup, let it cool. Using a ladle, pour an even mixture into each cube. Make sure to leave some extra room at the top because they expand when frozen. 2. Place the trays in the freezer, on top of a paper towel to avoid spilling. 3. Label your food storage bag with the soup type and date. 4. Once the soup cubes are frozen, transfer them to the food storage bags and place them back in the freezer. They should keep for up to six months.
How to Reheat Frozen Soup Cubes
Once you're ready to reheat and enjoy your soup, add three to five cubes per person into a pot. Cover and heat on medium-low for about 10 minutes, stirring occasionally. Before serving, I suggest adding greens like bok choy or kale to get some extra nutrients in.
Other Easy Foods to Freeze
Some of my favorite soups and stews to freeze in cubes are:
Chicken vegetable soup
Carrot ginger soup
Cauliflower leek soup
Green curry chicken
Veggie bolognese (pair with chickpea pasta and kale before serving)
Bone broth or veggie broth
Chicken tikka masala
Black-eyed pea stew
Moroccan stew
The only soups that this wouldn't work well to freeze are ones meant to serve cold, such as
avocado soup or gazpacho
.
More like this