How to Freeze Fresh Produce at Home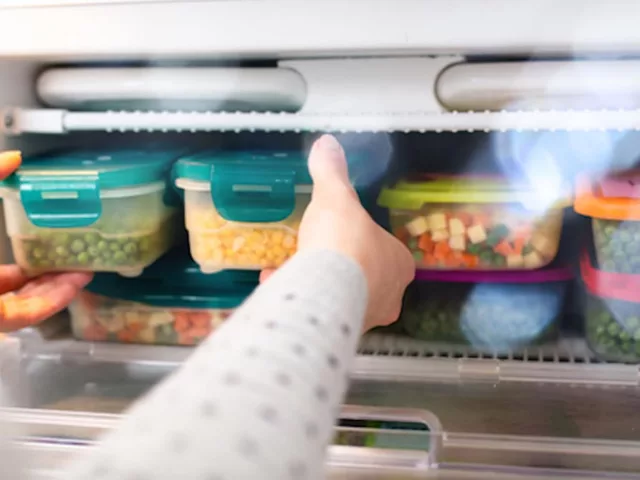 Carrie Gabriel, MS, RDN, sheds light how to freeze fresh produce. Plus: which fruits and veggies freeze best, hacks to prepare frozen avocados, and how long they'll all last.
With terms like
social distancing
and self-quarantining rapidly becoming our new normal, many of us are stocking our home kitchens to the max. As we aim to take fewer
trips to the grocery store
, it's sensible to focus on the extended shelf-life of frozen produce. However, while you might find the frozen section has slim pickings, fresh produce sections at many grocers remain fully stocked. Many worry about buying fresh produce since it'll go bad more quickly than frozen, hence requiring more grocery store visits. Yet this doesn't need to stress you out. Simply
buy fresh fruits and veggies
, then freeze them yourself to preserve the nutrients. Here's everything you need to know about freezing fresh produce.
Which produce is best to freeze?
Most fruits such as banana, berries, and pineapple freeze well. The best vegetables to freeze include corn, peas, broccoli, cauliflower, carrots, green beans, squash, and winter greens such as spinach, kale, chard, and collards. You can also freeze onions, peppers, and herbs.
What Produce shouldN'T be frozen?
Just about any fruit or vegetable can be frozen except celery, watercress, endive, lettuce, cabbage, cucumbers, and radishes. These foods have high water content and become soggy and water-logged when thawed.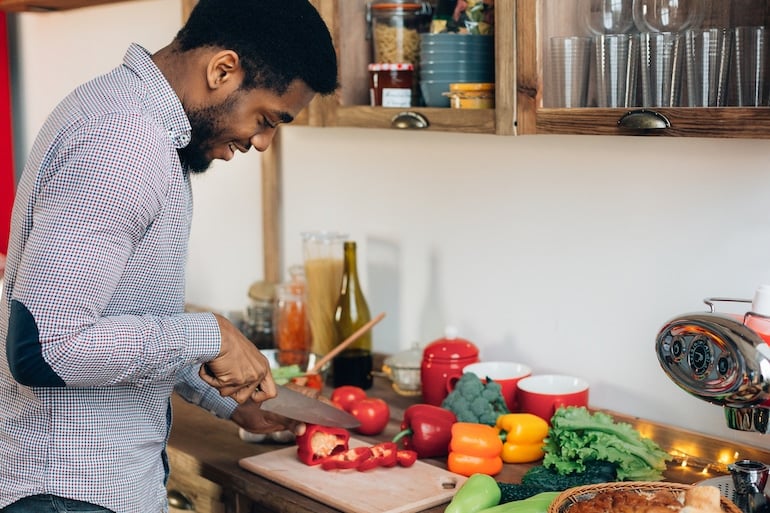 How to Freeze Fresh Produce
Start the process by washing your produce and patting it dry with a clean towel. If you wish, you can chop vegetables or core and slice larger fruits to make them easier to use when they thaw out.
Blanching
Blanching is a process by which vegetables are briefly boiled and then plunged into ice water. Some veggies retain their color and texture more readily with blanching, but it's up to you to take this extra step.
Freezing
Whether freezing blanched or raw produce, place your fruit or vegetables in a single layer on a pan with parchment paper in your freezer. (This helps to keep the produce from freezing together in one big clump.) When frozen, you can then transfer the individual pieces into a single big freezer bag for more compact storage. That said, I often just chop vegetables and put them straight into a freezer bag to be more efficient. Do whatever is more convenient for you! Here's some of the best produce for freezing while still fresh, and how to prep them:
Bananas
Slice the bananas and freeze them flat on a baking sheet for use in smoothies. You can also freeze whole, ripe bananas for banana bread or another baking recipe.
Bell Peppers
Slice or dice bell peppers, remove the seeds, and freeze them flat in a freezer-safe bag.
Berries
Small berries like blueberries, blackberries, and raspberries can be frozen whole. Larger berries like strawberries can be sliced. If you're feeling adventurous, try your hand at making strawberry freezer jam.
Broccoli + Cauliflower
Trim off any leaves and remove the stems. Cut into 1.5-inch pieces and blanch for three minutes. For a simpler alternative, you can just pack them into a freezer-safe bag.
Citrus
If you're freezing citrus for juicing, leave the peels intact and cut the fruit in half before placing in the freezer. You can also remove the peels, cut the fruit into sections, and then freeze the slices. Before peeling, make sure to zest the rind, as zest freezes exceptionally well in freezer-safe bags.
Corn
The easiest way to freeze corn is cooked and off the cob. Then let it cool and store in a freezer-safe bag.
Peas + Green Beans
Remove peas from their pods and blanch for 90 seconds. For green beans (like snap or wax beans), blanch for three minutes. Let cool and add to a freezer-safe bag.
Potatoes
Potatoes have a high water content, even when they're cooked. For that reason, I recommend only freezing waxy potatoes, like red potatoes or Yukon golds. They should be chopped and par-cooked for five minutes, either by boiling them, baking them at 475 degrees Fahrenheit, or frying them in oil at 350 degrees.
Stone fruit
Remove the pits of cherries, peaches, and plums before freezing; otherwise, you'll get a bitter flavor. If you want to remove the skins, blanch the fruit for 30 seconds. Then slice into quarters or eighths and place in a freezer-safe bag.
Zucchini + Summer Squash
For use in baking, blanch grated zucchini for a minute or two, until translucent. For all other uses, cut zucchini into slices or dices and blanch for three to four minutes, until firm.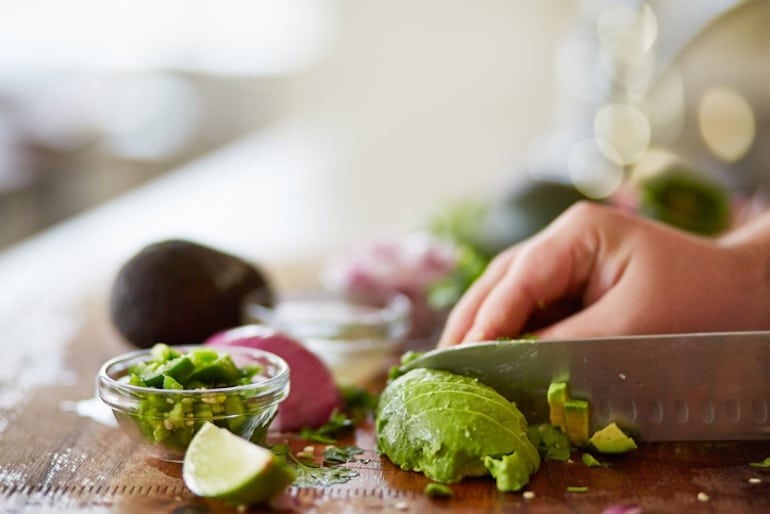 Can I freeze avocados?
Avocados go bad quickly, so when freezing them, it's important to consider the effects on the nutrient content, texture, color, and flavor. Freezing avocados doesn't significantly affect their calorie, fiber, or mineral content. But it may reduce their levels of vitamin B6 and folate, which are their water-soluble vitamins. The longer avocados are stored frozen, the more nutrients one might expect to lose. However, there's no exact research on how many nutrients are lost. Do note that nutrients are also lost over time with fresh produce, so this shouldn't be a major concern. Freezing avocado damages its signature smooth, creamy texture. Once thawed, it can be somewhat slimy and mushy. That being said, you might not want to eat it on its own, but it'll still be delicious in a smoothie, in a salad dressing, or even as guacamole. It's best to cut your avocado into small pieces and brush with either vinegar or lemon juice to keep it from browning. Doing so may change the flavor slightly, but again, if you're adding frozen avocado to a dip or a smoothie, it won't really matter.
How long does frozen produce last?
Citrus fruit is only good for about three months, but according to the National Center for Home Food Preservation, all other fruits and vegetables
will last eight to 12 months
. To extend the life of your frozen produce, a vacuum sealer will keep your produce fresher longer. You can also consider purchasing a
Stasher bag
, which is made from food-grade silicone and is great for storing a variety of produce. Bonus: It's non-toxic and doesn't contain any byproducts or fillers.
More like this