Yes, getting bangs really is that scary.
To get bangs or not to get bangs? The eternal question… Or at least, a question that most women will ask themselves at some point in their adult hair lives. Are they fashion forward and très chic? Or an unmanageable pain that will ruin your peaceful morning routine? Two HUM staffers find out with a bangs makeover courtesy of stylists Joey Frank and Misha Rice from Mane Duo.
Bangs Makeover Video
Initial Bangs Inspiration
My main motivation to get bangs is to change my look! I don't really love how my hair crowds the sides of my face naturally and often pin it back. One could say this makes me a very bad candidate for bangs, but I theorize that I'll be happier with hair that hangs in my face in a more artful and purposeful way.
The week leading up to our bang makeovers, I load up my Pinterest board with so many photos of Penelope Cruz that I look like a stalker. I also have a series of effortlessly chic French women pinned including Jeanne Damas, Caroline de Maigret and makeup artist Violette. I'm a big fan of long, shaggy, layered bangs that give you that soft pouty je ne sais quoi look.
My fellow bangs makeover guinea pig prefers the side swept variety of bangs. "I still think the best celebrity bangs were Kristin Cavallari in Laguna Beach," our Director of Education, Sarah Greenfield, shares. "I think those long side swept bangs will be less maintenance and that's very important to me."
Bangs Hang-Ups
My fear with getting bangs is that I'm going to look six years old. I haven't had blunt bangs since kindergarten so I'm hesitant that I'll look up looking like a kid on Full House instead of a gamine new-wave French woman. I'm also concerned about the upkeep. I like to get ready in about 15 minutes and am afraid fussing with a fringe will eat into my otherwise swift routine.
"I'm a little nervous because I had bangs before and never really loved it…" Sarah admits. "But I think it's fun to update your look and try something outside of your comfort zone."
Our expert stylists give their own caveats about bangs. "Some people are hesitant to get bangs because it can take a little bit more work in terms of styling," says Misha. "It's a commitment!" Joey adds. "It's also important to ask yourself if they're appropriate for your face shape."
The Results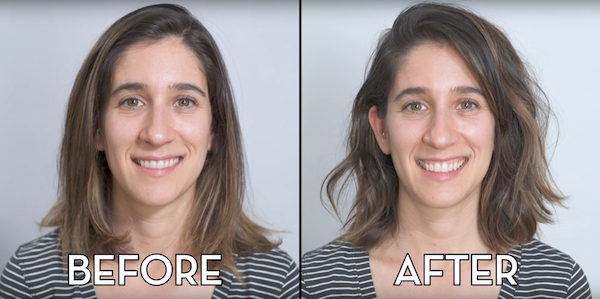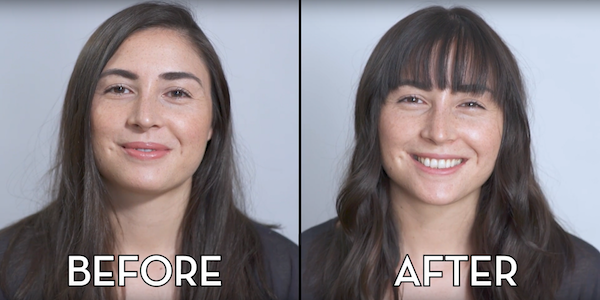 Our Verdict
"It was fun to change up my look and they weren't too high maintenance," Sarah says. The only difference in her routine is having to wear a headband when she works out. As a pretty active person though, this still might be more work than Sarah prefers. "This was a good experience because it taught me just how low maintenance I am when it comes to hair," she says and is thinking of letting them grow out.
As for me? I am still digging my bangs weeks later! Although some days I wake up looking like Joey Ramone, all it takes is a few minutes to get them looking tamed and chic again.  Ultimately, I've been impressed with how low maintenance they are to style. My bangs air dry just fine and as someone who likes to lazily throw their hair up in a ponytail, having bangs gives my look a sophisticated and put together edge.
A huge thanks to Joey and Misha for giving me the bangs of my dreams! Be sure to pay them a visit at Mane Duo in Hollywood, CA or follow them on social.
Would you ever get bangs? Comment below with your favorite bang inspiration!

Embracing Natural Hair With A DevaCut Makeover
Hacking Your Hair Growth Cycle
What To Do When A Bad Haircut Happens