Shopping at Trader Joe's? Stock Up on These 11 RD-Approved Frozen Foods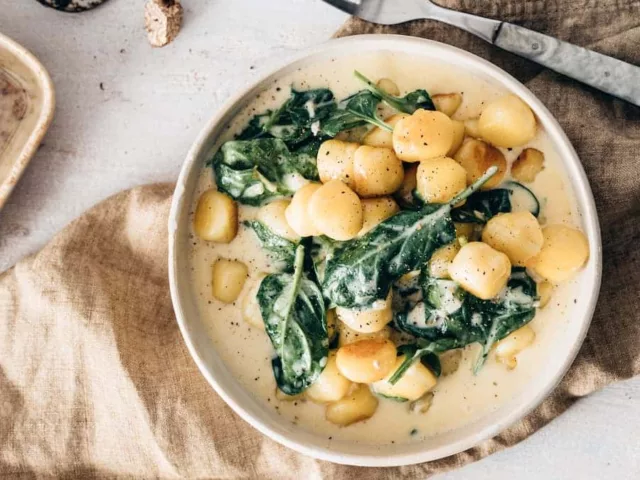 Stressed about weeknight dinners? Chill out. Many of the best healthy Trader Joe's products are found on ice. RDs share the best Trader Joe's frozen foods to stock up on the next time you shop.
I can't be the only one who has spotted a new Trader Joe's product on one of the dozens of Instagram and TikTok pages dedicated to the store and dropped everything to try to snag it before it sold out. (Guilty as charged, especially for a new seasoning blend and riff on chili crisp!) But the frozen food items in particular always seem to be sold out minutes after a new product drops. Likely because we are all looking for a quick, easy meal that's also totally delicious. That's the dream, isn't it?
I write about health and nutrition every day and am well aware that not everything within the store's aisles is as great for my health as they are for my taste buds. (Hey, it's tough to resist the allure of the family-sized dark chocolate peanut butter cups and the entire cheese section, what can I say!) And while I know some frozen foods are healthy (frozen fruits and veggies, for example), it's difficult to know if all of those options in the frozen section at TJ's are actually healthy.
So, I tapped several of my RD BFFs to help me walk through the store, particularly the section with many items ranked as employee- and customer-favorites: the freezer aisles. Here, they share 11 Trader Joe's frozen foods that are delicious and nutritious.
Is Trader Joe's Frozen Food Healthy?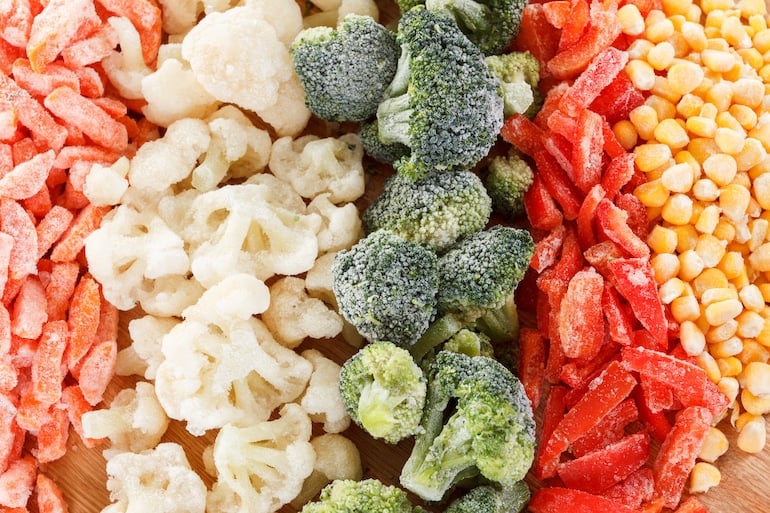 Trader Joe's private label products are all free from artificial flavors, colors, preservatives, hydrogenated oils, and GMOs, confirms Lauren Harris-Pincus, MS, RDN, founder of NutritionStarringYOU.com and author of ​The Protein-Packed Breakfast Club.
As far as nutrition goes, Trader Joe's, like other grocers, has plain, fiber-packed frozen fruits and vegetables, omega-3-rich fish filets, high-protein burgers, and more. But TJ's also stocks plenty of frozen ready-to-heat convenience meals (think: mac and cheese, chicken tenders, and pizza) and desserts that aren't guaranteed nutrition winners.
"The added sugar, sodium, and calories are not always much different from big-name brands," admits Michelle Hyman, RD, a registered dietitian in Long Island, New York. "I recommend reading the nutrition facts panel if you have nutrients that you're trying to limit, rather than assuming it's healthier just because it's from Trader Joe's."
Still, some of the frozen delicacies are healthy options, and they have other benefits too. Lauren Ranely, MS, RD, LDN, a registered dietitian and the owner of Function Well Nutrition in Norfolk, Massachusetts adores the flexibility frozen foods offer, regardless of where they're sold.
"Frozen foods reduce waste and ultimately save you money. They give you flexibility and can serve as a go-to when time or energy isn't available to prepare and cook an entire meal," Ranely says, and when you aren't sure if you'll be able to make it through your fresh produce before it goes bad.
Highlighting a variety of cuisines and with options that meet various dietary preferences, "whether you're cooking for one or the whole family, the frozen food section is packed with diverse options to support your health journey," adds Mary Stewart, RD, LD, a registered dietitian and the founder of Cultivate Nutrition in Dallas
The Best Trader Joe's Frozen Food, According to Dietitians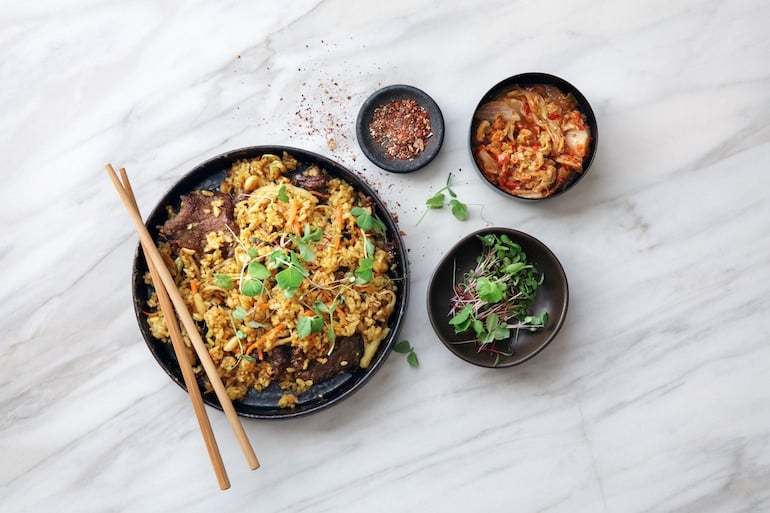 Cauliflower Gnocchi
These went viral when they were first introduced to the frozen aisle in April 2018, and for good reason: The fiber-rich, vegetable-enhanced potato pillows are made with 75 percent cauliflower, plus cassava flour, potato starch, extra virgin olive oil, and salt—and nothing else. While they shouldn't replace a full serving of your day's veggie quota, they're an effective (and enjoyable) way to sneak in about half an extra serving of vitamin C-strong, fiber-stoked cauliflower.
"I stick them in the air fryer to crisp them up, then add the gnocchi to salads," says Jenna A. Werner, RD, creator of Happy Strong Healthy in Middletown, New Jersey. (Psst…try them in place of the croutons on top of your favorite salad!)
Ranely deems them the "epitome of comfort food," and they get bonus points in the nutrition department for being gluten-free and vegan.
Compared to making gnocchi from scratch, "the frozen version cuts out a lot of the prep time and makes for a great meal. The options are essentially endless because you can toss the gnocchi into any sauce you like," Ranely says, such as pesto, marinara, or pomodoro.
Asparagus Risotto
Making homemade risotto involves a lot of stirring and about four times as much time as simmering up this vegetable-studded mix on your stovetop. This healthy Trader Joe's frozen food option makes quick work out of the classic Italian dish. And since asparagus is the third most prominent ingredient (behind rice and milk), you'll score a bit of fiber, vitamin A, and vitamin C from the antioxidant-rich green vegetable.
To prepare one of Werner's go-to dinner side dishes, simply dump the bag or a single 1-cup serving into a skillet or saucepan over medium heat, stir for about 5 to 6 minutes and enjoy.
"I like to think of these as amazing 'meal enhancers,'" Werner says.
By that, she means the risotto is just the beginning. From there, she adds leftover fresh or roasted vegetables and a serving of protein (like a scoop of drained and rinsed canned beans or leftover or rotisserie chicken).
Quinoa Duo with Vegetable Melange
Stewart says this is one of the best Trader Joe's frozen food selections, as it offers vegetables, starches, and packs in some protein (5 grams per serving).
"It's a nutrient-dense, flavorful plant-based option that's a great side dish, or garnish it with your favorite protein source and you have yourself a complete meal," Stewart says. "Cook some Trader Joe's frozen shrimp, a frozen salmon filet, or frozen turkey burger, and dinner is done."
Riced Cauliflower Stir Fry
If you hear "frozen vegetables" and think of the ho-hum steamed broccoli you used to see on your school lunch tray, this colorful takeout-inspired dish is about to change your tune. The "riced" cauliflower is packed with green peas, red peppers, green onions, and corn—then seasoned with ginger, sesame oil, and tamari (similar to a gluten-free soy sauce). The end result? A low-carb, low-calorie yet high-flavor side. Harris-Pincus enjoys incorporating a scoop or two into other dishes, including regular fried rice, to amp up the portion size.
"The Riced Cauliflower Stir Fry is fabulous combined with other Trader Joe's frozen products like Seafood Paella, Japanese Style Fried Rice with Edamame, Tofu and Seaweed, and the Shrimp Stir Fry with Gourmet Pepper Seasoning," she says. "By mixing two products together in one pot, you have a meal that's automatically at least half veggies. Plus, the cauliflower takes on the flavor of the meal you are mixing it with."
Shrimp Stir Fry with Gourmet Pepper Seasoning
Speaking of that seafood stir fry, the Shrimp Stir Fry with Gourmet Pepper Seasoning is "a delicious way to eat more veggies," says Bianca Tamburello, RDN, a registered dietitian nutritionist for Fresh Communications. "This convenient stir fry mix saves me loads of time washing and chopping vegetables, and is especially helpful on busy weeknights."
Beyond the time-saving aspects, Tamburello appreciates the short ingredient list that's "exactly what I would add to stir fry myself: broccoli, shrimp, sugar snap peas, water chestnuts, bean sprouts, red bell peppers, and seasonings. From there, she usually sprinkles in a dash of soy sauce and reheats the stir fry in sesame oil for a bonus flavor boost.
"Another tip: Add a bag of fresh pre-cut veggies to get more servings out of one bag," Tamburello suggests, and to sneak in more fiber and nutrients.
Crushed Garlic
To add flavor to savory stir-fries, soups, stews, and sauces, Hyman loves stocking these frozen garlic cubes in her freezer. Each cube is the equivalent of 1 clove, and every pack comes with 20, so you'll never be scrambling for fresh cloves (or fussing over peeling them) if you have a couple of these packages in your freezer. The recipe is simply a blend of garlic, water, and a little canola oil and salt.

"These are so convenient and add so much flavor to my meals," Hyman says.
And a hint of nutrition, too. Research suggests that the antioxidants in garlic may bolster the immune system enough to reduce the length and frequency of colds, might lower blood pressure and cholesterol, and potentially decrease the risk for dementia.
Shrimp Seafood Burgers
With 13 grams of protein each, these shrimp- and pollack-based burgers "make a fabulous quick dinner and are very versatile," Harris-Pincus says.
Cook from frozen on the grill, in the oven, in an air fryer or in a skillet; any and all ways the low-carb (1 gram) and low-calorie (90) burgers will be hot and ready to "serve on a bun with traditional burger fixings, chop one up to top a salad or slice one up to create a seafood taco," Harris-Pincus recommends.
Hi-Protein Veggie Burger
For an even higher-protein fast food-style freezer find, seek out a box of Tamburello's favorite vegan entrée: the Hi-Protein Veggie Burger. With a whopping 26 grams of plant protein (mostly from pea protein and black beans) "for major filling power," Tamburello swears that the "meal possibilities of this veggie burger are practically endless."
Savor it on a bun, in a rice bowl or salad, or sliced into strips and served inside a tortilla or lettuce wrap. Or, sauté a burger with some taco seasoning to act as the filling for a burrito or taco.
Frozen Berry Medley
For smoothies, smoothie bowls, homemade ice cream, or agua fresca, both Werner and Hyman grab a bag of frozen berries nearly every Trader Joe's trip.
While she is also fond of the frozen mango and pineapple chunks, Hyman says the frozen berry blends are "perfect for smoothies and more economical than buying each type of berry fresh." Plus, berries pack a serious punch of antioxidants, which research shows can fight off the damaging effects of free radicals in the body and lead to a decreased risk of chronic disease.
Depending on your location and the season, you might find one of four Trader Joe's frozen food options, which are all dietitian-approved:
Fancy Berry Medley (blueberries, blackberries, raspberries)
Very Cherry Berry Blend (cherries, blueberries, blackberries, raspberries)
Organic Mixed Berry Blend (organic strawberries, blueberries, blackberries, and raspberries)
Berry Medley (strawberries, blueberries, blackberries, and raspberries)
For a nourishing morning meal, blend frozen berries with protein powder (like HUM Nutrition's Core Strength).
Organic Rainbow Cauliflower
Since frozen veggies are picked and packaged at peak freshness, the nutrient content is the same, if not better than fresh, Ranely says.
Featuring green cauliflower, purple cauliflower, orange cauliflower, and white cauliflower, Stewart declares this "the perfect frozen food staple because it's incredibly versatile and full of health benefits."
Incorporate it into a stir-fry to add more color, blend a handful into a smoothie to yield a creamier texture, add to a bag to a pot of soup to easily boost your veggie intake, or toss with olive oil and your favorite seasoning and roast on a sheet pan until crispy and golden brown.
"Bonus points here for no rinsing or chopping, as this cauliflower is ready-to-go right out of the bag," Stewart says. "Additionally, cauliflower is part of the cruciferous family of vegetables, which are proven to support our body's natural detox process, hormone balance, and immune system."
Mini Hold the Cones Ice Cream Cones
You may be surprised to see these listed as one of the best frozen foods at Trader Joe's, but hear us out. Because life is all about balance, Werner is sweet on these perfectly-portioned, chocolate-dipped baby cones. Each clock in at about 93 calories and seven grams of sugar.
"These are the best ice cream dessert, in my opinion, and are such a great treat for any time of year. They're a nostalgic classic," Werner says.
Think of the "Hold the Cones" as a pint-sized version of those large dipped cones you can order from ice cream trucks. "I love that the flavor options that rotate with the seasons," Werner adds, such as chocolate chip, chocolate, vanilla, pumpkin ginger, and peppermint.
Weekly reads to help you level-up your skincare, wellness, digestion, nutrition, and more.
By signing up to receive our weekly newsletter, The Wellnest, you agree to our privacy policy.
The Bottom Line About Trader Joe's Frozen Foods
Meals don't need to be made from scratch to be nutritious, Tamburello confirms. "Frozen foods are often in my freezer for busy days or when fresh options are limited," she says.
Tamburello suggests filling your freezer with products that fit these three categories:
Foods you don't eat often enough; for many Americans, this includes seafood and veggies
Foods that are air fryer- or microwave-ready offer a budget-friendly, quicker, and often healthier option than takeout
Meal-starters and quick sides
Harris-Pincus is a firm believer that frozen foods are a "treasure" to keep on hand for quick nutritious and affordable meals. With just enough variety of frozen fruit, veggies, grains, and seafood, she's particularly fond of swinging by Trader Joe's frozen food aisles to snag some quick-fix, long-lived options.
As you do so, keep these dietitian-approved options in your back pocket. If you find other products you'd like to try and are aiming to invest in more nutritious items, be sure to check out the nutrition facts panel and integrate them into your meal plan in moderation.
"Trader Joe's products can have a 'health halo,' meaning a perception that anything you buy there is good for you. Cookies are still cookies, it doesn't matter if they are organic or non-GMO, moderation still applies," Harris-Pincus says. So, stock up on some treats, but stock up on these RD-approved frozen foods choices from Trader Joe's, too.
Mentioned in this article
More like this