Is Granola Healthy? + Other Nutrition Mysteries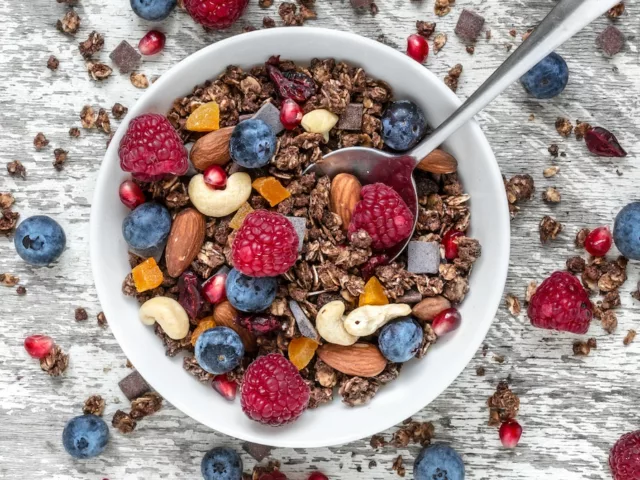 When you Google "is granola healthy?" or "is peanut butter healthy?," you're assaulted with varying opinions and no clear answer. But you're not alone. The debate about what's "healthy" is more divisive than Gwyneth Paltrow or Lululemon Wunder Unders—as in, people tend to have strong feelings (so many feelings) about them. In a sea of low-fat and diet foods, it's difficult to figure out for yourself what's actually healthy.
The New York Times polled nutritionists
from the American Society for Nutrition and a representative sample of Americans about what foods they considered healthy to shed light on this disconnect. Spoiler alert: There were some major differences. Take a look: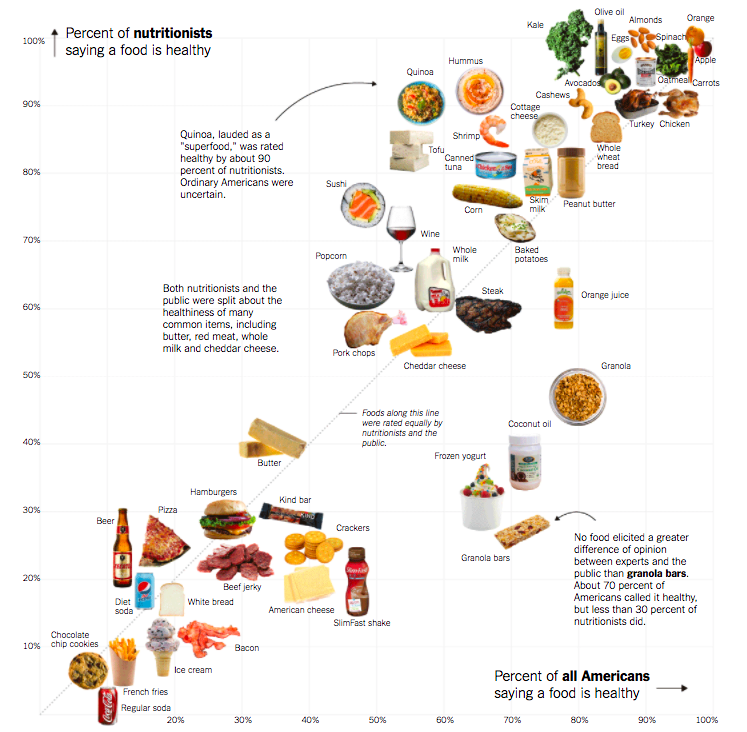 Study Findings on "healthy" foods
What the public thought was healthy
In other words, the answer to the question, "is granola healthy?" is probably not: 71 percent of the public saw it as healthy, compared to only 28 percent of nutritionists. The public also tended to rate foods packed with added sugar (we're looking at you, fro-yo and orange juice) as healthier than did nutritionists.
What nutritionists thought was healthy
Quinoa, sushi, hummus, and wine were all considered healthy by at least 70 percent of nutritionists. However, the public disagreed, especially regarding quinoa and tofu.
Nutritionists and the public weren't sure about these
Pork chops, whole milk, steak, and cheddar cheese (i.e., fatty foods). The split isn't exactly surprising:
Fat
has had a negative connotation for many years, but recent studies have begun to paint it in a more positive light.
Can we reach an agreement?
The key takeaway: No one—not even nutritionists—can fully agree on what constitutes a healthy food. (That is, unless we're talking about apples or oranges, which each had a 99 percent expert approval rating). We need to be informed about what we eat, pay attention to
how different foods make us feel
, and understand that whether you prefer tofu or chicken, healthy isn't one size fits all. So stop arguing with your friends about gluten and have a glass of vino instead. (After all, 70 percent of nutritionists say wine is good for you.)
More like this