How to Heal Dry, Chapped Lips—Plus, Our Favorite DIY Lip Balm and Scrub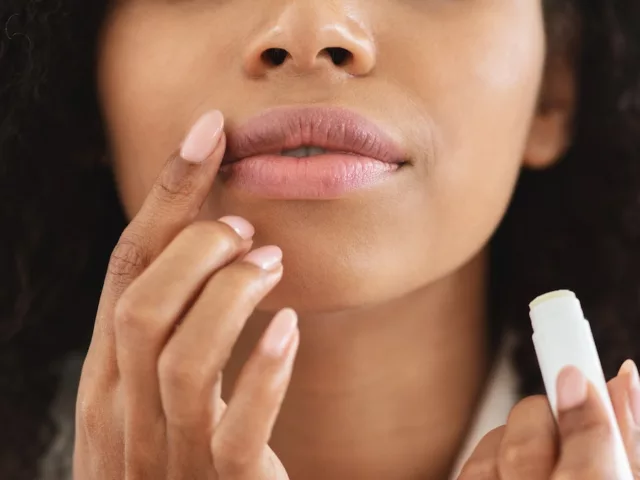 Dealing with dry, flaky lips? You're not alone. There are lots of chapped lip causes—from weather to medication to diet. If you're wondering how to get rid of chapped lips, experts break down the answer (and include their favorite DIY lip mask and scrub recipes).
If you've ever struggled with severely chapped lips, you're well aware of what a burden it can be. Many people assume that chapped lips are simply a bit dry, but in reality, they can be cracked, chafed, severely dehydrated, and visibly inflamed. No matter the symptoms, one thing's for sure: Chapped lips are the worst. 
So, how do you get rid of chapped lips? Thankfully, there are plenty of ways to heal and prevent chapped lips. But it starts with knowing what causes chapped severe lips in the first place. While you may assume it's just cold winter weather, there are many other factors that can cause dry, flaky lips. Read on to learn more about chapped lip causes and how to heal chapped lips. Plus, expert-approved homemade remedies.
Chapped Lip Causes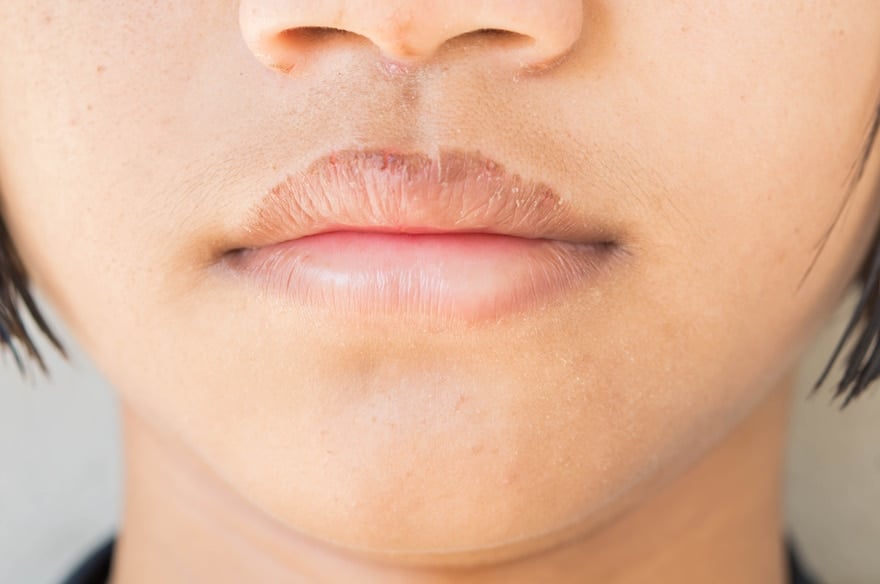 "Simply put, chapped lips occur when the natural ability for lips to retain oils and moisture is compromised and the lips become dry, peely, and cracked," explains board-certified dermatologist Dr. Alicia Zalka, founder of Surface Deep. While many people think that chapped lips are caused solely by extreme temperatures, Zalka, says that a lot more can be a play. She points out that any of the below scenarios can lead to chapped lips: 
Low humidity
Cold temperatures
Irritating products used on lips
Recent dental work
Picking lips
Licking lips
Dehydration
Eating irritating or allergenic foods
Eating highly salted or spicy foods
Lack of natural oils/lack of oil glands
Harsh cleansers
Ultraviolet exposure/too much sun
Having a cold (ie: blowing nose/mouth breathing)
Chapped lips might be especially prevalent during winter, but Zalka says t at any time of year. That said, there's a reason why there's a particularly high chance of experiencing chapped lips during the colder months of the year.
"Lack of humidity, risks of very cold temperature, and increased risk of having a runny nose, all contribute to a much higher rate or incidence of chapped lips," she says. What's worse: Once we have chapped lips, we are prone to licking them and picking the little bits of dry peeling skin on our lips, which far worsens the problem, Zalka adds
How to Get Rid of Chapped Lips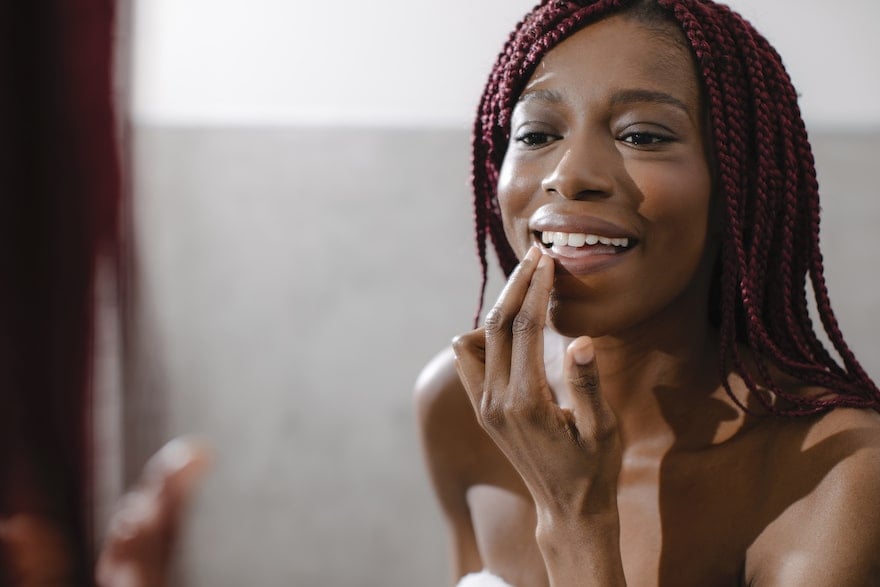 Once your pout is parched, you'll have to put in overtime to revive it. "Chapped lips need TLC," Zalka says. "Once the lips are chapped, it is difficult for them to heal on their own—they need lubrication, ASAP."
Zalka recommends reaching for healing lip balms and fragrance-free lip gloss (instead of lipstick) during the day, and reparative lip masks at night. The key is to keep your lips consistently hydrated—keep products nearby at all times so you can re-apply throughout the day. 
Additionally, when lips are chapped, Zalka says to avoid salty foods, licking and picking at your lips, and lip-plumping cosmetics, all of which can exacerbate the discomfort. The good news? Keeping your lips ultra-hydrated with rich balms and lip masks will naturally make your lips look bigger and more luscious. That's a win-win if you ask us.
But how long do chapped lips take to heal? Unfortunately, there isn't a way to get rid of chapped lips in five minutes or get rid of chapped lips overnight. (Though applying heavy-duty lip balms and lip masks will help.) If you stick to the recommended hydration routine above, you'll likely see a full recovery in two to three weeks, according to the American Academy of Dermatology (AAD). 
How to Prevent Chapped Lips
Since it's fairly easy to come down with a case of dry, flaky lips, it's worthwhile to learn how to prevent chapped lips. First and foremost, Zalka says to always keep your pout lubricated with products that retain the lips' natural oils.
"While many choose to avoid petroleum-based products like Vaseline and Aquaphor, these tend to be some of the best choices for chapped lips, as they are gentle, soothing, and occlusive," she shares. Occlusive products contain oils or petroleum, which lock in moisture and prevent natural oils from escaping. Word to the wise: Keep these products focused on your lips—especially if you're acne-prone. "Occlusive  remedies may be a bad idea for the skin on your face, as this characteristic may cause pimples from clogged pores, but it is ideal for lip skin," Zalka explains" 
It's important to keep your lips protected from the sun as well (even in the winter). Pick up a lip balm that has an SPF of 30 or more in it, and make sure you apply it regularly. Sun damage can burn dry, chapped lips, which could trigger cold sores, according to the AAD.
Another pro tip? Make sure you're drinking enough water. Chapped lips are dry lips, so make sure you're staying hydrated throughout the day. Want to give your system an extra boost? Try adding HUM Nutrition's Glow Sweet Glow into your daily rotation to support your skin's hydration from the inside out.
DIY Lip Masks to Heal Chapped Lips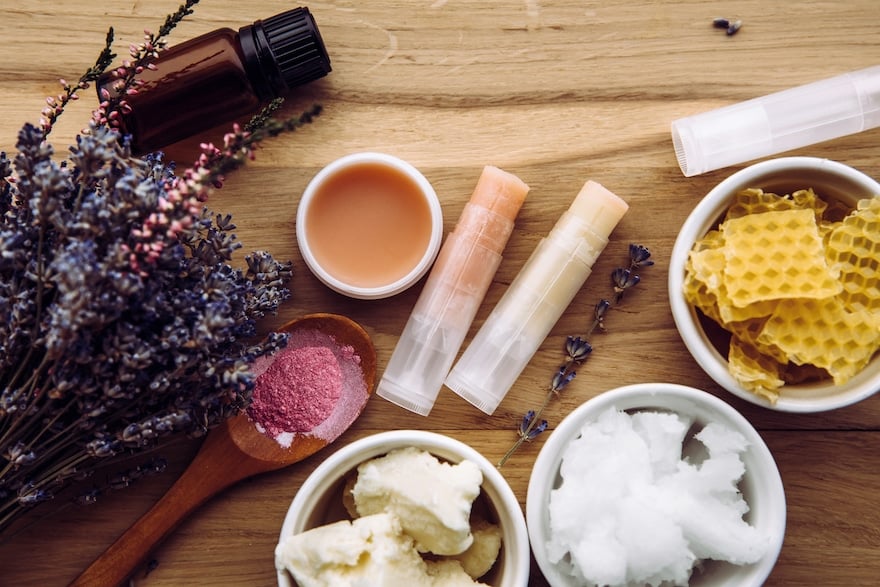 Although the store is a great place to shop for a quick and easy fix (think: Vaseline Petroleum Ointment, Lano The Original Lanostick, and Bliss Fabulips Vegan Overnight Lip Mask), clean beauty expert Stephanie Gerber, founder and editor of Hello Glow, recommends whipping up your own DIY lip masks, scrubs, and balms. Not only will they help heal your chapped lips, but you can also make them in the comfort of your own home. She shares her go-to hydrating balm and gently-exfoliating reparative lip scrub, below.
Lavender Pomegranate Lip Balm
Made with shea butter, coconut oil, beeswax, pomegranate oil, and lavender essential oil, Gerber says that this balm not only provides intense healing but locks in moisture, too.
Ingredients
1 tablespoon shea butter
1 tablespoon coconut oil
1 tablespoon beeswax
1 tablespoon pomegranate oil
14 drops lavender essential oil (optional)
Tools
Measuring spoon
Heat-safe glass bowl
Saucepan
Pipette
Spoon
2-ounce lip balm tin
Instructions
Put shea butter, beeswax, and coconut oil in a heat-safe bowl.
Boil two inches of water in a saucepan and place the bowl in the pan to perform a heat bath.
Warm the mixture over low heat until the ingredients melt together.
Wait for the mixture to cool slightly before adding the pomegranate oil and lavender essential oil.
Stir with a spoon.
Pour the mixture into the lip balm tin. Let it sit until completely cool and hardened.
Use every day until chapped lips are healed, and then use as needed.
Scrumptious Coconut Lip Scrub
A common symptom of chapped lips is dry, flaky skin. Gerber says that this exfoliating lip scrub will gently remove the dead skin so your lip mask and lip balms can really sink in. That's because it's made with honey, which is known for its reparative moisture.
Ingredients
1 tablespoon sugar
1 tablespoon coconut oil
Honey
Tools
Measuring spoon
Small bowl
Spoon
Knife
1-ounce lidded jar
Instructions
Mix the sugar and coconut oil into a paste in a small bowl.
Add a few drops of honey and mix it together.
Store the mixture in the lidded jar.
Apply with your finger tip, massage between lips for a minute or two, and rinse with warm water. Apply daily.
Looking for more? Be sure to check out Gerber's book, Hello Glow.
More like this