A Healthy Chocolate Orange Cake Recipe for One
Recipe developer and food stylist Nasim Lahbichi bakes his go-to chocolate orange cake recipe. The best part? It's healthy enough to eat for breakfast!
Growing up, breakfast was the highlight of my day. It's safe to say my everlasting love of food started with learning how to scramble the perfect egg at the age of three.
Like many kids who grew up in the early 2000s, sugar was breakfast. (Of course, that's not to say that it was healthy or necessary!) But I'm happy to suggest that we can still have "dessert" for breakfast—now, only healthier!
Ingredient Highlights
Here's how to make chocolate orange cake that's nutritious, healthy, and filling enough to kick off any day right.
Oats
Starting off, fibrous oats (quickly ground into oat flour) are used as the base for this cake. Oats help you stay more full and on track to hit your daily recommended amount of fiber.
Flax Meal
While many cakes require eggs or oil, this eggless chocolate orange cake recipe uses flax meal instead. Flax meal provides some binding properties and healthy fats to this dish.
Orange Juice
Additionally, we add orange juice to:
pair beautifully with the rich chocolate flavor
give the cake a little lift (thanks to an acidic reaction with the baking powder)
help brighten your day first thing in the morning
Cocoa Powder + Vanilla Extract
Now one key tip for any recipe that requires cocoa powder is to include a dose of vanilla extract. This helps create a well-balanced and full-bodied flavor, enhancing the decadence that cocoa powder brings to the table.
Finally, before placing your batter of love into the oven, grease and coat a ramekin with some butter and cocoa powder to make plating and garnishing even more of a show.
Toppings
You can go crazy with your favorite toppings, such as:
chocolate ganache
powdered sugar
vanilla yogurt
tahini
maple syrup
These final additions can help you eat pretty and feel pretty. Dive in!
Chocolate Orange Cake Recipe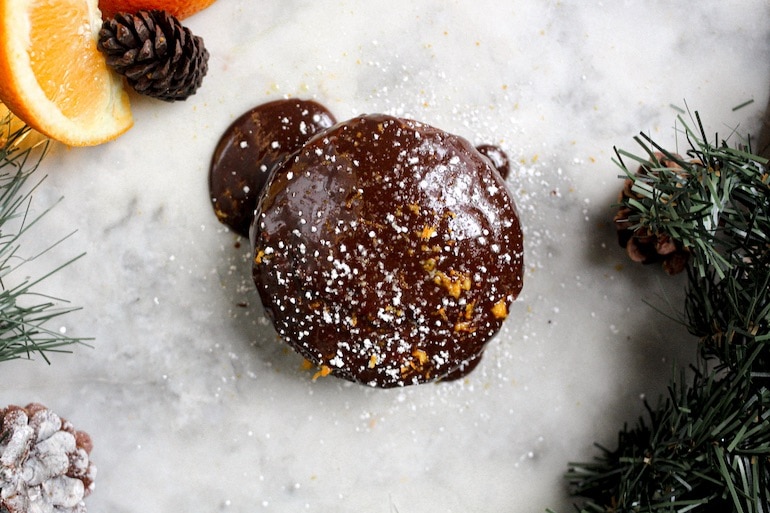 Chocolate Orange Cake Recipe
This recipe takes thirty minutes to prepare and is perfect for lazy weekend mornings or a more decadent, slow start to your day.
PREP
5 min
COOK
25 min
SERVES
1
INGREDIENTS
1/2 cup rolled oats (blended into oat flour)
1 1/2 tbsp cocoa powder
1 tbsp flax meal
1 tsp baking powder
1/4 tsp salt
3 tbsp orange juice
1 tbsp maple syrup
1 tsp vanilla extract
1/3 cup milk of choice
1 tsp orange zest
Butter (to grease)
Dash of powdered sugar (optional)
Drizzle of chocolate sauce (optional)
INSTRUCTIONS
Preheat oven to 350 degrees Fahrenheit.
Mix the blended oats, cocoa powder, baking powder, flax meal, and salt in a bowl until combined.
Add the orange juice, vanilla, maple syrup, orange zest, and oat milk to the dry ingredients until incorporated.
Bake for 20-25 minutes. (Insert a toothpick to check if it's ready; it should come out clean.)
Top with chocolate sauce, powdered sugar, a dash of orange zest, and any other toppings of your choice.