The Best Sex Toys For *Every* Situation, According to Sexperts
Wondering how to choose the right sex toy for you? Two sexperts teach us all about different types of sex toys for solo and couple use, plus their top picks for each.
Let's face it: When it comes to sex, it can be easy to fall into a bit of a routine. Whether you're with a partner or going solo, it's all-too-tempting to stick to what you know. But trying new things in the bedroom can help you get to know yourself (and even your partner) better. Plus, it can unlock new levels of pleasure and excitement.
With the right tools in hand, you can take yourself on a toe-curling solo physical journey. Or, you can adventure into brand new territory with your partner. Of course, we're not talking about hammers and nails. Rather, we're referring to sex toys. But with so many on the market, it can be difficult to know how to choose the right sex toy. HUM tapped two sexperts to break down the different types of sex toys—and their favorite products on the market. Ready to turn the heat up? Read on to learn all about the best sex toys.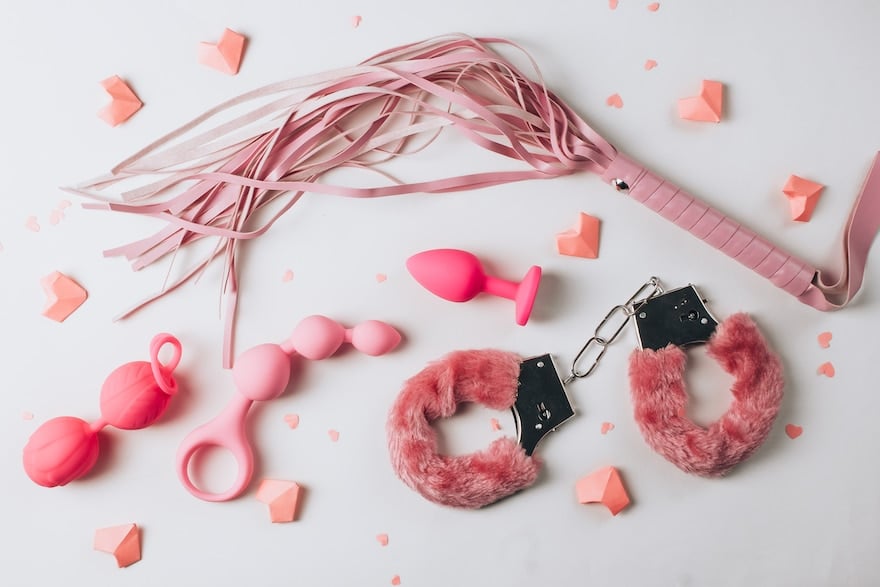 7 Types of Sex Toys to Know
We enlisted the help of two sexperts to help explain why (and even better, how) sex toys are very much worth the hype. Alicia Sinclair—CEO of sexual intimacy purveyor COTR—and sex toy reviewer Gabrielle Kassell also offer us the best selects.
Whether used alone or with a partner, the gadgets listed below are sure to leave you cum-pletely satisfied.
1. Wands
Wands are one of the most basic types of sex toys. They look like, well, a wand, albeit with greater girth than anything Harry Potter ever carried around. It's worth noting, however, that depending on the type you get, the sensations can be very different. Bulb-tipped wands offer vibrating sensations at the tip, while non-vibrating wands capture the shape of the sex toy category without introducing pulsing frequencies into the pleasure sesh. Wands are some of the best sex toys for men, women, and others who prefer going solo because they're great at getting to hard-to-reach places.
Sinclair's Pick: Le Wand Original Massager, $180
"It's a versatile, rumbly powerhouse that offers a wide range of vibration intensities," Sinclair says. "It's a crowd-pleaser and must-have for all sex toy collections because it can please all bodies. With a broad head and long handle, this vibe can be angled in a variety of positions and hard-to-reach places. Plus, it feels good for pleasure and relieves pain like muscle soreness."
Kassell's Pick: NJOY 11 Stainless Steel Massage Wand, $400
"This pleasure product is 11 inches long, which makes it easier to reach your bits. So it's great for anyone with mobility issues or folks who don't want to be all up on themselves," Kassell explains. "It's more comfortable to use, which is key considering you won't likely experience pleasure unless you're as comfortable as possible. It doesn't vibrate, which is awesome since vibration can sometimes be incredibly intense. Plus, since it's stainless steel, it absorbs temperature. You can put it under warm water to heat it up or place it in the freezer for a cooler, more electric sensation."
2. Plugs
A type of sex toy often met with more shyness, plugs are designed for anal play. However, Sinclair points out that they enable exciting partner play and enhanced sensations, whether used alone or paired with vaginal sex or stimulation. Butt plugs are some of the best sex toys for couples, as they can spice up your usual sexy routine.
Sinclair's Pick: Texture Plugs, $170
"These aren't your average butt plugs," she starts. "The textures massage and please while inserting, helping with arousal and preparing the body for penetration (if that's your end goal). The vibration of the plug pleases once the plug is fully inside the body."
3. Sex Pillows
Oftentimes we forget that sex toys aren't the only objects to be inserted into, clipped onto, or wrapped around the body. Sex pillows are regularly omitted from roundups on the different types of sex toys—which is a disservice to us all. We're here to remind you that if you've ever had trouble reaching climax, felt physically uncomfortable during sex, or felt like your partner can't access the spots you need stimulated, pillows are here to help.
Kassell's Pick: Dame Pillo, $95
"The Dame Pillo is a dense, triangular-shaped foam pillow that can be used to put your body in a comfortable position throughout different sexual positions," Kassell explains. "It's especially fantastic for oral play, as it makes it easier for your partner to access every inch of your bits so that they don't have to crane their neck in the process. It's also great for bending over in missionary and doggy style to change the angle of penetration and encourage more G-spot stimulation."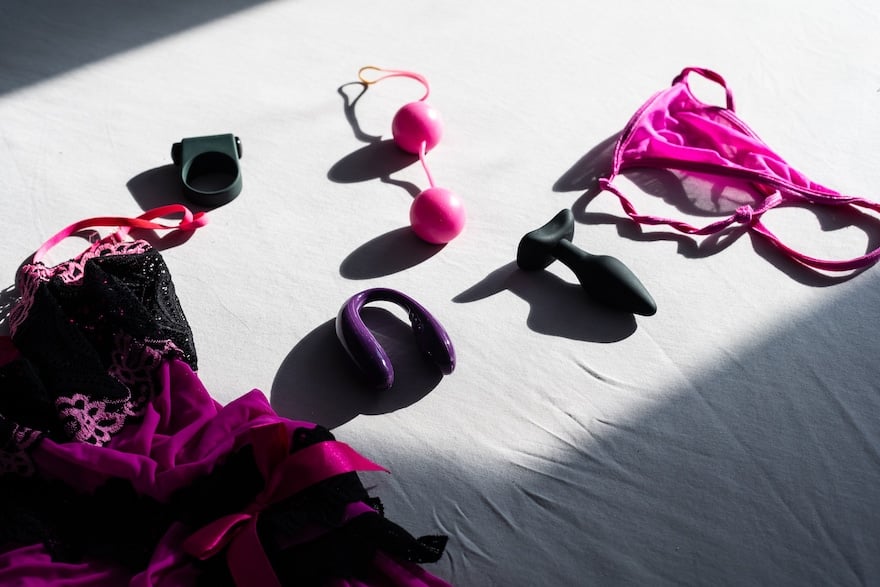 4. Bullets
Whether you're traveling or hoping to inconspicuously start a collection, bullet vibrators are a must when it comes to choosing the right sex toy to add to cart. Their miniature size might make you think they're less powerful—but as soon as you switch them on, you'll go heart-eyed over their vibes. Bullets are some of the best sex toys for solo play, as they're easy to use and even easier to stash away.
Sinclair's Pick: Le Wand Grand Bullet, $105
"This chic and powerful pleasure tool is great for travel and for folks looking to hide their vibe in plain sight," Sinclair says. "Included accessories allow the user to transform this bullet into a multi-use tool (e.g., dual sensation). It can also be cooled or heated for temperature play."
5. Uniquely Shaped Vibes
Many vibrators and dildos are designed to mirror the cylindrical shape of penises. But here's the thing: Uniquely shaped vibrators are just as stimulating, if not more so. Whether you're craving a contraption to hug both sides of your clitoris or a wider surface area to cover it altogether, Sinclair and Kassell offer up must-tries.
Sinclair's Pick: Le Wand Deux, $125
"This tool is perfect for focused clitoral sensation," Sinclair says. "Two powerful motors hug the clitoris with supercharged power. It's also fun for pinching nipples, running along the frenulum (head) of the penis, or placing underneath the testicles to up the ante during playtime."
Kassell'sPick: Le Wand Point, $130
"This palm-shaped vibrator is made of 50 percent stainless steel and 50 percent silicone," Kassell begins. "Its part-steel composition makes it a much heavier product than most palm vibrators. It creates an incredibly satisfying pressure on your clit. The vibrational quality of the point is more rumbly, geared towards creating broad stimulation as opposed to buzzy, less satisfying vibes, which are more likely to result from bullet vibrators. This note is essential since it's tough to find rumbly vibrations outside of classical wands, which are much larger than this vibe. And since it's made with stainless steel and comes with a wide variety of intensities, it can be manipulated to your temperature and vibrational preference."
6. Beads
If you're looking to explore anally, you can't go wrong with beads. Made with a series of small bulbs, anal beads create a unique sensation when inserted. You can enjoy them on their own or as preparation for anal sex.
Sinclair's Pick: Triplet Anal Beads, $130
"This toy is perfect for anal newbies who can't decide between a plug or beads," Sinclair says. "This two-in-one butt toy functions like traditional anal beads, or can be worn as a plug. Plus, the remote control allows for fun couples-play dynamics."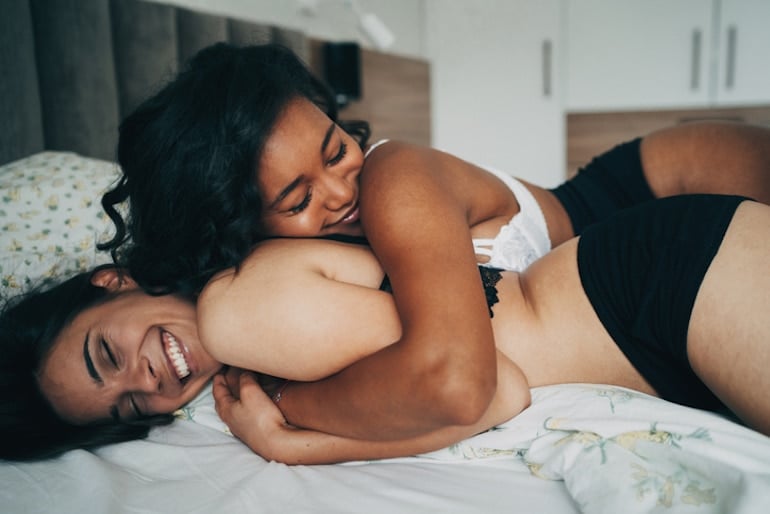 7. Pinwheels
Looking for another option for non-insertable sex toys? Try pinwheels: spiked toys designed to be rolled along your erogenous zones. Whether you use it on the thighs, chest, neck, or bum, it's a great choice for foreplay-focused pleasure. Pinwheels are the best sex toys for couples just beginning their journey into the sex toy space.
Kassell's Pick: The Wartenberg Wheel, $9
"It looks really intimidating, but it's actually not a dangerous toy," Kassell assures us. "You'd really have to muscle it into skin to truly puncture it. It's not specifically meant for the genitals, and is actually best used on other parts of the body. When you roll it over nerve-dense erogenous zones, you'll feel an electric stimulation."
Final Thoughts
Sex toy recommendations aside, Kassell adds two important notes. The first: "For any type of play that's kinky or based in BDSM, you should have a safe word. It's always best to discuss the process before engaging in it."
Second, the most important thing about choosing the right sex toy is to look for ones made with non-porous materials. "This inclusion indicates they're not covered with tons of tiny holes in which bacteria can get trapped," she explains. Different types of sex toys will state if they're non-porous—so if they don't, it's best to opt for a different one.
Seeking similar reads on intimacy? Check out relationship advice from a human connection specialist or see what happened when we tested the controversial jade egg.
More like this