This Baked Oatmeal Tastes Exactly Like A Snickerdoodle And is Packed with Protein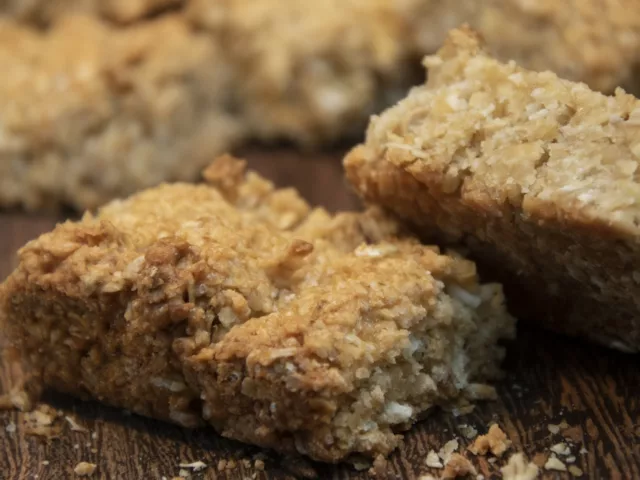 Jessica Bippen, MS, RD, shares a baked oatmeal recipe that's gluten-free, vegan, and packed with protein. Bookmark this for busy weeks!
As the weather gets cooler, you may be feeling over your standby smoothie or yogurt parfait. But luckily, there are plenty of other healthy breakfast options to fuel your mornings. One of my favorites is baked oatmeal, and while traditional baked oatmeal recipes are low on protein, I've packed this recipe with HUM's Core Strength, a plant-based vanilla protein powder. It tastes just like a warm snickerdoodle cookie.
This vegan baked oatmeal uses flax, applesauce, and protein powder (instead of egg) to boost the protein and bind the oatmeal together. It's the perfect protein-packed make-ahead breakfast—eat it warm or cold, add a splash of milk, or drizzle with almond butter.
The cinnamon sugar sprinkle that tops the warm and gooey cinnamon vanilla baked oatmeal gets caramelized in the oven and adds to the snickerdoodle cookie vibe. If you need a lower sugar option, you can also substitute monk fruit.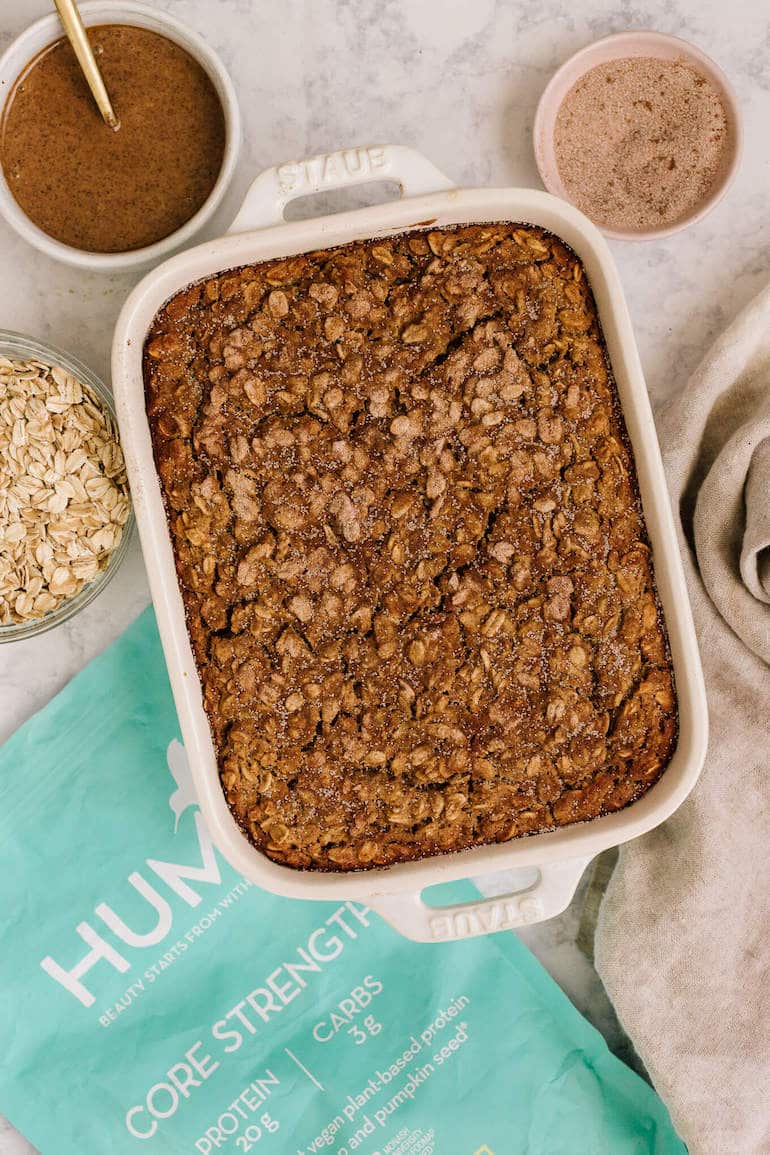 INGREDIENT SPOTLIGHTS
Rolled oats
Rolled oats make the base of your baked oatmeal. They are a great source of whole grains and soluble fiber. I don't recommend steel-cut or quick oats for this recipe.
HUM Nutrition's Core Strength protein powder
I recommend HUM Nutrition's Core Strength vanilla plant-based protein powder for the best results. It's made from a combination of pumpkin, hemp, and pea protein that packs in 20 grams of protein per serving.
In addition to the easily digestible blend of plant-based protein, it also supports digestion with the addition of digestive enzymes and probiotics. Digestive enzymes improve digestion and nutrient absorption while L. acidophilus is the most researched probiotic strain for gut health.
Ground flax seed
Ground flax acts as a binder and replaces the eggs in this baked oatmeal. No need to make a flax egg before adding it to the mixture. Together with the oats, the flax absorbs enough liquid to hold the oatmeal together. Flax seed provides both soluble and insoluble fiber.
Almond butter
I recommend a natural almond butter made from just almonds. Trader Joe's and Whole Foods are my favorites to use in recipes. The best substitution is cashew butter but any nut or seed butter will work here if you're in a pinch.
Applesauce
Unsweetened applesauce adds a touch of sweetness and helps bind the oats together. You can also sub banana for more of a snickerdoodle oatmeal banana bread.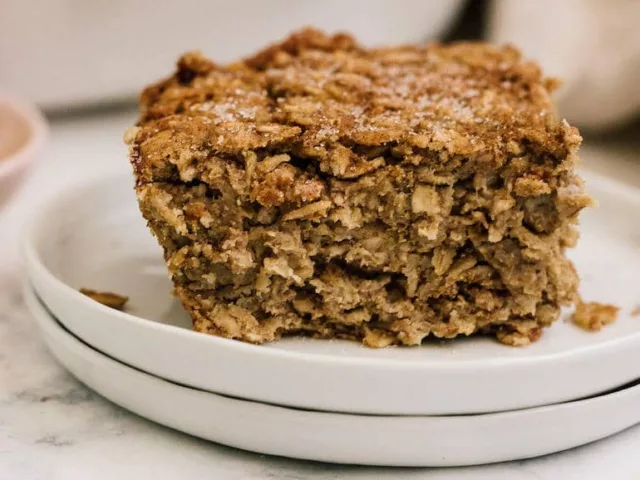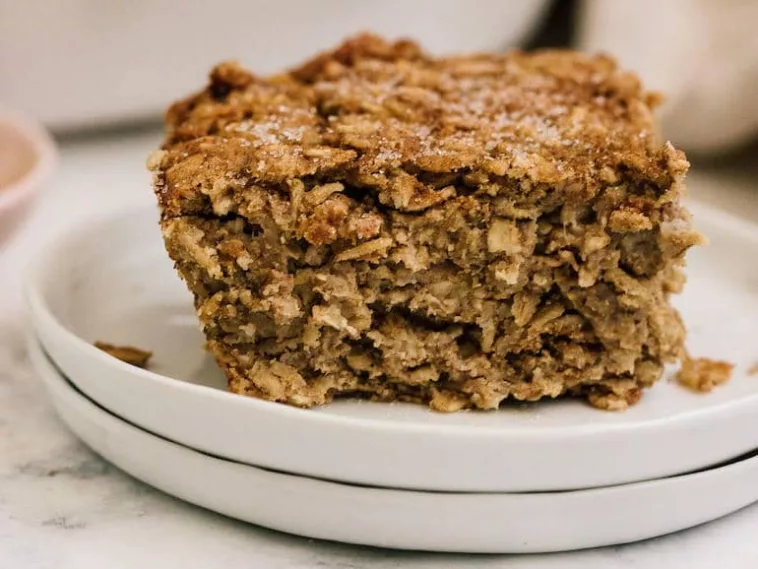 Snickerdoodle Protein Baked Oatmeal
This Snickerdoodle Protein Baked Oatmeal is the perfect healthy make-ahead breakfast for busy mornings! It's gluten-free, vegan, and packed with protein using HUM Nutrition Core Strength vegan vanilla protein powder.
PREP
10 min
COOK
45 min
SERVES
6
INGREDIENTS
2 cups rolled oats
4 scoops HUM Nutrition's Core Strength vanilla protein powder.
1 tsp baking powder
1/2 tsp cream of tartar (optional)
1 tsp cinnamon
1/4 tsp sea salt
2 cups unsweetened almond milk
2 tbsp ground flax
1/2 cup unsweetened applesauce
1/4 cup almond butter
2 tbsp maple syrup (optional)
For Topping:
1 tbsp monk fruit or cane sugar
1/4 tsp cinnamon
SUPPLIES
8×8 baking dish
Measuring cups + spoons
Mixing bowl
INSTRUCTIONS
Preheat the oven to 375F. Lightly grease baking dish with avocado or coconut oil.
Mix together the oats, protein powder, ground flax, baking powder, cream of tartar, cinnamon, and salt. Add in the almond butter and applesauce. Mix until combined. Add the almond milk and mix again. Let stand for about 5 minutes so the oats and flax have time to absorb some of the liquid.
Pour the mixture into the baking dish. Place in the oven for 40-50 minutes. Check after 35-40 minutes. Remove and let cool for 15 minutes before serving.
Leftovers can be stored in an airtight container in the fridge for 4-5 days.
More like this