This Pumpkin Protein Bread Will Give You Glowing Skin and a Slim Waist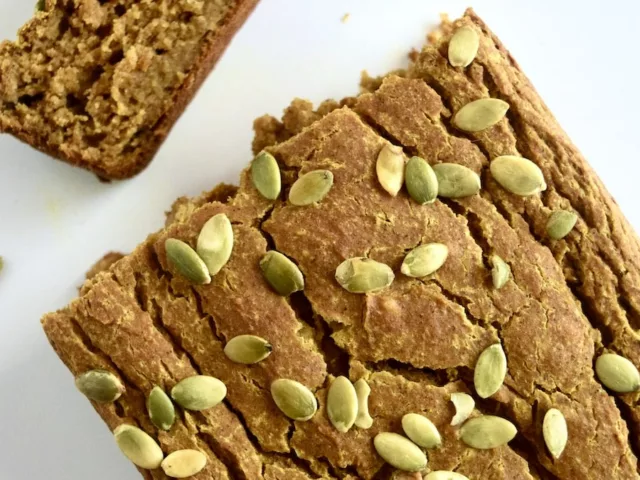 When it comes to fall flavors, nothing is quite as comforting as warm pumpkin bread straight out of the oven. With a nice hot cup of coffee or tea, sitting by the fire and soaking in the cozy weather with a baked treat is one of the best parts of the season.
This healthy pumpkin bread recipe is just that. It's made with HUM's Core Strength Protein powder, which is a vegan, easy-to-digest protein powder that makes this delicious fall staple even healthier while promoting blood sugar balance.
Why We Love This Healthy Protein Pumpkin Bread
Your run-of-the-mill pumpkin bread is going to be mostly carbs. And while carbs are not bad (our brain and heart run on primarily carbs, after all), it's best to eat them paired with protein and healthy fats.
Sharp spikes in blood sugar levels can be detrimental to your mood, focus, and energy throughout the day—so it's important to strive to keep your blood sugar balanced. Adding protein via Greek yogurt and HUM's Core Strength Protein Powder gives this bread an advantage over the average one, because it will digest more slowly (while also being easy on your gut) and give your body plenty of time to process the carbs without giving you a sugar rush.
Health Benefits of This Pumpkin Protein Bread Recipe
HUM's Core Strength Protein Powder has a great warm vanilla flavor, which makes it perfect for sneaking more protein into fall treats, especially if you're trying to get more protein in your diet. Digestive enzymes like lipase and lactase, along with L. acidophilus aid the body in digesting and absorbing nutrients so you get the most out of your food.
Another reason I love this protein powder is because it is a complete protein. The combination of pumpkin, hemp, and pea proteins contains all nine essential amino acids. It can be tricky to find vegan sources of complete proteins, so that's a perk of this powder.
It's also high in iron, ideal for those on a plant-based diet who are not consuming animal products, which tend to be a major source of iron in the diet. Plus, 20g of protein per serving makes it filling for weight loss. Protein is also needed for building lean muscle, which increases metabolic rate, further aiding in maintaining weight loss.
The star ingredient of this recipe is, of course, pumpkin. Pumpkins have numerous health benefits. For starters, they are low in calories (just 30 calories per cup) while being nutrient-dense.
They also contain plenty of fiber which promotes healthy digestion and gut health. Vitamins and minerals like vitamins A, C, E, iron, and more give it anti-inflammatory and antioxidant properties.
These nutrients make pumpkin a great way to boost overall health while supporting weight loss or maintenance goals, reducing signs of aging, and combating damage from free radicals we encounter in our day-to-day lives.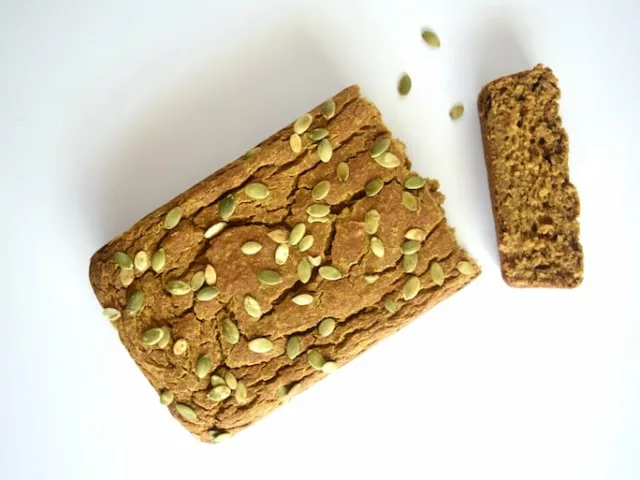 Healthy Pumpkin Protein Bread Recipe
This pumpkin bread recipe is high in protein, healthy fats, and fiber. It is a more nutritious take on a classic treat that can support weight loss by promoting feelings of fullness. Plus, it will make your whole house smell like fall—yum!
PREP
10 mins
COOK
60 mins
SERVES
1
INGREDIENTS
2 tsp coconut oil, melted and cooled (pop it in the microwave for about 10-15 seconds, it doesn't have to be completely melted, just very soft)
1 egg or flax egg
⅓ cup plain nonfat Greek yogurt or plant-based yogurt of choice
1 ½ cups pumpkin puree (not pumpkin pie filling)
½ tsp vanilla extract
½ cup maple syrup (can use ¼-⅓ cup for a less sweet bread and to reduce sugar)
1 cup all-purpose flour (can use white whole wheat or whole wheat flour, this will make bread heartier)
⅓ cup HUM Core Strength Vanilla Protein powder, spooned and leveled
1 tbsp pumpkin pie spice
¼ tsp kosher salt
1 tsp baking powder
1 tsp baking soda
Pumpkin seeds for topping, optional
SUPPLIES
9×5 bread pan
Large bowl
Spoon or spatula
Measuring cups and spoons
INSTRUCTIONS
Preheat the oven to 325 degrees Fahrenheit. Prep a 9×5 bread pan with oil (I used avocado oil spray).
In a large bowl, combine melted coconut oil and egg. Whisk until smooth. Make sure your coconut oil is not hot when you add the egg, or else the egg will partially cook!
Add Greek yogurt and whisk until smooth.
Add pumpkin puree, vanilla extract and maple syrup. Whisk until just combined.
On top, add dry ingredients except flour: protein powder, pumpkin pie spice, salt, baking powder, and baking soda. Using your whisk, carefully incorporate dry ingredients into wet ingredients. Do not overmix but whisk until just combined.
Add flour. Using a spatula, fold the flour into the wet mixture until just combined. Some small streaks of flour may remain, and that's okay! You just want to avoid large clumps.
Pour batter into the prepared bread pan. Sprinkle some pumpkin seeds on top if you wish!
Bake for 55-65 minutes at 325 degrees Fahrenheit or until a toothpick inserted in the center comes out clean.
Store at room temperature for 3-5 days. It may last longer in the fridge, but will also lose moisture more quickly.
Can I Freeze Healthy Pumpkin Protein Bread?
Yes, you can freeze this bread in a freezer storage bag and it should be good for up to three months!
Can I Use Plant-Based Yogurt Instead of Dairy Yogurt?
You can substitute vegan yogurt in this recipe at a 1:1 ratio and expect similar results. If you want to make vegan pumpkin bread, use vegan yogurt and flax egg.
What Can I Use Instead of Maple Syrup?
You can substitute equal amounts of honey or agave nectar for maple syrup. If using regular granulated sugar, use ⅔ cup.
More like this