I Tried Sydney Sweeney's MMA Workout—And I'm Officially Hooked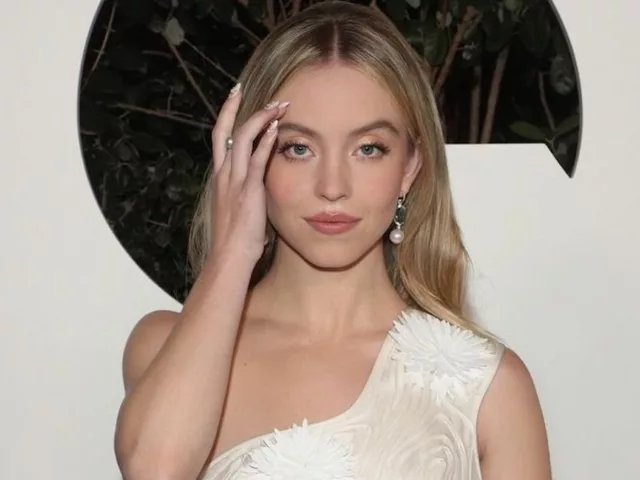 Wondering if Sydney Sweeney's MMA workout is worth the hype? I tried it with a professional MMA instructor to find out—here's what happened.
When it comes to my fitness regimen, I typically stick to what I know and love. I'm certified to teach yoga and have been practicing for 17 years. I also balance my routine with Pilates reformer classes, regular walks, and hikes. As for what I don't love? I'm terrible at running, I haven't had a gym membership since college, and I actively avoid any workouts that'll leave me sore for days afterward.
With that said, I'm well aware of the benefits of switching things up and challenging my body in different ways—so when I had the opportunity to try a workout inspired by Sydney Sweeney's MMA workout that went viral earlier this year, I jumped at the chance to experiment with something way out of my comfort zone. Of course, it doesn't hurt that the Euphoria star has enviable abs and a totally toned bod. She credits MMA for her fit physique, which made me wonder if it's worth the hype.
Read on for my honest review of the MMA workout I tried with Lars Wallin, a pro MMA coach and personal trainer based in West Hollywood, California.
What Is MMA?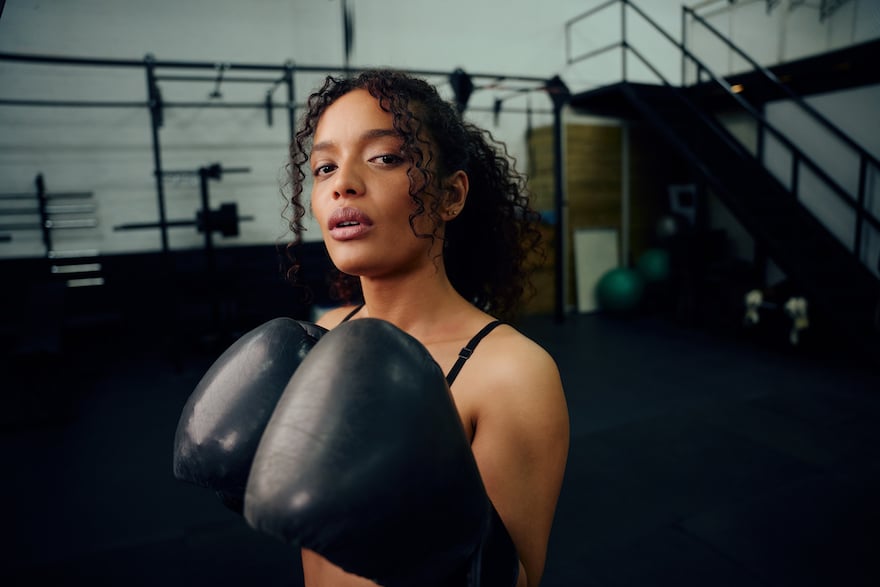 MMA stands for mixed martial arts. "It's a modern version of martial arts such as Judo, Muay Thai, and Brazilian Jiu-Jitsu, as well as other forms of kickboxing and wrestling," Wallin shares. "By combining different forms of martial arts, only the best and truly tested techniques are kept in."
Certain moves you may be familiar with if you've ever taken a boxing class include the jab, cross, hook, uppercut, roundhouse kick, and front, back, and side kicks.
While MMA has gained a ton of fanfare from the Ultimate Fighting Championship (UFC) league, Wallin notes that UFC and MMA aren't interchangeable. (Think of the UFC as the MMA equivalent of what the NBA is for basketball.)
"The UFC is a commercial entertainment company that airs MMA fights for money and often glorifies violence," he explains. In reality, "MMA is an art form for self-defense that prioritizes technique and honor. It's the most realistic functional training for students who want to learn how to survive a real-life fight or attack." While all UFC fighters train in functional martial arts, the often scary fights you see on TV are from what it's like to do MMA training.
MMA Workout Benefits
While MMA involves power, muscle, and grit, in its purest form, it's an art above all. "True MMA not only prioritizes the functional use of the body, but also creates a piece of magic, with tricks you can evolve and combine to create an element of surprise," Wallin explains. "There's no violence necessary; instead, it's all about self-defense." Moreover, technique reigns supreme over the likes of height, build, and muscle power—a benefit I find particularly appealing given my petite frame. As Wallin puts it, MMA training allows you to be David when facing Goliath.
Well-rounded MMA workouts involve cardio and strength training—but also balance and breathing techniques. Not to mention MMA workout routines boast countless benefits for your mind and mental health, such as self-respect, discipline, confidence, concentration, and greater awareness of one's own body and surroundings. When you commit to a practice and develop your techniques, the benefits continue to pile up. With the myriad of health benefits (and Sydney Sweeney's stamp of approval), I couldn't be more on board.
My Experience Trying Sydney Sweeney's MMA Workout
In the video that she posted, Sydney Sweeney's MMA workout included crunches with cross punches, kickboxing, grappling, and a triangle chokehold. Given that she's been practicing for 10 years whereas I have about 10 seconds of experience under my belt, I didn't expect to be match-ready at my first go. However, after learning the basics—like making cages with my hands to cover my face, protecting my jugular and rib cage to keep my airways clear, and staying calm at all times—I was surprised I was able to learn a few moves pretty quickly.
These initial moves included a rear choke hold and a mount escape—the latter of which involved me on my back, proceeding to lock and flip over Wallin (who just so happens to be twice my size) with relative ease.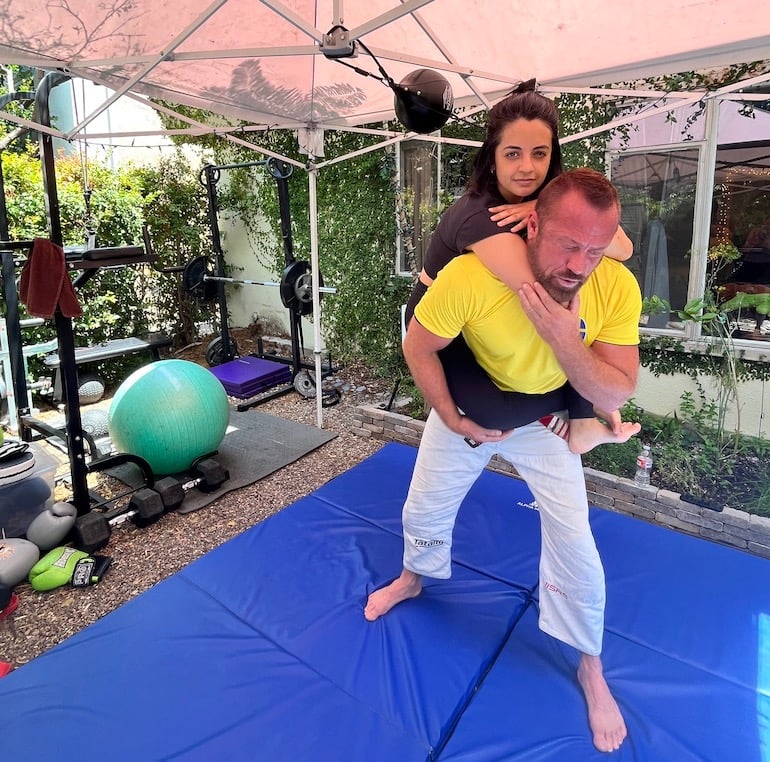 Wallin then tested my balance by sitting on my shins atop an exercise ball and squatting on it for about two minutes. While it wasn't clear to me at first what this exercise was for, he explained that the balance and stability gained from it would help me should I need to mount an attacker wriggling under me. Makes sense!
To round out the Sydney Sweeney-inspired MMA workout, we did a short kickboxing sequence (jab, cross, hook, and uppercut), as well as 100 jumping squats, 50 lunges on each side, and timed rounds of high knees—the last of which had me panting and feeling like my legs turned into jello.
My Review of Sydney Sweeney's MMA Workout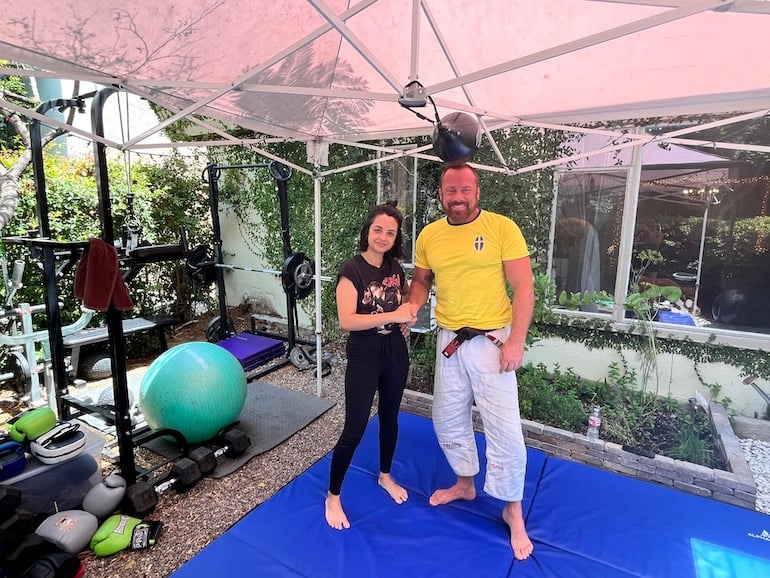 Despite my typical preference for low-impact exercises, I enjoyed the Sydney-inspired MMA workout a lot more than I'd expected and can definitely understand how she stays so fit for her roles. Again, I went into it thinking that it'd be heavy on the aggression, yet Wallin emphasized that MMA is based much more on self-defense and skill than anything else. I even found several commonalities with yoga—including the importance of diaphragmatic breathing (which reminded me of ujjayi pranayama, a common technique used in yoga) to keep you calm and centered and put mind over matter.
Fortunately, Wallin was both beginner-friendly and super knowledgeable. He not only explained how to do each move properly and safely but also shared the history of MMA and its disciplines, which made me respect the art and integrity of the practice even more.
I was most surprised to discover how certain grips and locks could easily allow you to overcome an attacker, even if you're smaller in stature or facing someone who seems to be a more formidable opponent. I found this to be incredibly empowering, and I'm intrigued to continue refining these techniques to keep them in my self-defense toolkit. (As a side note, my stepfather has been practicing martial arts for well over 50 years, and I'm currently kicking myself for passing up his offer to train me when I was growing up.)
I was even more shocked that Wallin was able to teach me a few basic yet essential moves in such a short amount of time, making this aspect of my MMA workout easier than I'd anticipated. The hardest parts of the workout were actually the kickboxing sequence (I couldn't get out of my head to keep up a steady cadence) and the final cross-training moves with jumping squats and high knees, which made it all the more obvious that HIIT isn't my strong suit.
The Takeaway
If you're curious about trying Sydney Sweeney's MMA workout, I fully recommend trying it out, no matter your shape, size, gender, workout preferences, or any other factor. While it's bound to elevate your heart rate and enhance physical strength and agility, there are so many other benefits to gain from it, even as a beginner—ranging from mind-body awareness and discipline to confidence and self-protection. All said, I was happy to find that by experimenting with a new workout regimen I'd never considered before, I walked away with much more than just sore quads and glutes.
More like this