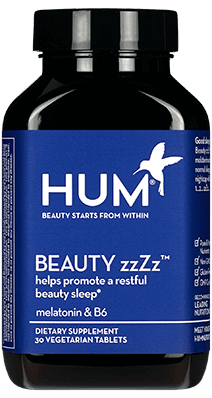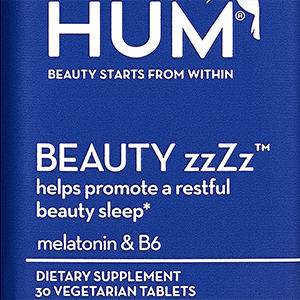 Beauty zzZz
helps promote a naturally restful sleep
Reduces the time it takes to fall asleep and boosts daytime alertness

Helps adjust your internal body clock

Promotes a deeper beauty sleep

Melatonin & B6

30 vegan tablets, 30 days
62 Reviews
$10
Add to Bag
Science
Melatonin is a hormone made in the brain that can help regulate the sleep cycle. Studies suggest that sleep disorders affect 50 to 70 million Americans, representing approximately 20 percent of the population. Melatonin has been found to decrease sleep onset latency (SOL) in normal sleepers and increase sleep efficiency in normal sleepers.
More Info
Ingredients
Vitamin B6

Metabolic Maintenance

Calcium

Warm Milk Before Bed

Melatonin

Natural Sleep Hormone

How to use

One tablet

at

20 minutes before bedtime

with

No food

Nutritionists LOVE HUM

Non-GMO

Sustainably Sourced

Pure and Potent

Gluten Free

Premium Quality

Clinically Proven

NEED HELP FINDING THE RIGHT
PRODUCT FOR YOU?

Our 3-minute look and feel great quiz will change your life forever.

Meet your free personal nutritionist and earn

$10 off your first order!

GET STARTED
Hello!
Not a member yet?
Find the nutrients you need today
Personal Nutritionist
Nutrition Report
$10 off your first order
Get Started
Close