The New Raw Beauty Flavor For National Pineapple Day
WRITTEN BY Zena Wozniak
Introducing our new Raw Beauty Coconut & Pineapple Tropical Infusion flavor.

Just in time for National Pineapple Day! This delicious new flavor packs all the benefits of our best-selling Raw Beauty Green Superfood Powder with a tropical twist. Each serving includes alkalizing greens for radiant skin, a five billion probiotic blend for improved digestion, hormone balancing adaptogens and a kick of matcha for energy and antioxidants.
Here are the reasons we love these potent super fruits, as well as a recipe to enjoy using our new flavor!
Pineapple Benefits
With over 131% of your recommended daily serving of Vitamin C, pineapples are an excellent choice for boosting the immune system. They also contain a protein-digesting enzyme called bromelain. As its description suggests, this enzyme's primary function is to help your body digest food and nutrients more easily. However, studies show many other benefits including faster recovery from injuries and allergy relief.
Coconut Benefits
We all had a little panic attack after coconut oil was put on blast recently, but rest assured there are still nothing but positive things to say about coconut meat. First, it's incredibly hydrating which is always good for skin. Then, certain fats found in raw coconuts are considered antibacterial and therefore excellent for the immune system and even candida overgrowth.
In addition to it's antibacterial properties, coconut is rich in manganese, copper potassium and iron among other minerals for optimal health.
Superfood Dole Whip Recipe
Ingredients: 
1 frozen banana
2 cups frozen pineapple
1/2 cup thick coconut milk
1 serving Raw Beauty Tropical Infusion
1 tbsp. chia seeds (optional)
Directions:
1. Blend the banana, pineapple, coconut milk and Raw Beauty together.
2. Top with frozen pineapple, chia seeds and any leftover coconut milk.

5 Highly Addictive Raw Beauty Recipes
Skin Hydrating Coconut Crush Smoothie
5 Of The Best Summer Skincare Tips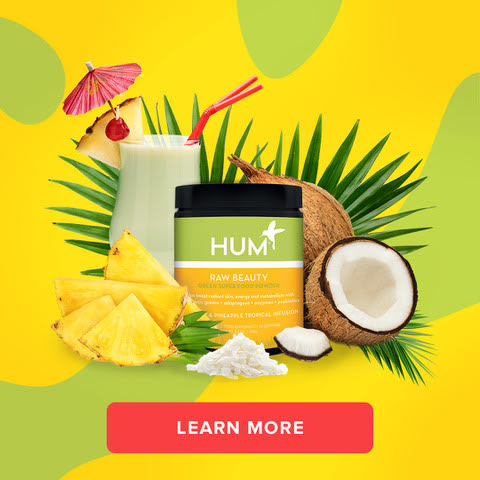 REFERENCE LINKS
ARTICLE LINK
https://www.humnutrition.com/blog/tropical-infusion-raw-beauty/