Clear Skin: 2 Steps from a Nutritionist
After reviewing the 23 Surprising Habits Linked to Acne, we're focusing on two steps that can help achieve clear skin. First, upping our weekly servings of fish and eggs. Then, reducing stress through more yoga and meditation.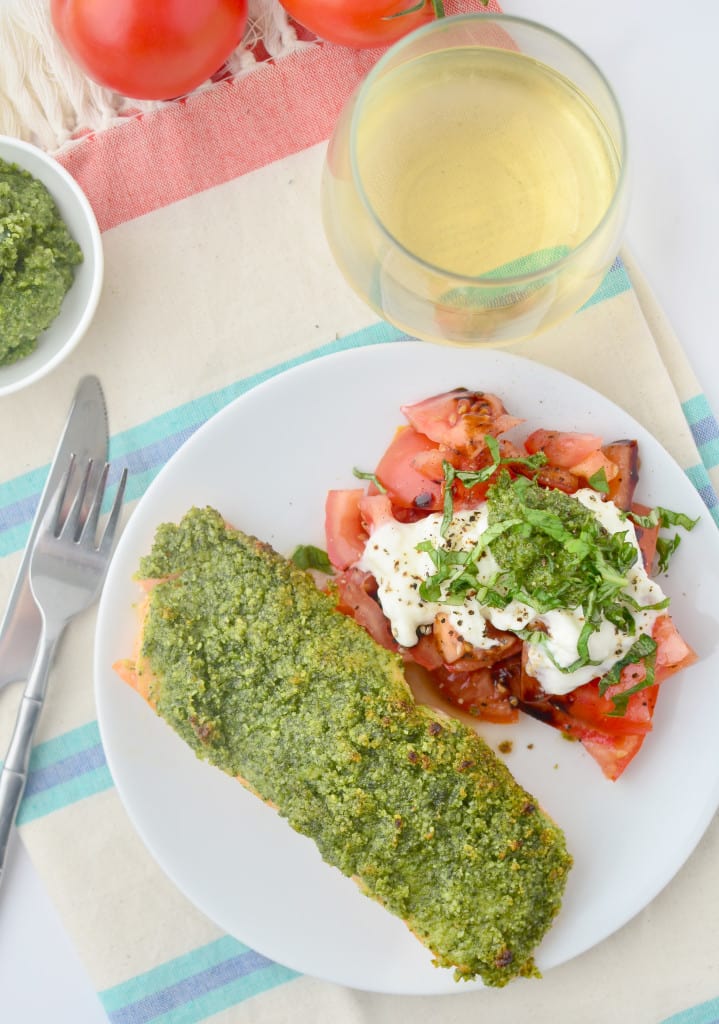 This salmon recipe is packed with skin-enhancing nutrients. The omega-3 fatty acids are essential fatty acids that you must get from food. They help to reduce inflammation, which is critical for reducing redness and improving skin hydration. For a one-two acne fighting punch, we're pairing this baked salmon with a savory layer of fresh pesto. Instead of using traditional pine nuts, we're opting for this Brazil nut-based pesto, packed with selenium, flavonoids, and powerful antioxidants in the form of vitamin C and vitamin E. Not only do antioxidants ward off free radicals that can damage the skin and lead to breakouts, they also help with the healing of acne scars. Of course, it's no surprise that these same nutrients are found in HUM's clear skin combo: OMG & Daily Cleanse.
Baked Pesto Salmon Recipe
2 salmon filets, preferably wild-caught, 6 oz. each
1/2 cup lightly packed basil
1/3 cup chopped Brazil nuts
2 garlic cloves
1 tbsp. fresh lemon juice
2 tbsp. olive oil
salt/pepper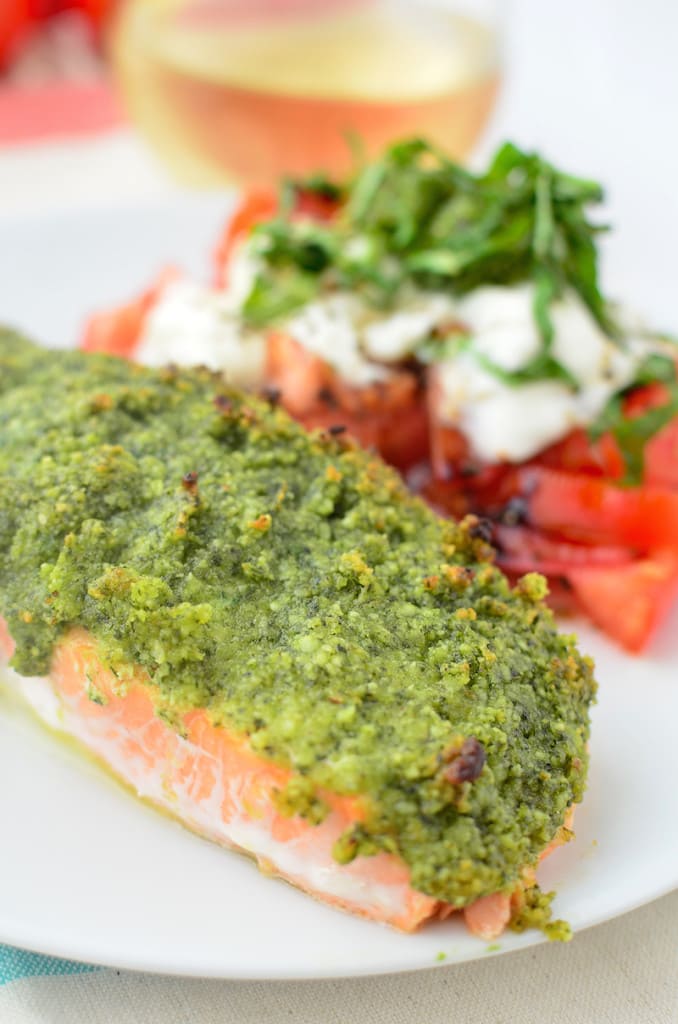 Preheat oven to 400 degrees F.
Make the pesto: pulse together the basil, brazil nuts, and garlic cloves a few times to combine into a coarse crumb. With the motor running, drizzle in the lemon juice and olive oil and process until finely chopped. Season with a pinch of salt and pepper.
Place salmon skin side down on a baking sheet covered with a piece of parchment paper or foil for easy cleanup. Spread paste on salmon filets. Depending on the size of your filets, you may have a little pesto left over. Bake at 400 degrees F for 15-22 minutes until fish flakes easily with a fork and is done to your likeness. Serve immediately.
Clear Skin with Deep Belly Breathing
No matter what your life looks like, stress happens. The secret to stress management is dealing with it in a healthy way! When you're stressed out, it shows in your face, skin, and mannerisms. The good news is that you don't need to be a yogi to experience the benefits of daily meditation! Even five minutes a day of quality breathing can lead to reductions in overall stress, anxiety, and blood pressure. So next time you're feeling overwhelmed, aim for five to 10 of these deep belly breaths to calm your mind. Trust me, your clear skin will thank you!
How To:
1. Find someplace comfortable to sit. Place one hand on your belly, the other on your chest. Relax the muscles of your jaw and upper body.
2. Close your eyes and your mouth. Pause for a few seconds. Keep your mouth closed and inhale slowly through your nose by pushing your stomach out. When you've inhaled as much as air you comfortably can, pause for a moment.
3. With control, slowly release the air, imagining that you are pressing the air from the hand on your stomach to the hand on your chest and finally up the throat and out of your mouth.
4. Repeat steps 2-3 for as many times as you need, ideally slowing the breath down a little more each time. Take care that you aren't rapidly breathing, as this will cause the opposite effect of what you want and can make you feel lightheaded.
Is Alex your HUM nutritionist? Follow her @delishknowledge for more delicious recipes and nutrition tips for clear skin and all your beauty concerns. Don't have a HUM nutritionist yet? Get your free health report from your personal nutritionist by clicking here.