How to Eat Pretty: Q&A with Jolene Hart
Jolene Hart is a beauty editor turned health coach. She's now an expert on transforming your beauty routine by starting within. HUM sat down with her to get her thoughts on the best beauty food to Eat Pretty and Live Well.
Meet Jolene Hart, Eat Pretty Author
Jolene Hart was a beauty editor dealing with blemishes, irritated skin, and eczema. Despite access to the latest skincare trends, creams, and treatments, it wasn't until she began to explore the connection between nutrition and beauty that she was finally able to understand how to properly treat her skin.
If you know anything about HUM's origins (we recommend watching this fun video if you don't), you'll know that Jolene's story is incredibly relatable to the story and purpose of HUM.
Today, she's a beauty and health coach, certified by the esteemed Institute for Integrative Nutrition and the American Association of Drugless Practitioners. She's the author of Eat Pretty, a resource on nutrition for beauty inside and out. Her second book, Eat Pretty, Live Well, launches April 5 as a guided journal for beauty through nutrition. Jolene is passionate about spreading the message that inner health and outer beauty are intrinsically, overwhelmingly linked. We sat down with Jolene to hear about her favorite beauty food and her greatest advice for beauty from within.
How did you get into beauty and wellness?
My entry into the beauty industry was kind of roundabout. I was working as a journalist in red-carpet and entertainment reporting and fashion writing before working as a magazine beauty editor. From there, my personal interest in nutrition and healing my own skin conditions led me to focus on writing specifically about natural beauty products, as well as wellness overall, and then to become a certified health coach. I wanted to bring nutrition, which I found to be so transformative for my own skin, to the beauty conversation. At that time, there was little mention of it in the beauty industry.
Do you believe that beauty starts from within? If so, what inspired this?
Absolutely—and this belief was completely inspired by personal experience. As a beauty editor, I had access to just about every beauty product on the market. (Not to mention facials and treatments by experts who worked with celebrities.) But I couldn't find a way to truly heal my cystic acne, eczema, and inflamed skin from the outside. It wasn't until I became desperate enough to look elsewhere that I started experimenting with my diet. From there, I experienced an incredible skin transformation.
I've learned through my own journey and through coaching my clients that there are so many levels of the "beauty from within" message. Beauty comes from nutrition, self-care, emotional well being, digestive health, hormone balance… so many places that all start within. Beauty products are the icing on the cake, but you need the healthy inner foundation first and foremost.
What's your daily beauty ritual?
I feel like my routine is always changing. However, I always drink warm lemon water. I also try to cook something homemade that supports the health of my beauty and body. I think cooking has become my fundamental daily beauty ritual, and something I do for my family as well. Choosing fresh food that nourishes my body definitely enables me look and feel my best day to day.
What's the #1 beauty food that you could never live without?
My beauty food is lemons. I start every day with warm lemon water, fresh ginger, and turmeric. It detoxifies and alkalizes the body and provides a boost of vitamin C. I saw a definite change in my skin when I started this easy habit, so I encourage my clients to try it for themselves!
Which foods are a no-no in your diet?
I stay away from gluten because of an allergy I've had since I was a child. I avoid meat by preference, but love fish. And I try to keep dairy and sugar to a minimum because it's hard to stop when I indulge!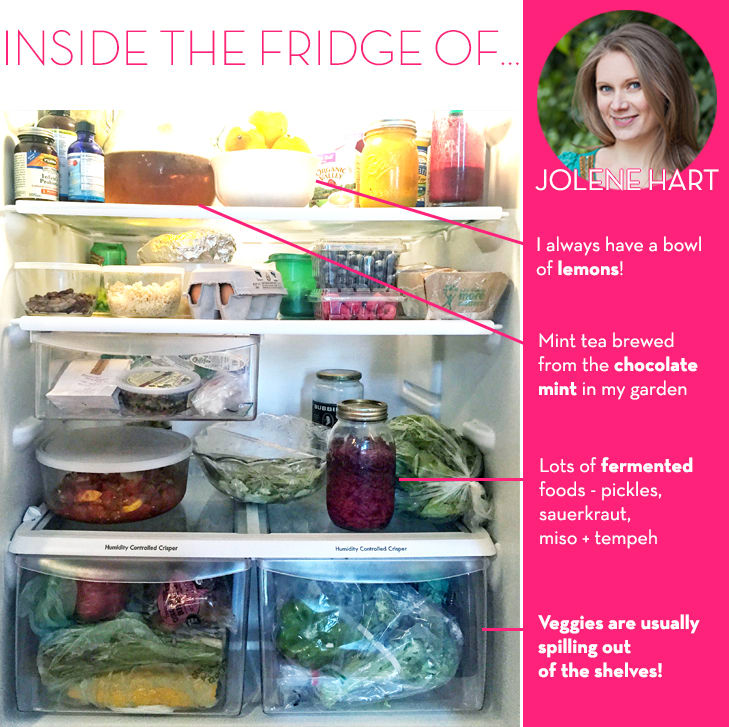 What does your daily diet consist of?
I change up my diet pretty regularly (I'm not one of those people eats the same thing everyday), but I always maintain a seasonal focus. It's incredible how well seasonal foods target our beauty needs throughout the year. I like to make a protein-packed breakfast to get me going in the morning. Unless I'm going out I make dinner, like fish and veggies, soups, stews, stir frys, and all kinds of salads with grains, beans, and greens. Since I coach and write from my home office, lunches are usually leftovers reassembled in a new way.
What goes into your juice/smoothie?
My most basic smoothie is greens, lemon, frozen banana, parsley, and either avocado or flax, hemp, or chia seeds. If I'm making it a meal, I'll add plant-based protein powder as well.
What's your favorite recipe?
My favorite smoothie recipe right now is my Sun Protective Cherry Chocolate Smoothie. It's really energizing for the warmer months and has great UV-protective benefits for the skin from cherries and cacao.
What are your Guilty pleasures?
I think it's incredibly important to take the guilt out of eating and to focus on the healthy, beautifying qualities of food instead. I don't do food guilt anymore. That said, I have a big sweet tooth. Even though I pick "healthy" baked goods and dark chocolate, I have to work hard to stay within reasonable limits!
What are your favorite HUM products and why?
The first products I've tried are the Flatter Me digestive enzymes and the Gut Instinct probiotics. I think they're both spot-on for digestive health and beauty. Improving digestive health is one of the first things I work on with my private clients. In the interest of looking and feeling better, these two products are incredibly helpful toward that goal.